Isekai no Seikishi Monogatari OVA Ep. 07 Review
異世界の聖機師物語 OAV Episode 07 (Blu-ray/DVD version)
War on Geminar – 07

SPOILER Summary/Synopsis: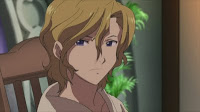 Dagmyer smuggles the mercenaries into Seichi and they agree to lay low in exchange for enjoying an opulent lifestyle for a time. He trains his Seikishi followers and continues his relationship with Ran's mother Cordyline. Ran is the only one let out and she's always with Emera. Since Ulyte-sensei still does not have the one piece they need, Dagmyer agrees to propose an athletic competition during which his uncle can search for this thing. Dagmyer's proposal is unanimously approved by the student council and Lashara is placed in charge of the betting, whereby everyone on campus begins to bet on Kenshi.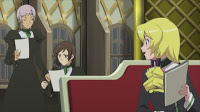 Lashara, discovering that she'll make no money with no one betting on anyone else, sets out to sabotage things by feeding Kenshi false information about the marathon and doing other things to slow him down. Lithia sees what is happening and does everything she can to counter Lashara's sabotage attempts. As the race progresses, Ulyte-sensei has a team working and they discover a reaction based on Kenshi and Aura racing at the front of the pack.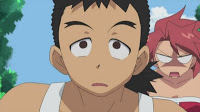 Kenshi is wondering if he should allow Aura to win the race and is holding back which causes Chiaia to get involved and threaten to take his collection of crystals if he doesn't go all out. That spurs Kenshi on, so much so that he doesn't stop even after crossing the finish line. Wahanly and company get on her experimental mecha vehicle and try to stop Kenshi but to no avail until they suggest Chiaia do what she did to get him to go in the first place. She does but that causes him to be knocked out where he's eventually found by Aura. She brings him round with a kiss and a mouth full of water and starts to confess her love to him when Chiaia finds them.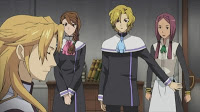 Now that they have the location of the item, Dagmyer wants to remove Kenshi from the field. He's reminded that Kenshi defeated Ran's people and more so Dagmyer concedes to let Kenshi be for now. That night, Emera attacks Kenshi in disguise but can do nothing and indeed is saved from injury or even death by Kenshi when a pit trap opens under them. A rope is tossed to them and Kenshi gets them out. Emera flees and Kenshi thanks the nearby Neizai who'd tossed them a rope even though Kenshi hadn't needed it. As thanks for saving Emera, Neizai warns Kenshi of a coming storm and leaves.
The following day, the students notice a giant tower structure flying into Seichi.
Thoughts/Review:
So we have another comedy episode with some plot elements that really don't do whole lot to give the audience any real information. So what do we have?
Ulyte-sensei found whatever he's been looking for, likely some energy source.
Dagmyer is training his Seikishi.
The mercenaries that Dagmyer brought into Seichi are ready to do whatever but in the meantime are enjoying the good life.
Ran's mother Cordyline is still sleeping with Dagmyer and seems quite taken with him though it seems clear he's only using her.
Emera is having 2nd thoughts about things.
Neizai has some interest in protecting Emera and in exchange for Kenshi saving Emera's life, gives him a warning about the coming "storm" (and shows her honor).
Kenshi is incredibly powerful, which we already knew.
While I enjoyed the episode for what it is, I would have liked to have received a bit more information than what we've received to date. I've no clue what Dagmyer's whole plan is about to be honest with you. He wants to attack the establishment and set himself up as ruler I guess (he or Babalun). I'd like something more though and maybe we'll get those answers since the episode ends with a giant whatever entering the Seichi and the title of the next episode being "Invasion."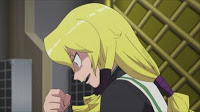 Now that I think of it, part of the problem may have been that this episode is a cost cutting episode and considering the amount of pan-and-scan shots, I'm guessing VAP wanted to save money for next week when
As to the episode itself, baring my desire for more plot information, I do admit to enjoying Lashara's attempts to increase her profits by trying to keep Kenshi handicapped since everyone bet on him to win.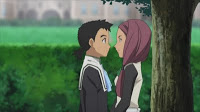 I loved how Kenshi pickpocketed Ran when he saw her pickpocket a student. One wonders if that is something Ryoko might have taught the lad as I can't see Kenshi's family teaching him it. *lol*
Aura starting to confess her feelings for Kenshi took me by surprise. However, I can understand it, not on the level that all the other girls chase after Kenshi, but in the sense that Kenshi is worthy of someone of her standing. Despite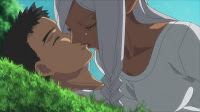 appearing as a normal human, Kenshi has great strength, speed, courage, honor, and a desire to do the right thing. So I can see Aura respecting that a great deal and finding someone up to (and beyond) her level.
I could do without Mexiah-sensei's sexual conquest of underaged male and female students though. *_* Ugh.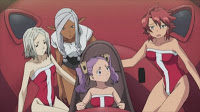 On the Tenchi Muyo! Ryo-ohki connections, Tenchi's harem gets a no-name mention as does Tennyo and Airi. I had the feeling that Kenshi may be faster than Ryoko, Aeka, Mihoshi, and Noike (and possibly Sasami too in her human form) but I'd bet not faster than Tenchi. While this series needs to be its own entity, I do hope that before the series ends, we do get to see Tenchi and company at least once.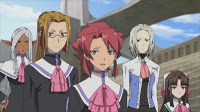 What is the significance of the Seikijin (Seikishin) from the Knight's Civilization that was unearthed in Streya? Maybe it is the influence of others who've watched and commented on this show, but for some reason, a couple of shots of this Seikijin reminded me of the choushin Tokimi. I'm not sure why though.
One final thing — I rather enjoy the classical-styled music. I'm not versed in classical performers and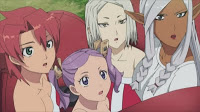 pieces, but the music of this series is very much like classical music and indeed could be classical music.
In the end, we have a fun episode that teases more plot stuff without doing more than set the table for something that's likely to happen in the next episode(s).