School Rumble Manga Volume 13
–> Not available for purchase from RAKUTEN.COM (formerly BUY.COM)
–> Not available for purchase from BARNES & NOBLE
–> Not available for purchase from RIGHTSTUF!
Summary/Synopsis: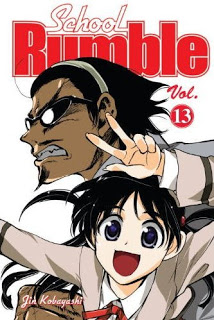 Tenma pretends to be Eri for the omiai and Harima, who's pretending to be the prospective husband, is more than happy to go along with this. Eri gets the omiai called off but isn't happy to learn that Harima has been helping her. However, she's forced to deal with Harima when Akira and Mikoto learn the details of recent events and arrange for Eri to work at a public Christmas decorating event. She and Harima end up having a chat about things and while Eri does have some negative things to say about Harima to Tenma, she also defends him as well.
As Christmas approaches, the Yoshidayama Squad meets at a restaurant and their conversation is overheard by Sogo, who decides to help them change their image for his Christmas party. However despite training, they find that all the girls at the party are there for Harry, thus they are not able to get close to any girls.
Akira decides to have some fun and Sarah, Yakumo, and Tenma get trapped in the floor of the old school building. However, Akira is also trapped and Harima is forced to save them.
Suga and Asou have a talk over a basketball one-on-one about his breaking off his relationship from Mikoto after attending a party at her house and having a session in the dojo with Hanai.
Harima finishes his manga and takes it to Tenma who reluctantly agrees it is good. Hearing it will be published makes her excited so Harima takes the giant curry bowl that Tenma had made for Karasuma and uses it as a sled to get his manuscript to the publisher before the deadline. It is broken as a result and Tenma is crushed by this. Harima sees what he's done and his manga is rejected by the editor. Harima apologizes to Tenma.
On New Years Day, Mikoto has Harima work in the shishi-mai (lion-dragon) dance but he is stunned to find Eri is also working the back end of the critter. However, when Harima sees Tenma is with Karusama, he forgets working the temple's crowds and goes after the couple instead, dragging Eri with him, resulting in the two of them eventually being tossed over the cliff.
After Harima and Hanai have a kite battle, Yakumo ends up defeating Eri in a game at Tenma's request. Eri thinks to win by having Harima stand in her place to take the punishment of ink on the face but Yakumo wins by simply drawing a beard and mustache on Harima.
Eri and Harima are chosen as the leaders of the forthcoming class trip to Great Britain and while Harima isn't interested at first, Tenma's enthusiasm changes his mind.
Tani-sensei has a dream about his childhood sweetheart Yurippe the nurse's station ill. Since he has a crush on Tae, he's crushed when she throws herself at Harima. Later at an after work drinking session with fellow teachers, Tae is being hit on by another teacher. Harima, who's working as a bartender, tries to help but Tani is crushed again as Tae throws herself at Harima again.
Sarah helps Tanaka with his relationship problems.
Yuuki and Fuyuki are doing an astronomy club activity and are joined by Ichijo and Sanago. Those two leave Yuuki and Fuyuki alone to try to set a mood and while Fuyuki is willing, Yuuki is not, having seen Harima and Mikoto together earlier.
Finally, Lala finds herself entering an ice skating competition and ends up being helped by Imadori, who simply wants to get back at her.
Thoughts/Review: This latest volume of School Rumble is pretty good and does a fair amount of focus on the Eri-Harima relationship stuff. I love how Eri is interested in Harima despite herself. I believe I've long stated that her attraction stems from the fact that Harima is not interested in her. Eri turns down guys left and right but Harima is a guy who while being nice at times, is not interested in her. Being a woman, Eri does what women tend to do when they know they are hot and a not unattractive male shows no interest in them that way — she wants that guy.
Anyway, the fun of this strange relationship between the two of them is that on one hand, Eri shows her disdain for Harima when she can but then when it comes to Yakumo, Eri has no intentions of allowing Harima and Yakumo to get together no matter what. That's why it was funny when Eri thought she'd score one on Yakumo by making her paint Harima's face but Yakumo turned the tables with her mustache and beard painting (giving Kobayashi-sensei an excuse to return that look to Harima).
There wasn't much of Yakumo's relationship with Harima beyond Eri trying to score points, but there was more of Tae's attraction to Harima than I expected. Since Harima likely never slept with her, I'm guessing it makes her want him more because like Eri, the men all want her. Harima, while accepting Tae's kindness way back when, would never make a move on her and she wants him as well. Poor Tani-sensei though.
I was also a bit surprised that there were also relationship nods to Fuyuki and Yuuki. Then I remembered that at its core, School Rumble has always been about unrequited loves so Yuuki basically turning down Fuyuki fits that core as does her seeing Hanai and Mikoto together and being depressed by that.
Speaking of Mikoto, I never was a fan of her and Asou dating. I understood Asou though when he started to understand that he and Mikoto would never be a true couple. I remember dating a girl a few years ago and while we got along great, it was at her college graduation party at her home (she didn't get her degree until she was 32) where I began to understand that she and I would not be a serious couple.
Anyway, I'd like to see Asou and Sarah get together. I don't know if it will happen or not, but I'd like to see Mikoto and Hanai get together during the course of this manga (I know what happens in School Rumble Z).
In the end, there is a fair amount of the fun I've come to expect from School Rumble with Eri and Harima's relationship topping the list of fun elements in the manga.