Fullmetal Alchemist OVA (01): Moumoku no Renkinjutshi
Fullmetal Alchemist OVA – The Blind Alchemist
SPOILER Summary/Synopsis: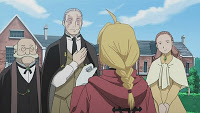 Al tells Ed the rumor of an alchemist named Judau, who's attached to the rich Hamburgang family, who has performed human transmutation. Ed and Al pay a visit to the large mansion where they meet the blind alchemist, Judau. The lady of the house has her daughter Rosalie play with Al while she and Judau explain they cannot give up the secrets of human transmutation as it was the wish of the now deceased man of the house. All they will say is that Rosalie is the product of that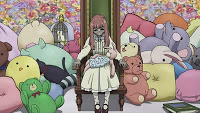 human transmutation and that he paid with his eyes.
Realizing he'll get nothing more, Ed goes to find Al and disobeys the lady's request to stay off the second floor. Rosalie, having learned Al's secret, takes Al to a special room, which is seen by Ed and he follows. In this large room, a section is curtained off and inside is the living corpse of a young girl, surrounded by flowers and stuffed animals. Rosalie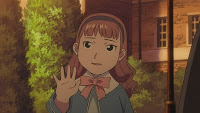 reveals her real name to be Amy, a former orphan, and this corpse is the real Rosalie. Amy was adopted because she resembled the real Rosalie. Judau has no idea that he did not bring back the real Rosalie and to spare him further pain, Rosalie's parents adopted Amy. Amy finds this life a better one than the orphanage and keeps the secret, even keeping the real Rosalie company, though no one knows if the soul inside is Rosalie's or someone else's.
Thoughts/Review: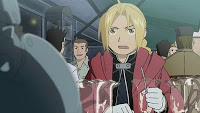 I didn't know there had been OVA's done for the current FMA series. Actually, I think I was first alerted last November, then someone made mention of it again recently to me. Having been told their existence, I thought I should investigate.
The story is based on a side-story extra by Arakawa-sensei in a FMA guidebook. As such, I would believe the story to be canon, meaning that Judau would be a candidate for Father's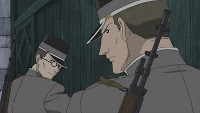 master plan, assuming Father was aware of Judau. If Al could learn of a rumor, the homunculi could too, even if the Hamburgang family and staff are secluded and keep their yappers shut.
Regardless, for a 16-minute episode that takes our characters back to a time when they still believed human transmutations were doable, this episode is very powerful and sad, not to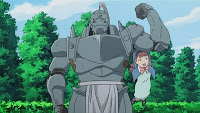 mention a bit frightening. Judau not only succeeded in bringing back someone from the dead, but also did something Ed, Al, and Izumi had not done — keep that dead person "alive." A living corpse is no life at all, and the scary thing is that there's a soul trapped in that body. Even if it is the real Rosalie, she's still trapped inside her corpse, unable to do more than occasionally move her mouth. I could not help but be moved by that, feeling sorry for whomever is trapped there.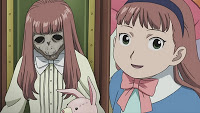 The other tragedy is how the Hamburgang's lied after Judau lost his sight and let him believe he'd truly succeeded in bringing Rosalie back rather than the fact that he'd simply attached a soul to her corpse and made it a zombie. For them to then go out and adopt a young girl to become Rosalie for the sake of a lie is also sad, though as Amy notes, this lie got her out of an orphanage and into a nice home, even if strange. I like how Amy cares for Rosalie but for some reason, my mind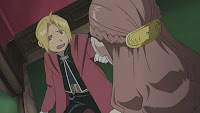 thought of a few years down the road when Amy becomes a teenager and then a woman. Once that happens, what then becomes of Rosalie, assuming the body still lives?
So, we have a good episode that is somber, tragic, and manages to take an unexpected angle on the laws of equivalent exchange. I hope FUNimation scored this along with the Brotherhood TV series.