Hagane no Renkinjutsushi – Fullmetal Alchemist Ep. 45
鋼の錬金術師 FULLMETAL ALCHEMIST Episode 45 review
Fullmetal Alchemist Brotherhood – 45
SPOILER Summary/Synopsis: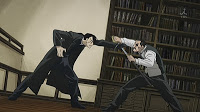 Wrath and Greed battle as Pride readies himself just in case. With Wrath having the upper hand in combat, Greed makes his escape out the window. Over at the Armstrong mansion, Olivier tells her father she intends to take her inheritance and demands he take a vacation. Her father eventually says that whomever wins the fight between herself and Alex will take over the mansion as he, his wife, and the youngest Armstrong daughter Catherine leave for Xing. Olivier wins the fight against Alex, who realizes that Olivier has just sent their parents and little sister away to safety.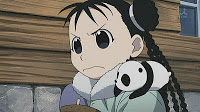 Out east, Mei Chan sees the niceness of the people and with the subtle prompting of Envy, she returns to Central as she wants to help. Meanwhile, Ed, Darius, and Heinkel arrive at Mustang's old hideout but Al isn't there. Greed arrives with Ling in control and after eating, Ling passes on as much as he can about Father's plan and the Promised Day. Greed resumes control of the body and turns down a partnership offer from Ed unless Ed agrees to follow Greed. Ed, Darius, and Heinkel agree to those terms as Ed realizes he can gather more information this way.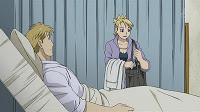 In Dublith, the military are still looking for Izumi as Al gets a message to the meat shop there regarding Father's plan and the Promised Day. It is passed on to Sig who passes it onto Izumi, who gets to Briggs to inform Miles and Buccaneer. Falman passes the word to General Grumman who gets the word to Rebecca, a soldier friend of Riza's. Rebecca pays Riza a visit in Central and covertly passes the message to her in Black Hayate's collar. Riza informs Havoc covertly in a pack of cigarettes and he passes that message to Mustang. The Promised Day will happen that spring.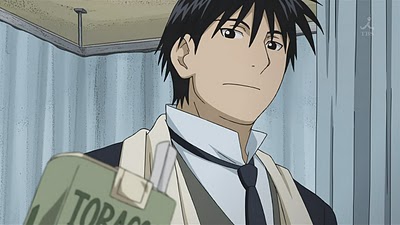 Thoughts/Review: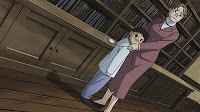 I found it very interesting that Pride didn't take part in the fight against Greed. I wonder why. Surely, Pride and Wrath would have taken out Greed. The only thing I can think of is that Pride, as Selim, doesn't want to hurt his foster mother by revealing the truth about himself. That whole fake family structure is so odd to me.
Speaking of odd families, there's the Armstrong family. I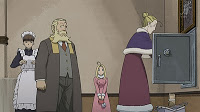 have to say that they are an amusing family. I like Olivier's method for removing her family from harm because it does nothing to raise suspicions. I was bummed that her fight with Alex was so one sided. I would have liked to have seen Alex get in his licks, but I suppose that you can't show a man hitting a woman without being a villain, eh?
It was nice to see Havoc again. I'd forgotten about him and in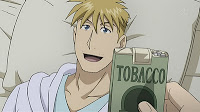 some ways, it is amazing that he's still in the hospital. I like that Mustang is still spending time with his former underling. Further, it keeps Havoc in the story since Riza paid him a visit to deliver a message to Mustang. I wonder what Havoc's role will be down the road since the still shots showed him heading east.
Which reminds me — you know how that we can't show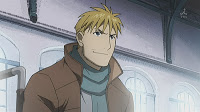 tobacco products in a "cartoon" (ie: One Piece) because of the progressive, nanny state mindset? Can someone tell me if cigerettes show up on Cartoon Network for this series? After all, the passing of the pack of cigarettes is a major element to the story and without it, the episode fails (IMO).
Although she wasn't named back then (at least, I don't remember her being named), I immediately recognized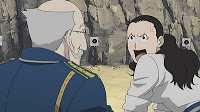 Rebecca from the 2nd OVA episode Simple People. I'm glad I got to see that first because having that non-important side-story OVA from an earlier point in story time, Rebecca doesn't come off as some made up friend for Riza to have just for the purposes of passing on information. She would have had I not seen the OVA so I'm curious how FUNimation handles that.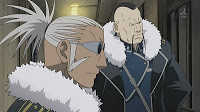 Regardless, I wonder if Rebecca might end up with Havoc somehow. Just a thought.
I normally don't go through the ED but after last week's episode, I decided to play through and not skip them. Interesting that the ED showed still shots of the various characters so that we could see Ed and Hohenheim working on a plan, Winry helping Rose with meals, Havoc leaving the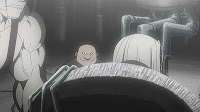 hospital, Ed and company going with Greed, etc. The part that really caught my eye was seeing Sloth is now in Central and Gluttony is apparently back. Very interesting.
So, more pieces are being set for this future Promised (Fated) Day. I can't wait to see more.