Isekai no Seikishi Monogatari OVA Ep. 10 Review
異世界の聖機師物語 OAV Episode 10 (DVD version)
War on Geminar – 10
SPOILER Summary/Synopsis: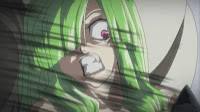 Dagmyer's forces destroy the capital of Shurifon as Kenshi battles Doll in her Black Seikijin to a draw, allowing the evacuation of the citizens of the capital. After the Swan escapes with Aura on board, Doll uses the Church's teleportation to attack both the Head Church and the country of Havoniwa. The Church sends Reia Second out to find the Swan but her transport is found by Dagmyer's forces and attacked. Reia escapes and her pod is captured by Kenshi in his Seikijin and brought on board the Swan.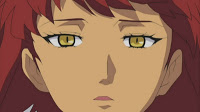 After Reia communicates with Lashara, the Swan heads to Havoniwa where they discover it has already been attacked. Lashara assumes Maria and her mother are dead but before the Swan can leave, they come under attack from Cordyline, who's taken control of the capital city's main defense, the Meteor Fall. The Swan is soon trapped and Meteor Fall is in position to destroy the ship when Yukine arrives in her Seikijin and makes a surprise attack on the command deck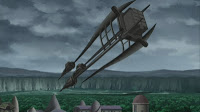 of Meteor Fall, causing it to lose altitude enough for Kenshi to take out one of its supports.
With Yukine on board the Swan, she leads them safely to the underground city where they are met by Maria and Flora. A meeting of the government of Havoniwa reveals their state of readiness, but the matter of Kenshi has to be resolved, namely which country, if any, will control him. Lashara realizes her control over Kenshi is gone and is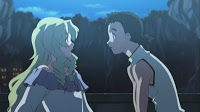 depressed. Kenshi is told to make his decision and after consulting everyone, including the sad Lashara, he convinces Lashara to give him the Swan. He then declares Swan to be an independent nation and with himself as ruler, he takes on new citizens, to include Lashara, Aura, Chiaia, Wahanly, Maria, Yukine, Reia, and more. Their first act is to ban the excavation of crystals from Swan, something Kenshi loves to do.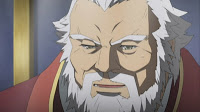 Well, we certainly have an interesting mix of things happening here from action to comedy to even a heart-felt moment.
It is clear that the Church underestimated Babalun's ambitions, otherwise I can't imagine they would have let him go as far as he did. The teleportation pads they held were a bit of new technology which had not been previously introduced, even as a concept (at least, not that I'm aware of). I'm just trying to think of why the Church would need such devices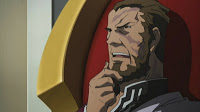 to instantly get from one kingdom to another. I suppose in the end, it does not matter "why?" The devices allowed Doll to rapidly attack Shurifon, Havoniwa, and the main church all in a short space of time.
Babalun's methods are fairly interesting. In addition to taking control over the three countries that surround Seichi, he also has them as visible proof of what his forces can do, stirring fear in other countries. No doubt that Babalun plans to use this fear to his advantage.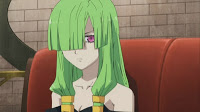 The Gaia Shield. Man, that is a strange artifact. It has been shown eating part of another Seikishi and again, I can't help but think of Evangelion when I see that. I'm guessing that Gaia may actually belong to the Seikishin since Seikijin, even when a gifted Seikishi like Doll is in control, can't handle the strain of massive use, as witnessed when Kenshi battled Doll to a draw. Yet she was able to recover and attack Havoniwa and the main church HQ.
This brings me to the politics of things. Kajishima-sensei is a fan of political intrigue. This comes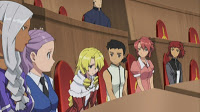 out to a degree in the Tenchi Muyo! Ryo-ohki series and a bit more in the Tenchi Muyo! Galaxy Police Transporter series. He explores this even further in his Tenchi novels and doujinshi. I see lots of political intrigue in ISM as well, starting with the basic notion of Babalun wanting to take over, but then expanding further into the Church and the other nations. Since the Church controlled the weapons, Kenshi became the ultimate weapon out of everyone's control and thus the need for him to be an independent entity outside of any one nation's control, or the Church's.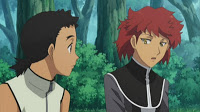 Speaking of the Church, there's the new character Reia Second. I've seen that people say she is Neizai and that may well be. Regardless, I found it very interesting that (1) she has the same name as Kenshi's mother and that (2) she seemed very interested in Nobuyuki (who clearly hasn't matured any since the end of TM!R OVA 3). This may end up being a red herring but if Kajishima-sensei is providing a clue to something else, I haven't grasped it yet.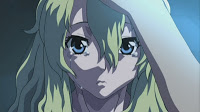 Finally, there's Lashara. From the start, I liked her as a character. Despite her youth, she showed herself to be savvy, witty, patient, greedy, intelligent, and an opportunist. She wisely made the decision to make Kenshi hers after figuring out just how special he truly is (above and beyond him being a male Seikishi). Throughout, I've never sensed her having any deep feelings for Kenshi (the ED image aside).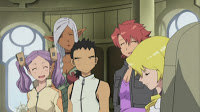 However in this episode, Lashara has a momentary breakdown when faced with a situation of her losing Kenshi. I felt that this wasn't because she was losing a powerful weapon or a bargaining chip, but she was losing a companion. Her remarks on her training making her seem so mature (at least when Maria isn't around) struck me. There's training but Lashara seemed to rise above standard training.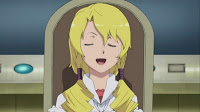 Regardless, she was born to lead and takes her fun where she can but matters of the heart are not something she's really had to deal with. She was OK with Kenshi marrying Aura providing Lashara got something out of it but when Kenshi might actually leave her, everything stopped.
Basically, I'm being rather wordy to say that I like seeing this new side of Lashara's character.
So, some final questions.
Why is Ceres so important? Will that also include Hazuki?
What exactly is Gaia? Obviously, it is more than a shield.
What exactly can we expect at the Barrier Workshop?
Are Reia and Neizai the same person?
Why is Reia so interested in Kenshi's family? Is there anything to her family name being "Second?"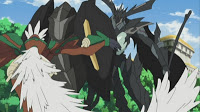 Three more episodes, assuming Kajishima-sensei doesn't get some sort of special OVA (which he's done before). I'm looking forward to seeing the next episode.