魔法先生 ネギま!Volume 31 Chapter 280 (manga)
Mahou Sensei Negima! Manga Chapter 280
SPOILER Summary/Synopsis: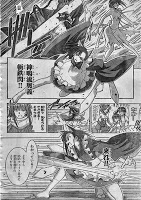 Nodoka learns the dark mage's name is Dynamis and she pays the price with a blow that knocks her across the room. She remembers her days with the treasure hunters and their advice on how to use her artifact to determine an enemy's weakness. As such, she's able to avoid Dynamis's attack and get to the key-staff. She asks the function of the staff and pulls from Dynamis's mind the ability to defend herself. She then asks how to use the staff to escape and again retrieves the information from Dynamis's mind to teleport herself and Asakura to safety, leaving Dynamis to truly understand why the Diarium Ejus is such a feared artifact.
Elsewhere, Kaede arrives too late to save Tosaka from "death" but takes out the entity who caused it. Akira and Ako mourn the passing of Tosaka when Nodoka and Asakura arrive. Nodoka starts to explain when Dynamis teleports in and has Nodoka by the neck, retrieving the staff from her. Dynamis destroys the mini Diarium Ejus that Nodoka has and is about to kill Nodoka when Setsuna arrives and removes Dynamis's hand. Setsuna presses forward her attack (Shinmeiryuu Ougi: Zantetsusen) and activates her pactio artifact with Konoka, drawing on Konoka's vast magical reserves to begin a massive attack (Tsurugi no Kami: Takemikazuchi). Dynamis retreats but promises that there next meeting will come soon.
With the loss of so many friends from the Magic World, Natsumi wants to return to Japan to which Kaede agrees is their best course of action since their enemy apparently has orders not to kill humans. Kaede is reflecting on getting Anya and the badge problem when Yuuna objects to their fleeing. Nodoka sides with Yuuna, saying that she believes it is possible to bring back all of the slain if they can get their hands on the Great Grand Master Key (English term used in the manga).
Nodoka.
I have to say that while I certainly enjoyed the speculation on how Nodoka might have some offensive capability, I think that Akamatsu-sensei's way is best. For starters, it keeps Nodoka in character as a sweet girl who's not a mage or a fighter, but rather someone intelligent who loves to read. As such, I love how she reads her opponent, then uses that knowledge to her advantage. She clearly shows Dynamis why she and her artifact is to be feared as it can draw out all kinds of information (for which there is apparently no defense) and then she can use that information to either fight or flee as the case may be.
After the schooling Nodoka gave Dynamis (though to be fair, Nodoka got schooled herself), I was thinking about Negi's battle harem (Ala Alba). Nodoka, Yue, Sayo, and Asakura clearly belong in the Intel wing of Ala Alba. Sayo and Asakura are scouts and I'd pair them with Chachamaru since they've worked well together and she could protect them (with proper equipment, Sayo could also lend a hand in fighting). Yue would be someone who'd have to stay at Negi's side to provide him with information and to help with strategy (to say nothing of her own growing fighting ability).
Nodoka is someone I'd pair up with Kaede. I believe Nodoka has to be within a certain distance of her target to read their thoughts. Kaede would be the logical choice to safely get Nodoka to the target, then see to Nodoka's safety during tough situations (and if Nodoka has thought feeds, she'd obviously be able to assist as needed).
Just my rambling thoughts.
Anyway, Nodoka's own growth being on a different track from Yue's is a good thing as I see it. It keeps the manga from falling into the pitfall of having a ton of ultra-powerful warriors by giving the team a balance of warriors, intel folks, and even a healer. Nodoka takes on an additional role of troop rallier, which I rather enjoy.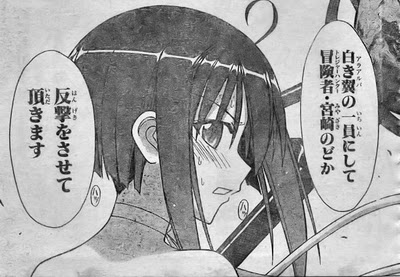 Setsuna's arrival allowed us to get a glimpse of her new artifact and its potential. No doubt, we'll see its return down the road. I would love to see Setsuna be able to use both of her artifacts, but we'll see how Akamatsu-sensei plays out the pactio system.
Nice to see Anya given a "shout out" if you will. Kaede's thoughts also remind the audience that she doesn't know Asuna is a fraud. Since everyone seems to be gathering at the backup spot, I guess Negi will soon arrive as well, at which point the push to rescue Anya and Asuna should get underway. I'd guess that the other non-Ala Alba members (Takahata, Mana, Misora, etc.) and Yue will end up gathering as well.
Another good chapter to be sure, but I do hope we can make some progress in the next several weeks on (1) unmasking Shiori-Asuna and (2) finding Anya and Asuna before finally (3) fixing the MW and restoring its population.