エンジェルビーツ Episode 10
Angel Beats! – 10
SPOILER Summary/Synopsis: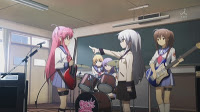 Otonashi decided Yui should be the first SSS member to send on her way and so Tenshi goes along with a plan whereby Otonashi can "save" Yui's guitar from Tenshi and then get to know what is holding Yui here. Meanwhile, Girls Dead Monster practice has the band not happy with Yui's guitar playing, so when Tenshi comes and demands the guitar, everyone simply believes even Tenshi sees what Yui didn't. As such, it is time for Plan B and Otonashi finally gets to save Yui's guitar from Tenshi and return it to Yui.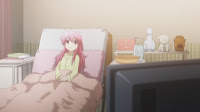 Otonashi learns that Yui had been a paralytic in real life and so has many dreams derived from watching TV — performing the German Suplex wrestling move, hitting a home run, and scoring a soccer goal against five defenders. Otonashi realizes that this is going to be difficult but tells Yui he'll help her by starting with wrestling. She's not strong enough to do the move she wants to do but with some training, she's able to pull it off. Next is the soccer goal where Otonashi gets TK, Hinata, Fujimaki, and Noda to help by pretending a letter of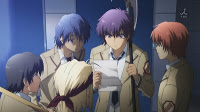 challenge is from Tenshi. Arriving at the soccer field, Otonashi pretends to understand that it was Yui that sent the challenge and gets the guys to defend the goal. With Yui doing some dirty tricks, Otonashi taking out TK at one point, and Tenshi using her Hand Sonic version 5 from the shadows, Yui makes her goal.
Finally, it is baseball time. Yui works hard to get her home run but fails to do so.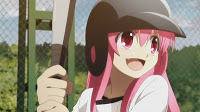 At the end of the day, Otonashi calls an end to things and they start up the next day. Again, Yui fails to score a home run and that night after Otonashi calls an end to it for the day, Hinata comes up and the two of them having a hitting session. The following day, Yui is worse and Otonashi sees that her hands are bandaged up from so much batting practice. She decides that it is impossible for her to hit a home run but just being able to come out and have such a batting practice is enough for her since she couldn't do that as a paralytic.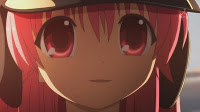 Yui has one final wish and states that it is the wish of every girl — to get married. However, this dream seems even more impossible considering that she's paralyzed and would be a burden on her mate. She asks Otonashi if he would marry her and he has no answer. Hinata arrives and seriously states that he would marry her despite no matter what illness or infirmity she had. Yui says that's impossible since there's no way they could meet. Hinata says that they could meet if he accidentally knocked a baseball through her window. To that end, we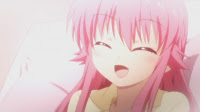 see that very scene with Yui and Hinata having a relationship and Yui become very happy. Yui passes on from this world and Hinata tells Otonashi that he'll help him assist their other friends.
At school, Ooyama is attacked and Noda has to fight some shadow thing to defend his fellow SSS member. He defeats it and a report is called into Yuri about the situation, stating that whatever this thing was, it was very dangerous.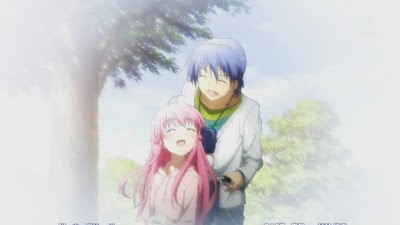 Thoughts/Review:
This episode was both funny and extremely sad for me. Let's start with the funny first.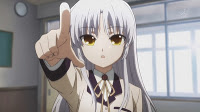 Even though the joke was spotted a long way off, I still laughed at how Tenshi's arrival coincided with the band members chastising Yui for messing up her playing. Because Otonashi had planned things out so well, it seemed almost inevitable that his plan would fail but the way it failed the first time was just so funny to me. Yui being Yui meant that Otonashi got a second shot.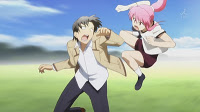 The soccer match was great. I've never gotten into TK like some of the fans (though I understand how the mix of wacky English and Japanese makes him an endearing character), so his stuff doesn't really make me laugh. But Yui completely changing hair styles to a simple ponytail and then going after the four guys (we already knew Otonashi wouldn't oppose her) was very funny to me.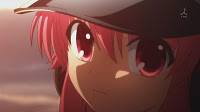 The humor pretty much ends there with the baseball aspects and Yui's attempts to hit a home run. All the effort she put into getting that hit only to realize that it might be an impossible dream (well, not really impossible but considering the time limitations on the episode…) but the fact that she was able to even attempt it was enough for her considering she was paralyzed in real life.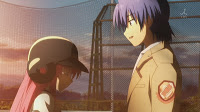 Her dream of getting married is what got me though. It was already sad that Yui's real life was spent in bed, completely unable to move from the neck down (it completely explains why she's so hyper in limbo) but her thoughts on marriage struck me hard and I felt for the character. Hinata coming in and saying he would marry her brought out the tears, especially when I saw the scenes of what I assume are Yui's imagination of a life with Hinata even though she was a paralytic. I'd stated that her and Hinata had a sibling-like relationship and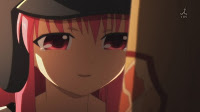 implied in that is a loving relationship. It wasn't the traditional, "romantic" love but their bickering and teasing each other was something I sensed as being a symptom of a deeper connection between them. I loved their pairing even though it wasn't romantic. That's why I totally believed Hinata would marry her and why I totally believe that Yui believed it as well. Thus, the tears and I'm not ashamed to admit it.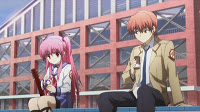 I'm going to miss Yui though, I can't lie. I really liked her and the brand of humor she injected into the series. That's gone now, but I think that's because things are going to get serious.
Speaking of that, I really think that this limbo world they are on is a creation of Yuri's. She's the only one shown to have a true and deep resentment towards God. If Maeda-sensei is following Clannad's lead, then Yuri created this world initially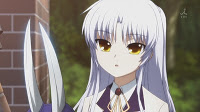 from her memories. Remember, everything in this world has to be created from memories and that was something touched upon in Clannad (for those who watched that).
Anyway, Yuri's resentment in this alternate existence she's created is drawing unfulfilled souls to it IMO. The so-called "NPC's" were what Yuri initially created to populate her world and then everyone else who's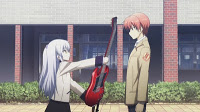 arrived since either passes (because the find contentment) or they join SSS after Yuri locates them. From what little I've seen of the"Track Zero" novel content, Yuri didn't even know about Kanade and didn't declare her to be an enemy named "Tenshi" until she witnessed Kanade using Hand Sonic for the first time.
Assuming this to be true, then I tend to suspect that Kanade was sent into this world, whether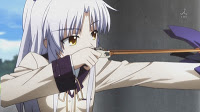 by God or regular people (I think of how in Clannad, scientist were studying this alternate world phenomenon), I couldn't say. Heck, she may have been an NPC that "came to life" as it were to clear the logjam.
While Yuri has apparently mellowed out somewhat from how she was in the novels, I also think that her strong desire to keep SSS members from disappearing (despite her apparent nonchalant attitude about Iwasawa's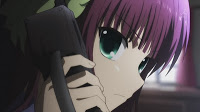 disappearance) may be playing a role in whatever it was that Noda encountered. Just a hunch.
So, an episode that had some really good laughs, but also some tears as Yui leaves the series. Indeed, I hadn't expected Yui's departure to affect me so much, but it did, enough to derail my blogging for a bit. ^_^;