Hagane no Renkinjutsushi – Fullmetal Alchemist Ep. 60
鋼の錬金術師 FULLMETAL ALCHEMIST Episode 60 review
Fullmetal Alchemist Brotherhood – 60
SPOILER Summary/Synopsis: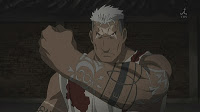 As Brosh and Ross are reunited at the radio station, Scar and Bradley continue their battle, inflicting damage to each other. Bradley manages to damage Scar's transmutation arm and goes for the kill only to be surprised that Scar can perform alchemy still thanks to the research and tattoos on his other arm.
Down in Father's lair, Mei decides to tackle Father for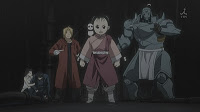 immortality and though Hohenheim manages to emerge enough to warn her, she's still taken out by attacking Father. Ed battles Pride as the others attempt to fight Father but when the solar eclipse is almost at its peak, Father puts an end to the fighting by grabbing his chosen sacrifices and binding them. Greed attacks to be at the center and take the power, but Father was expecting that since Greed's greed is actually the same as Father's greed.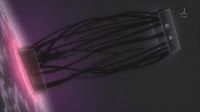 Father moves and starts the massive transmutation circle, taking the life of everyone in Amestris. Eyeballs appear in the stomach areas of Ed, Al, Hohenheim, Izumi, and Roy as Father continues to do his thing. What appears to be a giant door opens from what was Amestris and a giant Father emerges and challenges God. An eye opens at the moon and arms appear from that door, mingling with Father's door's arms. Thus Father vows to pull God from the heavens and absorb Him and His power.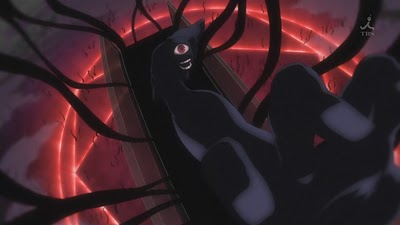 Thoughts/Review: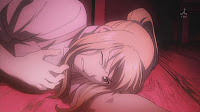 How the heck do you recover from that? Seriously, with everyone dead, the bad guys win, end of story. *lol*
OK, we can't have a story that ends like that and since you guys have informed me the series has four more episodes, I can only imagine that something has to happen to fix things since they apparently weren't able to stop Father's plan.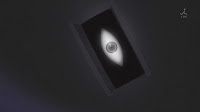 Now, does this "god" that Father wants to absorb end up being too much for Father to contain? That's a possible means of getting out of this. Then again, there's also the alkahestry modification of the countrywide alchemy circle and that might come into play. Maybe Mei Chan is close enough to the center to survive and possibly activate that to reverse things. There's also Greed-Ling. The word "sacrifice" would seem to rule Ed, Al, Izumi, Roy, and Hohenheim out unless being sacrificed gives them a means with which to act.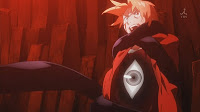 Basically, I can't even remotely begin to speculate on where things will go because there are too many variables. As such, I look forward to seeing how things are resolved from what seems to be an unresolvable situation.
The fight between Bradley and Scar still has not ended, which surprised me a bit since I thought Scar might take him down by now. That said, the revelation that Scar had tattooed his other arm was a bit of a surprise and while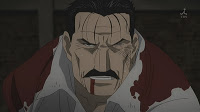 it fit from a certain perspective (Scar continuing his brother's research), it also comes up as rather contrived to allow Scar to survive Bradley's final attack and inflict damage back.
I guess Pride didn't get off without paying a price for the forced human transmutation. That does make sense to me since even though he used Roy as a proxy, he still used his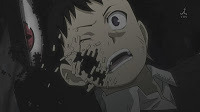 body and abilities to perform the transmutation and indeed passed through the gate himself.
Hey wait! If Pride was damaged, does he have a damaged pride? *lol* (Clearly, I need to be in bed getting some much needed sleep.)
Though short, I liked that Ross and Brosh were reunited.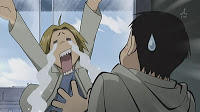 Finally, I suppose it is official now. Mei Chan is "May Chang" and Xiao Mei is "Shao May," at least according to the eyecatch. There may have been an earlier eyecatch to spell their names this way and if so, I didn't pay attention.
So, a really interesting episode that paints things as bad as they could possibly get before the final resolution. Should be interesting to see the conclusion. ^_^