エンジェルビーツ
Angel Beats! — Final Thoughts (Review)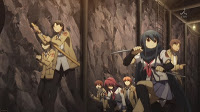 I'm not one for hyped anime titles. Indeed, my interest in Angel Beats! lay not with the hype surrounding the start of it (I paid scant attention to that), but rather the fact that Maeda-sensei, creator of Key titles Air, Kanon, and Clannad, was the creator of Angel Beats! as well. While it is nice to have a Key anime title that isn't bound by the restrictions of the source visual novel, Angel Beats! suffers from other problems.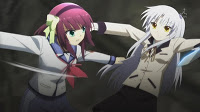 We in the West are not fond of multi-media releases. If we watch a TV series, then we expect the TV series to be self-contained. If we watch a movie series, we expect that to be self-contained. There are exceptions of course, such as the comic book used to bridge the aborted Firefly TV series with the Serenity movie, but even then, most folks prefer to skip the comic book portion and just stick to the TV series and movie. In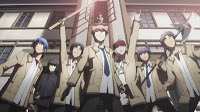 Japan, the culture is a little different, no doubt due to the otaku collectors mentality that supports the overpriced products in Japan. As such, having an anime series that is covered in part in a video game, novel, manga, 4-koma (comic strip), or combination of those elements isn't seen negatively.
Thus, we come to this 13-episode anime series called Angel Beats! which has story elements that cover not only the anime, but a novel, a manga, and a 4-koma series. In other words, the bane of the West.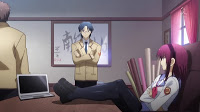 The anime gets off to a rocky start by first appearing to have lead female character Yuri look similar to Haruhi from the famous Suzumiya Haruhi franchise. Then, the anime appeared to pick up elements that were deemed to be popular. It also started with a blood-fest for comedy that did not work for me. None of the characters really stood out to me and I found myself wondering, "What's the point?"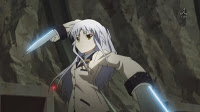 Fortunately, things did improve. Learning Yuri's horrible backstory (though not the cause of her death) gave some meaning to her desire to call out God and pursue the person she has deemed an angel and thus named her "Tenshi," the Japanese word for angel. Learning of Yui's life explain a lot of her actions in the afterlife and the resolution of her storyline was the one tearful moment for me, but in a happy sort of way.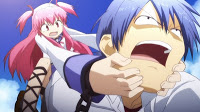 The comedy aspects to improve as well as the bloody gore is dropped for more traditional "death" comedy akin to something that might have come out of the classic Looney Tunes. There are character comedy moments as well such as when Yui and Hinata pick on each other, almost like a brother and sister, thus showing how they actually do care for each other. The character of TK, who speaks clear but bizarre English and Japanese, is a fan favorite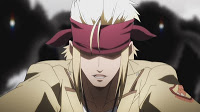 because of his sayings, which can be funny. He grew on me and should this anime be licensed, the U.S. company would do well to hire the same person to do the voice — Michael Rivas (or use his voice track from the Japanese). If the U.S. dub doesn't do the same Japanese/English mix, his character won't be the same and Michael just has that nailed.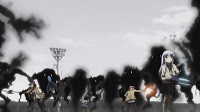 The overall plot is rather interesting for the most part, but the anime is completely unpredictable. So if you haven't yet watched this, don't bother trying to figure out anything because you almost certainly will be wrong. There's nothing wrong with an anime, manga, book, etc. being unpredictable. However, some of that unpredictability comes from the lack of proper setup due to only having thirteen episodes to work with.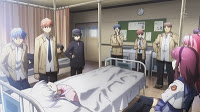 Ultimately, that's what is wrong with this anime. Having only thirteen episodes to work with meant that some story elements, including important backstory of how Yuri and Tenshi met as well as how Hinata came into the story and how the so called "NPC's" weren't always what one would expect them to be. More episodes would have helped the overall plot greatly and allowed for more character development, something that was limited to a select few characters. I'm not sure that what I've seen of the prequel novel fills in enough of the gaps and I know nothing of what is in the manga or 4-koma strips.
I walked away from this anime with the following list of unanswered questions.
Where was 'God?'
How'd all these kids learn to create guns? The anime was clear that while weapons could be made from dirt, the makers had to know how to make a weapon from memory in order to make it from dirt. That was further expanded when the Guild produced a giant cannon to attack Tenshi with and it blew up on them because they didn't know how to properly make it. Yet somehow, they knew how to make a dizzying array of other weapons (see this impressive article on the actual weapons used in the anime).
Why were all of the souls in this "purgatory" high school aged kids, save for Chaa (and I only know he was not because that's revealed in the novel)?
If Kanade (Tenshi) was the recipient of Otonashi's heart after he passed away, then how'd she end up in "purgatory" before Otonashi, and by a significant amount of time too?
How'd Yuri know where Otonashi would arrive so she could immediately recruit him?
Why'd Yuri think that Kanade was an angel just because she could do certain things considering that her people could create weapons from dirt, something equally as amazing?
Just how in the heck did the person that created this purgatory world do so?
Why was Yuri so concerned about not harming NPC's? If they weren't human but merely creations, then what did it matter whether they were hurt or not? If they were human souls, then again, what did it matter since people who "die" in this purgatory world come back to life?
Speaking of death, why was Naoi's slaughtering the SSS worse than when Tenshi did it? Yes, he could force-send them on, but not if they were "dead."
How come it took time for Yui and Iwasawa to find the contentment to move on but suddenly at the end, the 99% of the SSS organization is sent on in a very little time within purgatory?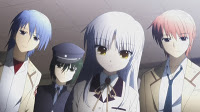 In the end, Angel Beats! is an anime with promise and with some elements that are really good. However, the lack of episodes is a real killer here as it prevents proper character development and proper story development. The good elements and episodes are enough to make it worth a rent though.