Belldandy: Her Changing Appearance Over Time
All comic, comic strip, and manga artists evolve their character designs for a series they created over time. I am reminded of this whenever I reread my various comic strip collections like Peanuts, Calvin and Hobbes, Bloom County, Foxtrot, etc. as the early strips look different from the later strips, sometimes quite a bit different. For Negima!, the character designs in volume one are somewhat different than what they are today, though I wouldn't call it radically so since the current character designs would reflect the passage of time better (in my opinion).
For Ah! My Goddess, Fujishima-sensei is constantly tweaking his character designs, far more so than what would normally happen through the course of a comic's/comic strip's/manga's lifespan. Take a look at this collage of Belldandy as she has changed over the course of 41 volumes of manga (nearly 22-years).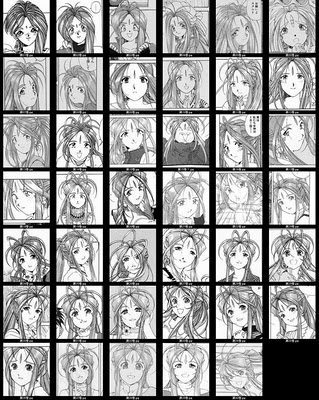 The character designs never stay the same but are constantly shifting (discounting that one image of "Belldandy" above for obvious reasons *lol*). I thought that around volume 8 is when the character designs were looking quite good but they became less appealing many volumes later (which is not to say that Fujishima-sensei can't draw, but the changes in eyes and other tweaks made Belldandy not as appealing to me visually as she had been). Today, I still think Keiichi's ears are wrong but I no longer find the look of Belldandy and the others to be disappointing due to the continued tweaking by Fujishima-sensei.
Anyway, I thought this was a pretty interesting look at how Belldandy's look has changed over time. Thanks to Ah! My Goddess fan 'CuSO4' Yung for the image share. ^_^