Negima!'s Akamatsu-sensei Leads The Way with Legal Japanese Online Manga Publishing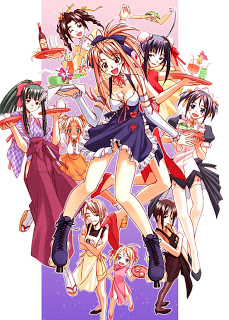 For a long time now, I've been wanting to see more inroads to legal, online publication of manga, both in the U.S. and in Japan.  So when I hear that on the 17th, Akamatsu-sensei has a new initiative for legal publication of out of print manga in Japan, I was pretty excited.  (You can check out Akamatsu-sensei's blog for the info and look for the "★重要なお知らせ" posting.)
The idea is simple and brilliant — take manga titles that are now out of print, obtain permission from the manga-ka to upload them to the website they've established as PDF files, then share them with the world FOR FREE!  Ad revenue will pay for the upkeep costs of the site and pay the manga-ka too.  Better still, there will be NO DRM (Digital Rights Management) crap to deal with!  How freaking cool is that?  I loathe DRM with a passion and it shows common sense on the part of Akamatsu-sensei to not upload files burdened with this hideousness.
Granted, unless you can read Japanese, this won't help you much.  However, I'm looking at a bigger picture here.  Hopefully, Akamatsu-sensei and other manga-ka will have an English version of the site for out of print manga titles in the west.  I'm sure there would be amateur translators who'd be willing to donate their translation skills to this legal project much as there are currently for scanlation projects.  As I see it, this is an exciting step in the right direction when it comes to legal, online distribution of manga.
I'm a bit surprised that Akamatsu-sensei's own Love Hina title is one of the first to go up on this new site.  I see it still for sale in Japan, but I do notice that every volume shows limited numbers of copies left.  So, maybe Kodansha (講談社) is in on the deal as well (at least at some level) or maybe Akamatsu-sensei has that kind of clout to make Love Hina go out of print just for this new website.  Regardless, I just hope that this doesn't interfere with a potential re-release of the title in the U.S., complete with new translations.
So, I'll be watching this with keen interest and hope that this is not only a success, but also translates into a version for us English speakers.  ^_^