フェアリーテイル
Fairy Tail Manga Volume 01 Review
–> PURCHASE FROM RAKUTEN.COM (formerly BUY.COM)
–> PURCHASE FROM BARNES & NOBLE
–> PURCHASE FROM RIGHTSTUF!
SPOILER Summary/Synopsis: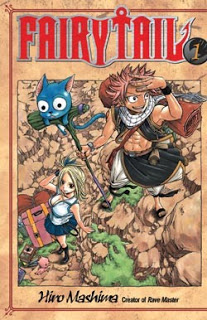 A young, large-bosomed wizard named Lucy is in the town of Hargeon looking for magical items at a local shop.  Another, motion-sick male wizard named Natsu also arrives in town with the talking cat Happy.  After Natsu accidentally saves Lucy from falling under a fire wizard's charm spell on pretty girls, Lucy treats him and Happy to lunch before taking off again.  She again meets Salamander, who says he's with Fairy Tail, the infamous wizard's guild that Lucy is a huge fan of.  As such, Lucy agrees to meet him there.  Unfortunately, it is a slaver ship to capture young girls and Lucy is snared.  She's saved when Natsu and Happy arrive, angry that someone would abuse the name Fairy Tail since they are members.  Lucy ends up overboard and summons an annoyed Aquarius, who sends the slaver ship AND Lucy ashore in a giant wave before telling Lucy not to summon her again for a week while she spends time with her boyfriend.  Once ashore, Natsu kicks bottom but is forced to flee with Lucy because of the collateral damage caused.
Lucy is taken to Fairy Tail, where she has a frightening encounter with the guild master Makarov. However, she's made a member and given an official stamp by Mira.  As Natsu looks for a job on the bulletin board, Romeo complains to Makarov about his missing father, who'd gone out on a mission.  Makarov doesn't like Romeo's whining but Natsu decides to look for Romeo's father Macao.  Lucy invites herself to the quest but after arriving where Macao disappeared, she discovers it is extremely cold and that the ape monsters called Vulcan's are not to be trifled with.  A Vulcan finds Lucy, who's seals herself into her summoned Horologium until time expires and the excited ape monster has a woman to enjoy.  Lucy summons Taurus, but when Natsu arrives, he assumes Taurus is another monster to be defeated and attack him.  However, the Vulcan is eventually defeated and Macao saved.
After the mission, Lucy scores an apartment and quickly has an unwelcome visit from Natsu and Happy.  She explains to them about celestial wizards and shows them by using the new key she recently purchased to summon a spirit she names Plue, after which she signs a contract with it.  While Plue speaks no English, Natsu seems to understand it and agrees that a team should be formed.  As such, he wants Lucy on his team and while she's initially enthusiastic, that wanes when she learns about the job and the need for a hot blonde maid.
Thoughts/Review:
Since Kodansha Comics takeover of Del Rey licenses caused a big delay in some manga I read, I thought I'd investigate something new to try.  Being a big fan of Negima!, for some reason, the title Fairy Tail had frequently crossed my path.  However, I never felt compelled to investigate it further despite being a fantasy title as the artwork I saw reminded me of One Piece.  Now, I've nothing personal against One Piece but after watching the first anime set released by FUNimation, I had no interest in watching any more of the anime nor of even beginning the manga.  As such, I certainly had no interest in something that looked like it might be almost the same thing as One Piece, only with mages of some kind instead of pirates.
All that being said, I did hear some good things about the series and even heard translator William Flanagan mention something about the series.  As such, I thought I'd delve into it and see how things went.
For starters, there is the whole One Piece feel to Mashima-sensei's artwork as I mentioned before.  I can't say I'm really a fan of those kinds of character designs.  There's nothing wrong with them other than I'm just not crazy about it.  As to the "why does Fairy Tail and One Piece look as if they were done by the same manga-ka" question, it has been said that Mashima-sensei and ODA Eiichiro-sensei (One Piece) were both assistants to WATSUKI Nobuhiro-sensei, who did the Rurouni Kenshin manga.  That apparently is FALSE, as is the rumor that Mashima-sensei was Oda-sensei's assistant.  Apparently, Mashima-sensei has never been anyone's assistant (source) and was influenced by TORIYAMA Akira-sensei, the creator of the classic Dragon Ball manga as was Oda-sensei.  So, they apparently developed similar character design styles.
That aside, while I couldn't get into One Piece (even tried the manga even though the anime really didn't appeal to me), for some reason there was something about Fairy Tail that just sucked me in from the start.  I think it begins with Mashima-sensei's somewhat twisted sense of humor.  What he does for comedy doesn't make me laugh, but it does make me smile and increase my level of enjoyment.
For example, when Natsu is introduced, he's suffering from motion sickness.  I mean, who introduces one of the leads (male or female) at one of their worst moments?  *lol*  Then shortly thereafter, Lucy gets to show off her skills as a spirit summoner only to have Aquarius give Lucy serious attitude.  Again, this is not what one would expect, even more so once we learn how celestial wizards have written contracts with the spirit entity who's key they own.  So Aquarius agrees to allow Lucy to summon her but then gives her grief about being summoned and even threatens Lucy because Lucy's keys were at one point thrown overboard.  Then Aquarius does what Lucy wants but (1) makes Lucy pay for it by making sure she gets caught up in the "tidal wave" and (2) expressing regret that the ship Lucy wanted attacked got in the way of Aquarius attacking Lucy (which I'm sure is just part of Aquarius's nature to keep Lucy on her toes more than anything).  Then, Aquarius returns to the place she was summoned from but makes sure to throw a barb in about Lucy not having a boyfriend.  That's twisted but I love it!
The twisted humor doesn't stop there as Lucy discovers when she first arrives at Fairy Tail and thanks to Natsu, the guild members inside immediately start brawling.  When Lucy summons the grandfather clock-looking Horologium to protect herself from the cold and from the Vulcan, it disappears on her at the worst moment. When Lucy summons Taurus, her cow-warrior celestial spirit has an udder fixation and gets mistaken as a monster by Natsu.  And that's just for a start.
So while the twisted humor is not something that has made me laugh out loud, it is something I appreciate a great deal.  Plus one to the manga.
The stories are the next element and I found them to be interesting.  Mashima-sensei really got the ball going with the first (large) chapter and managed to keep the pace going fairly quickly without being too quick to keep up.  Having established what kind of fantasy world this manga is set in (one where "magic" isn't quite what one would expect from normal fantasy tales and some of the people wear modern-styled clothing), Mashima-sensei moves quickly to the next story, pausing only to give Natsu a small amount of character development before proceeding into the next story.  That too moves at a fairly quick pace which I liked.  When the first volume comes to an end, Mashima-sensei has simply laid the groundwork for the next story which I look forward to reading in volume 2.
Characters are the final element.  I have to admit that while I find Natsu's mannerisms to be somewhat cliched for a shounen action series, the fact that he's burdened with motion sickness offsets that and made him an interesting character.  His stock went up a bit more when we learn that he was raised by a dragon to be a Dragon Slayer.  Happy seems to be comic relief at times and I can't help but love his use of the term "aye."  I'm not 100% sure, but I believe this was the term used in the Japanese, so I'm glad it wasn't translated into some other affirmation word like "yeah."
As for Lucy, I don't dislike her but she does seem awful weak to me.  OK, so she can summon powerful (or not so powerful) spirits, but only according to a contract and apparently only at certain times or days.  So far, she hasn't been that helpful in a fight despite having Aquarius send the slaver ship ashore.  I guess she'll take a bit more getting used to.
On the Del Rey, I'm always glad to see the use of honorifics. Hopefully, this will continue when the series goes to Kodansha Comics (I'm guessing it will since Mr. Flanagan is still the translator as I understand it).  The translation notes are here (something I also hope survives into the Kodansha Comics' releases) but I noted that Mr. Flanagan made a note that he had Happy refer to himself as "Nekomander" at one point rather than translate it as "Catmander" or "Kittymander." I checked into this and according to Mr. Flanagan, it was Mashima-sensei's request to have the English version say "Kittymander."  Personally, I like "Nekomander," which is what was in the original Japanese.  Well, it is Mashima-sensei's manga and he did also provide the English spelling for the names used.  I guess Mashima-sensei has more of an interest in keeping tabs on the official American release but that doesn't seem to be a bad thing.
The only issue I had was the use of the word "tidal wave" when it came to describing what Aquarius did when she sent Lucy and the slaver ship to the shore in a huge wave. When I was a kid, any giant wave was referred to as a "tidal wave."  However today, scientist have been trying to get that changed as the Japanese word "tsunami" is the better choice.  As I understand it, a tidal wave is a predictable event, caused by the gravitational forces of the moon and the sun on the water.  A tsunami is used for a giant wave created by a violent event such as an earthquake.  I don't know what the original Japanese term was, but if it was "tsunami," it should have been left untranslated in my opinion.  If it was not "tsunami" but some other Japanese word, I still say "tsunami" should have been used since that applies to what Aquarius did.  If Mashima-sensei actually used the English "tidal wave," then there's naught that can be done about that except to educate him on the difference between a tidal wave and tsunami.
Otherwise, I had no problems with the adaptation at all.
So, a good start on a manga that managed to quickly pull me in and keep me going so that I want to read more.  Here's to an equally as good second volume.  ^_^