Ah! My Goddess Manga/Oh My Goddess! Manga
ああっ女神さまっ Chapter 268
SPOILER Summary/Synopsis: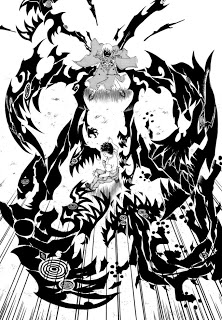 Mokkurkalfi  has informed Keiichi and company that her older sister, the little girl mazoku, is waiting for them. Keiichi assumes she means little sister since Mokkurkalfi looks older. Mokkurkalfi informs Keiichi that the form he sees and her true form are not necessarily the same.  She questions whether he truly understands the goddess's true nature.  To put an example to her point, her face becomes dark and sinister with many sinister shadow things emerging from her body.
Mokkurkalfi finds this all amusing until Belldandy tells her to stop, which brings it to a halt. Keiichi is briefly in shock over what he's just witnessed but Belldandy's presence quickly allows him to recover.  Belldandy informs Mokkurkalfi  that it is true that Keiichi fears their goddess powers on their behalf, which acts as a restraint for them. Transversely, he does not fear them despite everything which becomes their strength.  Keiichi realizes (after the fact) that Belldandy used that moment to confirm his resolve to move forward.
After Keiichi and company leave, Mokkurkalfi questions Hagall on whether their plan is any good. Hagall tells her that they must create the ideal world ruled by demons (mazoku) and that this is all they can do.  Mokkurkalfi agrees and then turns to her mecha, marveling that it did something she didn't program to protect her.  Skuld returns to extract the mini Banpei-kun from the giant unit and asks Mokkurkalfi if she wants help fixing her mecha. Mokkurkalfi says no and further states that she'll not only repair it, but power it up as well and in the rematch against Skuld, she won't lose. Skuld takes the challenge.
Before leaving again, Skuld asks why Mokkurkalfi wore what Skuld considered to be an uncool helmet and mask. Her and her sisters research indicated that a red mask and helmet makes one three times faster as well as being cool, something Skuld finds very amusing and races off to tell Keiichi.
Meanwhile, Mokkurkalfi's older sister is bored waiting for Belldandy, Urd, Skuld, and Keiichi to arrive. So, she breaks out a karaoke machine and starts singing just as the group arrives.
Thoughts/Review: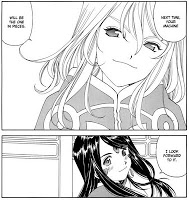 I still think that Mokkurkalfi's costume is a tribute to Char from Mobile Suit Gundam.  It looks similar and the reference to red would be Char even though his mask and helmet weren't red.
Anyway, I liked the aftermath scene between Skuld and Mokkurkalfi.  I remember back during the early days with Mara that it was revealed that Urd and Mara had been good friends.  Once Urd's heritage was revealed, one assumed that this was just a result of Urd being half-goddess and half-demon.  Now, it seems that friendships without that sort of linkage is possible as both Mokkurkalfi and Skuld would appear to be friends now.  I doubt we see it, but it would be fun if Skuld and Mokkurkalfi got a rematch.  It would be more fun if Keiichi' sister Megumi was involved since she went up against Skuld and in order to deny Megumi a victory in a mecha match-up, caused her own to self-destruct.
While I'm thinking of it, I couldn't help but be reminded that Mokkurkalfi's shadow things were very similar to those used by Pride in Full Metal Alchemist.  Again, I wonder if there's a tribute there on the part of Fujishima-sensei.  Whether there is or not, I do find it interesting that Fujishima-sensei would make a big point of reminding the audience that despite is cute character designs, the mazoku are very dangerous.  (As an aside, I think volume 8-13 is about the peak of where the character designs were best for me regarding the main characters.)
So, Mokkurkalfi's sister is next and since she's in a karaoke room and singing, I'm going to guess singing will be involved.  Since we haven't seen the angels in this story arc (and I don't remember there being a reason not to see them), maybe they will play a role in the next sub-arc.  We'll see.
Anyway, a fun aftermath chapter here with some interesting bits laid out on the side. ^_^