魔法先生 ネギま!Volume 35 Chapter 322 (manga)
Mahou Sensei Negima! Manga Chapter 322
SPOILER Summary/Synopsis: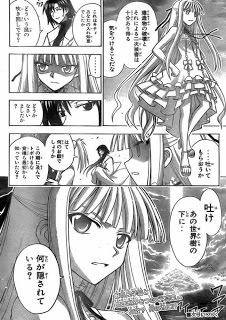 As the civilians of Mahora and surrounding area look in awe at the upside-down Gravekeeper's Palace in the sky, hoards of summoned demons descend. Nutmeg gets into the action to defend the people. Some of the martial artists from the Mahora Budokai join in but some of the demons cast a spell which strips them all of their clothing.  The mage teachers and staff get involved but even some of them, like Sister Shakti, get stripped.  The headmaster is relieved to see that the summoned creatures are not killing people but does note to Al and Eishun that the creatures appear to be heading for the World Tree.
Many of the students are starting to panic but Ayaka arrives, dressed in her costume from the Mahora Festival, and pronounces this is a surprise, "end of summer" sequel event to the successful "Martian Invasion" event at the end of the Mahora Festival.  Eva finds this to be a poor excuse but the students buy it and Negi's classmates on Earth begin handing out the special magic guns and staves.
The headmaster is pleased with Ayaka's work and other teachers are amused with how their students go with the flow.  Eva joins the headmaster, Al, and Eishun and demands they tell her what's hidden under the World Tree.
Thoughts/Review:
Ordinarily, I would call "bull crap" on how the students of Mahora ALWAYS buy the poor excuses put out to explain away magic and magical beasts.  However, after Negi and company jumped a week ahead in time thanks to the trap left by Chao, I've started to think that Chao's forced recognition spell wasn't just to get people to open their eyes, but to negate a condition that had closed people's eyes to the truth.  Mages have lived on Earth for a very long time.  There have even been magic battles fought on Earth, not only during the Kyoto arc, but the attack on Negi's village and more.
So, it would seem to me that for mages to want to live a life on Earth and keep their magical abilities a secret, two things had to be done.  First, a spell like had to be cast so that normal people would buy the crappy explanations for when a magical event happened beyond anyone's control. The second would be a punitive system (being turned into an ermine) to prevent mages from actively attempting to reveal their secrets.  After all, there are special people like Chisame who never bought the bogus stories but like Neo in the Matrix, couldn't quite put their fingers on what was real and what wasn't.
This chapter was partially meant as a "take it easy" chapter for Akamatsu-sensei.  I don't mean that he attempted to sluff off because the man is seriously overworked and add to that the aftermath of the quake, tsunami, and nuclear power plant issue in Japan which make the life of himself and his staff more difficult.  However, the story had been dark and action filled of late and since Akamatsu-sensei gets the shakes when he goes too long without drawing naked characters, it was time to work some of that into the story.  While we're at it, lets get some male fanservice as well as stripping characters who've never been stripped before.  *lol*
Back to the story, interesting that some of Chao's equipment was still accessible, such as the walker Eva and Ayaka came in on. Ayaka will be a fine successor to her father's conglomeration (or whatever it is) based on how she has been handling things so far.  Assuming there's still another story arc after this one ends, I wouldn't be surprised if Ayaka ends up getting a pactio sooner rather than later as she may now know about Negi being a wizard as well as her knowing the truth of Eva.
Speaking of Eva, although it wasn't really clear, I'm pretty sure that she is up in the air hovering along with the headmaster, Al, and Eishun.  I mention this because I'm pretty sure Eva is at full power, or very near full power.  As such, we could see her open up a bit here.  She's also not likely in the mood for Al's normal irreverent panache.  Though I doubt she would attack him, it would be interesting to see Eva in a scary, angry way vs. the comical angry form we saw her express to Al during the Mahora Budokai.
Looking forward to the next chapter for sure.
Oh, regarding spoilers and the lack of them here.  The Japanese haven't been posting any spoiler images though it appears our French cousins, the same ones who had their website shut down some time back for posting the entire manga prior to it being for sale in Japan, are now posting a few spoiler images and then thumbing their noses at Kodansha by slapping their customary watermark on the images.  I don't want to be involved in that so I don't touch it but I do still keep an eye open for Japanese sources of spoilers and will share those if they ever come back.