Wolverine – 12 (Finale)
SPOILER Summary/Synopsis: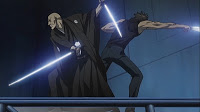 Shigen battles Logan fiercely, showing his superior fighting skills while Hideki takes Mariko to another room.  During the fight, Logan manages to end up in the conference room next to the room Hideki is in.  Hideki wants to shoot Logan with one of his toxic darts but Shigen stops him.  Shigen and Logan continue to do battle while Hideki grows concerned that Logan might win and tries to get a shot but is stopped by Kikyo, who takes the dart instead.  Logan manages to disarm Shigen but then discovers his opponent also knows karate in addition to the samurai sword arts.  Further to that, he's wearing full body armor which is able to deflect Logan's claws.  Logan goes on the attack and the two end up going out a window and falling many stories into a pool below where their fight continues.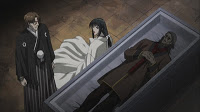 Meanwhile, Hideki takes Mariko to an underground chamber where his father is entombed.  He reveals that he was the one who caused his father's death and now that he has access to the Yashida clan's finances and power, he's going to destroy Dragon Palace, killing Mariko's father and Logan, and then build anew as the top crime boss of the Far East. However, he and Mariko will be OK since they are in a designated shelter. Back on top, Kikyo and the injured Yukio watch Logan battle Shigen and eventually win. Logan allows Yukio to make the killing blow before she too dies in his arms, confessing that she killed Asano.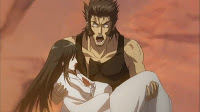 Logan heads down with Kikyo as the tower blows up around them.  They make it to the underground crypt/shelter and manage to pry open the heavy metal doors a crack.  Kikyo tells Logan to go through while he holds it open, which Logan does. The door shuts again and Logan faces Hideki.  Hideki shoots the advancing Logan with one of his toxic darts and the poison takes immediate effect.  Mariko races to his side as Hideki plans to shoot Logan in the head with a regular gun just to be safe.  Mariko attempts to defend Logan but is tossed aside.  However, Logan has the dart in hand and stabs Hideki with it, killing him.  Unfortunately, Hideki shoots Mariko in the process and she dies in Logan's arms after confessing her love for him.
Sometime later, Logan and Kikyo have their fight.
Thoughts/Review: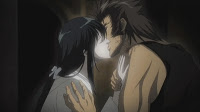 Gah!  Whatever.  Seriously, what a jacked up ending.  I had thought that the anime writers would go the way of the comic book and have Mariko choose to take over the family business, howbeit for good rather than crime, and sacrifice her love for Logan in the process.  Instead, the writers kill her and everyone else.  Since Logan is in the forthcoming X-Men anime series, guess who must have won the fight between himself and Kikyo?  *_*  So in the end, I'm left thinking, "so he did all this for nothing."  Now, that's a valid, tragic ending but not the one I wanted.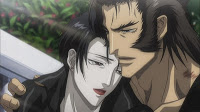 The revelation that Yukio killed Asano was initially surprising to me but then as I thought about it, I realized it made sense. After all, Kikyo might be an assassin but he had such a strict code of honor that his killing of Asano didn't quite fit the bill of how Kikyo did business.  So in the end, the anime writers did have Kikyo take the role of Silver Samurai but apparently decided Kikyo too must die since as I said earlier, Logan lives.  Of course, it is possible that Kikyo might still be alive since the writers left that open but at this point, I don't care.
I'll write some final thoughts later but for now, I walk away from this episode with a bitter taste in my mouth.
Wolverine – 12