機動戦士ガンダム /Kido Senshi Gundam episode 43 (final)
Mobile Suit Gundam – 43

SPOILER Summary/Synopsis: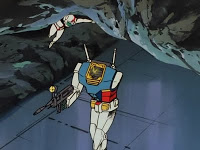 Amuro and Char continue to battle outside as Guncannon and Guntank open an entrance into A Baoa Qu.  White Base takes a hit on one of its engines and is forced to jettison it.  Bright orders the ship to land on the A Baoa Qu asteroid, where they take fire from Zeon mobile suits, destroying their other engine. Both Guncannon and Guntank attempt to cover White Base but are soon taken out, forcing Kai and Hayato to eject. G-Fighter gets shot down as well, with Sayla having to eject. Amuro's and Char's fight takes them inside the A Baoa Qu base where Char destroys a head and arm of Gundam but loses everything but Zeong's head. Amuro ejects and has Gundam on auto pilot walk into Char's trap where Gundam is destroyed but not before destroying Zeong's head.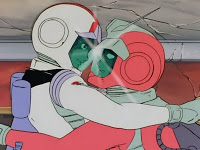 Char and Amuro still continue their fight as Sayla tracks them. Char leads Amuro into what he hopes is a trap since even Newtypes need training and he thinks Amuro won't have the stamina. Amuro's abilities keep him on par with Char has they sword fight.  Amuro demand to know why Char isn't fighting the Zebi, the true enemy, but Char sees a Newtype as strong as Amuro to be the real enemy. Sayla finds them and pleads with them to stop fighting. Amuro's blade cracks Char's suit's face visor and Char manages to get Amuro in the shoulder. The three of them find themselves in an "astral plane" where Lalah is seen. Again, Amuro argues against the fight, citing Lalah and again Char rejects it, even though Sayla agrees with Amuro. Sayla thinks Char is going mad but when an explosion sends her crashing into a wall, Char saves her.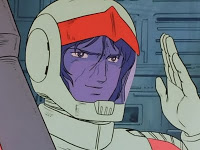 Now separated, Amuro tends to his injuries while Sayla and Char find a wounded officer who'd been helping Kycilia escape.  At that moment, Char decides to kill Kycilia rather than fight Amuro and leaves Sayla in Amuro's figurative hands. He then takes a bazooka and fires into the bridge of Kycilia's departing ship, killing her. Amuro makes it back to Gundam and ejects the upper body before realizing that he can now see all of his comrades and friends. After a few words of encouragement from Lalah, Amuro telepathically instructs Sayla on how to escape. He then makes telepathic contact with Bright, Mirai, and Frau Bow so that the crew abandon White Base for the launches (shuttles). He also contacts Kai and Hayato and the result is everyone gets off White Base and clear of the blast zone before it explodes.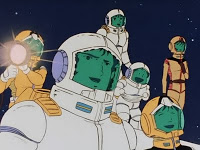 Both launches away, it is soon discovered that Amuro isn't on either shuttle. Bright feels that as a child of Zeon, Sayla has the best chance of making telepathic contact with Amuro, but she doesn't know how. There's a general feeling of depression over the potential loss of Amuro, but the three orphans seem to know he's OK and even count down to an explosion, where a damaged Core Fighter emerges with Amuro in it.  Hayato uses a signal lamp to get Amuro's attention and after making one pass over the shuttles and his waiting comrades, Amuro apologies to Lalah for not joining her, saying he can do that anytime but he has people who need him now. With that, he abandons the damaged Core Fighter and joins his waiting comrades on one of the launches.  It is after this that the war between Zeon and the Federation comes to an end.
Thoughts/Review: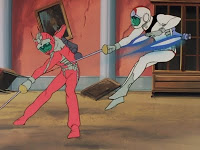 The final battle between Char and Amuro was interesting since it got to a personal level, including a sword fight (rapiers).  Either Char underestimated Amuro's stamina and strength, or Amuro's Newtype abilities allowed him to overcome any physical weaknesses.  Either way, the fight ending with Amuro getting an injury and Char barely escaping death and having to save Sayla worked OK for me.  I wasn't so convinced on Char's sudden decision to change priorities and go after Kycilia though. I'm guessing the scene with he and Sayla finding the wounded officer is supposed to make him see the light and that Kycilia escaping to fight another day is not a good thing as well as apparently telling Sayla to hook up with Amuro. Oh well.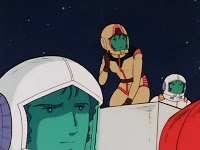 So, most of the folks on White Base are Newtypes, as Bright had previously speculated, with varying degrees of abilities.  Char's statement that he put Lalah into the war to bring out her powers was interesting. Apparently, without the war, Lalah wouldn't have developed the powers she had and by that logic, nor would Amuro. I guess that who gets powerful and who doesn't is pretty much like anything else — genetics. Then, based on that, the circumstances one finds oneself in determines whether or not one becomes powerful. So, Amuro in desperation manages to tap his Newtype power and Char, who was highly trained, had no reason to tap into said power. At least, that's how I see it but I could be easily wrong.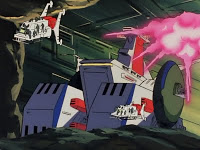 I'm kind of surprised that the remainder of the crew survived the war.  I'd been kinda thinking that Sayla might bite it to add to the tragedy of Char and give something more for Amuro to be upset over as well.  Instead, that officer that helped Kycilia attempt to escape bought the bullet and Sayla lived as did everyone else.
On the other hand, I'm also surprised that White Base, Gundam, Guncannon, Guntank, G-Fighter, and Core Fighter were all destroyed in the fight.  After forty-two episodes of always getting by, this time, everything just had to be obliterated, I suppose.  It seemed rather weak that White Base just HAD to land on the asteroid, which started the destruction chain, but on well.
Its a shame there wasn't an aftermath episode but oh well.  I'll write a final thoughts post soon but this was a good ending to the series.