うさぎドロップ Episode 06
Usagi Drop – 06

SPOILER Summary/Synopsis: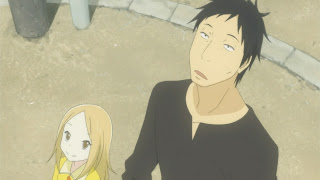 Rin and Kouki start their first day at school where Kouki's mother gets some pictures for Daikichi. Rin and Daikichi go shopping where Rin discovers cereal and that it isn't a snack, but a breakfast food. Daikichi buys it for her and on the way home, Daikichi talks of planting a tree to commemorate Rin's entrance into elementary school. He recounts his and his sister's own tree experience, which he then realizes isn't so great. Rin has them take a detour to view the sakura in bloom on the way home, where she tells Daikichi she'd like a loquat tree planted for her. Daikichi isn't sure, but Rin has some seeds and so he agrees. The two plant a loquat seed and Rin is excited to have it grow right away.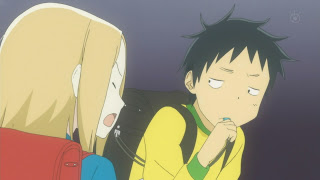 The following day, Rin tries her cereal and likes it, though she likes onigiri best for breakfast. Kouki's mother calls to alert them that Kouki already took off for their house and sure enough, he arrives though he's covered in burrs. After cleaning him up and lecturing him on improper blowing of his emergency whistle, Daikichi sees Rin and Kouki off as the pair walk to school. Kouki decides they should take a shortcut since ninja take paths like this. Thus, Kouki and Rin end up winding their way along alleys and such where Kouki accidentally knocks down a potted plant with his stick. He flees, forcing the troubled Rin to flee as well, blowing his whistle in short bursts the whole time until they meet other students who look at him disapprovingly.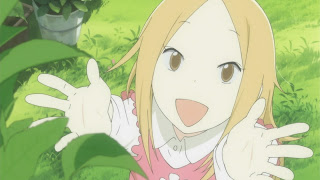 That evening, Rin and Daikichi discuss Kouki before Rin turns the conversation to her tree and the fact that Daikichi's tree was planted when he was born. She wonders if such a tree were planted for her, but with Grandpa's death, there's no one who'd know. Daikichi wonders to himself whether his grandfather planted a tree for Rin and regrets mentioning his own olive tree since Rin seems a bit depressed.  However, he decides to investigate the matter further and calls Masako to arrange a meeting. Over lunch, Daikichi gives Masako a new photo of Rin and Masako shows Daikichi where Rin's tree is planted. Daikichi goes to his grandfather's place, finds Rin's tree, and digs it up. Rin is pleased to see it, especially since it is the same as Daikichi's tree, and when they return home, they immediately plant it.
Kouki wins praise from Daikichi when he tries to save Rin from what he believes is a stranger, even though Rin tried to explain this was a neighbor.
Thoughts/Review: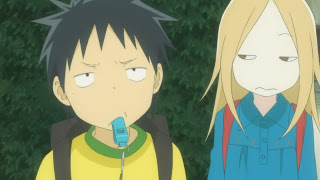 Every time I watch a new episode of Usagi Drop, I can't help but feel many different emotions from warm and fuzzy to sad to happy.  This one was no different.
Kouki is quite the brat. Its amazing that Rin is still friends with him, but their common experience of being raised in a single-family home trumps. Plus, Kouki helped her when others were questioning her situation. I was amused at Daikichi's praise of Kouki for looking out for Rin because brat or not, he does care about her. That said, his ditching Rin after breaking the flowerpot wasn't cool, but totally what a boy would do. I hope Daikichi continues to be a positive male role model for Kouki.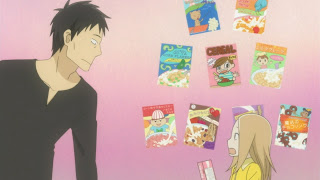 I loved Rin's first experience with cereal. I remember some of the older Japanese people we worked with finding the consumption of cereal products rather odd and I suppose it is.
The tree-panting tradition is where I started getting misty-eyed. I felt bad for Rin because Daikichi's talk combined with her own tough first six years made for another tough reminder for Rin. Still, the payoff was pretty sweet.  I figured that Daikichi would find Rin's birth tree, but having her birth tree be the same kind of tree as Daikichi's was a nice touch for me. Maybe it could be classified as cliched, but I don't care. I loved it because it further added to the bond between Rin and Daikichi as a true daughter and father.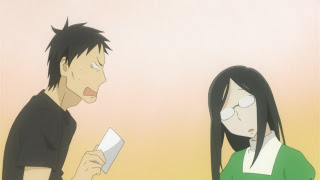 I was surprised that Masako came back so quickly.  Now, I'm thinking that she'll continue to show up until she and Rin eventually meet again.  If so, will Rin learn the truth or will she want to know the truth.
I'm still frustrated that Kouki's mother isn't named yet. 🙁 That aside, I'm not sensing any romantic aspects between Daikichi and her. It would seem that with Daikichi becoming a father figure for Kouki that his mother and Daikichi might get closer. She does continue to cover for him with her camera and sharing photos for Daikichi to have (and for what he'd appreciate later). She does have his phone number and their kids are good friends, but for whatever reason, there's been no push for romance. I wonder why.
So, this series continues to pump out awesome episodes of win with Rin and Daikichi.  I'm very glad to have come into this series based on what I've seen to date.