魔法先生 ネギま!Volume 37 Chapter 340 (manga)
Mahou Sensei Negima! Manga Chapter 340
Negima! Manga Vol 37 Ch 340

SPOILER Summary/Synopsis: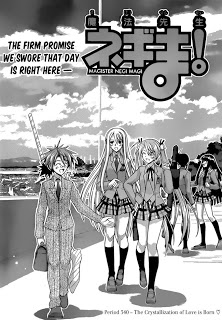 Ayaka and Asuna are at a posh restaurant dressed nicely as Asuna mildly complains about wearing such things. Ayaka reminds her that this will now be their normal dress and addresses Asuna as "Princess," causing Asuna to protest. As they talk, Ayaka expresses her gratitude for Asuna coming back from her trip. However, Asuna finds this to be creepy, which leads to one of their customary verbal fights.
Negi (with Chamo), Fate, and Kotaro arrive at the restaurant in suits and in adult form. Fate explains that they are late because of a 3-on-3 date, which leads to Asuna choking Kotaro and Negi until she learns it was the cheerleaders that the guys went out with. Ayaka states that the five of them will be visiting the Prime Minister of Japan at his official residence thanks to her pactio artifact, which allows her to meet any person without prior arrangement.  Asuna wants to know when this pactio happened and Fate remarks that this artifact is the rarest of the rare and the first time he's seen one.
Ayaka decides that she has to tell the story of her pactio moment with the others, even though Asuna doesn't want to hear the details, and explains that three week's prior, she'd been waiting for Negi in the classroom after school was out at his request. As she ponders a fantasy of Negi asking her to marry him, Negi arrives in a sailor seifuku (at Chamo's request), causing Ayaka to pass out with delight.  Negi quickly changes and performs recovery magic on Ayaka, telling her that her seeing him in girl's clothing was merely a dream.
Negi explains things to Ayaka about Mars and magic, and while she's grateful he trusts her to tell her in person, she'd learned much already from talking with Asuna and her own research on Negi's father, who'd also been interested in Mars and space development. Though Negi is unsure about Ayaka's offer to help, Ayaka gets frustrated at this and explains that she'd follow Negi no matter where. Chamo decides that a pactio is in order, but hearing a kiss from Negi is involved is almost too much for Ayaka to handle.
When the pactio kiss starts, the amount of power is incredible, thanks to Negi's growth in power, but to Chamo's surprise, Ayaka's feelings for Negi are so strong that she begins reversing the pactio system and causing Negi's pactio card to start forming. However, in the end, Ayaka gets her card and proof of her love for Negi.
Since Ayaka's father agreed to help only if it contributed to Japan's national interests, they are using Ayaka's pactio card to make Negi's mission part of Japan's national interests and thus gain Ayaka's family's support.  As the guys discuss the situation, Asuna thanks Ayaka for treating her the same despite knowing she's a princess. Ayaka scoffs, stating that she can't change her ways toward Asuna because Asuna is still an idiot, which irritates Asuna.
After all of this is done, Kotaro is at home in the dorm and discovers that Chizuru has also made a pactio with Negi and wonders when Negi did this, suddenly understanding why Negi is sometimes called the enemy of all womankind.  Chizuru notices Kotaro is suddenly quiet and asks about his pactio with Natsumi. She then teases Kotaro about wanting to do it with her too, which causes him to become very flustered. Chizuru continues to tease, asking if Kotaro was Natsumi was (for the pactio) and if he was kind to her.  Natsumi, standing outside the door, decides she better not go in for now.
Thoughts/Review:
And so at long last, Ayaka gets her pactio with Negi.  Akamatsu-sensei had drawn her pactio card years ago and it was clear that eventually, he'd have Negi and her form a pactio.  The story made it so that it was much delayed, but what matters is that she did get it.
Now, as to the story behind her pactio, it was pretty much by the numbers, though still amusing. Ayaka's responses where a continuation of what Akamatsu-sensei had established with the added bonus that Ayaka finally gets to kiss Negi and nearly pull off a reverse pactio (which was amusing and possibly a hint on how Negi gets his pactio artifact back).  In light of the Twin's updated translations of volumes 4-6 in Negima! Omnibus 2, it was easy for me to believe that Ayaka could pull off such a reverse pactio. She does have abilities to be sure, though if she's to be part of Negi's battle harem, she'd need to train.
At the same time, we get to finally see Asuna in the story, being her usual self with the added effect of knowing she's a princess. Her and Ayaka's interesting friendship continues and as he's done before, Akamasu-sensei shows that quite nicely.
This chapter reveals why Negi, Fate, and Kotaro were all dressed up and in adult form when they met the cheerleaders.  While I know that story had the three guys return to boy form for comedy's sake, the fact that they were dressed up (including age-altering magic) for a meeting with the Prime Minister tells me that they wouldn't be using some cheap age-modification pills as that would be counter to their mission (they would reveal their true identities, if needed, by simply reversing the magic themselves).
A thought did occur to me — where is Chachamaru?  I know she's only a robot, but after Negi brought her on board, she appeared to be at Negi's side at all times. It seems odd to me that Negi would leave her on the sideline, but I suspect the real reason has to do with Akamatsu-sensei wanting a 3-on-3 date with the cheerleaders in the previous chapter. I would have liked a line stating something like, "Hakase is transferring Chachamaru to a new, improved body," but oh well.
The unexpected, and thus more amusing to me, bit was Chizuru teasing Kotaro over her pactio with Negi.  Big time fan Hato joked that this was Kotaro's "NTR" moment, which in and of itself is quite funny.  (For those who don't know, NTR stands for the Japanese word "netorare," and basically means that a man has his woman stolen by another man. At the extreme, she may still care for her original guy at some level and even still live with him; however, she now can no longer be satisfied by anyone but the man who stole away her.)  Considering Akamatsu-sensei's having Chizuru in a cleavage-revealing top, I think he did want to put the NTR thought in the minds of Japanese fans.
Since Akamatsu-sensei has always shown the pactio moment for all of Negi's partners, I figure we'll see Chizuru's moment of pactio with Negi sooner rather than later.
So, a fun chapter with a plus for seeing Asuna again and a plus for the unexpected Chizuru stuff at the end.
I'll be keeping an eye open for those chapter 341 rare spoiler images.  Hope those are coming back 'cause I sure like to see them even if no one else does. ^_^