フェイト/ゼロ
Fate/Zero – 02
SPOILER Summary/Synopsis: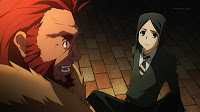 Waver's Servant, Rider, decides to take some books and leave through destructive means. One of the books he gets is an atlas, which he's interested in since he'd been the former King of Macedonia (Iskandar). Rider dreams of conquest and belittles Waver's Grail wish of gaining the respect of his peers and teachers. Waver is not happy with the disrespect and is tempted to use a Command Spell on Rider, but stops himself. When Rider asks if Waver would like to see a demonstration of his power, Waver agrees and Rider summons a oxen-drawn chariot, supposedly offered to Zeus by King Gordias. He suggests that Waver bring him another Hero or two if he wants the Grail.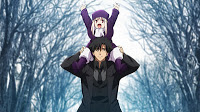 In Germany, Emiya strolls the ground with his young daughter, Ilya, having a contest on finding budding walnut trees. This is observed by Saber, who remarks on it to Iri. Saber is still concerned over her summoning and the fact that Emiya and Iri were so surprised to learn that King Arthur was in fact a woman. Iri tries to explain why Emiya still seems upset, citing how he disliked the idea of having a young woman being forced to pretend to be male in order to be king. Saber rejects this, saying he has no right to question the decisions made in her lifetime, nor her own decisions. However, while Saber and Emiya may not see eye-to-eye on things, Saber does approve of Emiya's goal to save the world.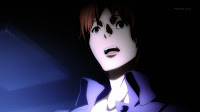 Elsewhere, URYUU Ryuunosuke has murdered a family and taken their child in order to summon a demon, which Ryuunosuke discovered how to do thanks to some books he found. As such, the Grail gives him Command Spells and Ryuunosuke is able to summon Caster (Bluebeard), even though Ryuunosuke appears to know nothing about the Holy Grail War.  He offers Caster the boy as a sacrifice, but is disappointed when Caster frees the boy and shows him the way out. However, as the boy is standing in the entryway of the house and crying, a thing grabs him and brutally kills him. Caster explains how giving hope and then snatching it away is a great form of terror before death. Ryuunosuke loves this and wants Caster to do more, which Caster is more than happy to oblige.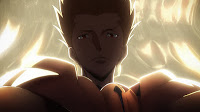 Kirei stands on a hill overlooking the Tohsaka estate and sends his Servant there to kill Tokiomi, stating there is nothing to fear even if Archer should be encountered. His Servant is a bit skeptical about this, but does as he's ordered.  His Servant races down the hill and begins disabling various gems that were embedded in objects on the grounds of the estate, removing their defensive capabilities. He approaches an open sphere with a large gem in it and deftly avoids the barrier waves it has in motion. After easily reaching the device, he goes to grab it, only to have a spear sent through his hand.  Archer, standing on a balcony, easily dispatches Kirei's Servant, stating that his opponent was not worthy to look upon Archer.
Thoughts/Review:
While I knew that there were multiple versions of a Hero class based on there being two Archer's in Fate/stay night, I guess only the King Arthur Saber is the returning Hero from that story.
While Saber will be fully powered, I find it interesting that Emiya apparently doesn't want to be around her.  Well, Saber is an honorable Servant and Emiya is an assassin, so it is only natural that the two would not see eye-to-eye, though Iri seems to be trying to bridge the gap. I'll be interested in seeing how all of this affects their combat strategies. (I know how it will end though.)
Ilya certainly grew rather quickly.  I suppose that's due to what she truly is (based on what I remember of Fate/stay night).
Anyway, Rider is certainly different this time around, since Rider was Medusa in Fate/stay night.  It is interesting that he seems more interested in the modern world and conquering it than anything else.  Despite Waver being wimpy, Rider does accept him as Master, at least on some level. I'm glad Waver was smart enough to resist using a Command Spell on Rider.
Caster and Ryuunosuke are sick.  Ugh.  That poor boy, first apparently seeing his family murdered, then kidnapped to be a human sacrifice.  Then, he is seemingly going to be freed and find hope, only to be viciously slaughtered. I really hope those two don't last long 'cause I'm not going to like seeing people being viciously murdered.
As to Kirei, I don't know whom his Servant is because I don't think he's been named. I know he showed up in the first episode.  Considering Kirei's role in Fate/stay night, combined with his plans with Tokiomi to aide him, I'm going to guess that he sacrificed his Servant on purpose.  However, what aid Kirei can provide without a Servant is a mystery to me.  Maybe a transfer of Command Spells? (Seems like I remember that this could be done from Fate/stay night.)
Well, all the groundwork appears to have been laid and I would guess that the war will now start in earnest. I look forward to seeing how things progress.