Ah! My Goddess Manga/Oh My Goddess! Manga
ああっ女神さまっ Chapter 276
SPOILER Summary/Synopsis: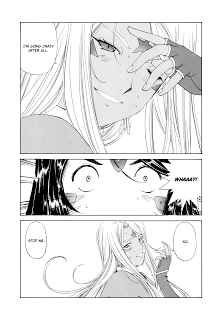 Urd says she has a request of Skuld since she plans to take out the device and critters holding them captive. Skuld realizes this means that Urd plans to tap into her mazoku half for those powers and worried that it would consume Urd and drive her mad. Urd teases Skuld a bit but then admits that the reason she needs Skuld's help is to make sure Urd doesn't go out of control.  As such, Urd wants Skuld to use one of her bombs to stop her and wonders if Skuld has such a bomb.
Skuld reaches into her outfit and pulls out a small sphere-shaped item with two small cones protruding from it, calling it an anti-proton bomb. With it, Skuld says she can destroy the entire mazoku realm, something Urd finds to be overkill and something the shadow critters start worrying about.
Urd reaches within herself and finds the source of her mazoku powers, unleashing them and enjoying the rush she gets as a result. This causes the shadow creatures to react, whom Urd dispels without effort. She then launches an attack at the device in the ceiling that has been absorbing their goddess power, causing small things to emerge from her hand and not only destroy the device, but consume its shards as well. Skuld is stunned by this and Urd realizes she's losing control. The symbol on Urd's forehead turns into a star and Urd asks Skuld to stop her, even if it destroys her.
Thoughts/Review:
It has been so many years since Urd dealt with her demonic/mazoku side that I'm struggling to remember why she chose to be a goddess at all (assuming that was ever stated in the manga).  Still, despite the rush of power and Urd's needing to use it to get herself and Skuld out of their prison, I liked that she had enough presence of mind to ask for Skuld to do the unthinkable and kill her. Yeah, it is somewhat cliched but I don't mind.
As to Skuld, I did laugh at the fact that she had a bomb powerful enough to take out the entire realm they are in and yet it is such a tiny thing compared to Skuld's normal bombs.
So, not a lot happening here beyond Urd tapping into her dark half, removing the trap, and then starting to succumb to the darkness.  I'm looking forward to seeing how they get out of this without killing Urd.