フェアリーテイル
Fairy Tail Volume 16
–> Purchase from RAKUTEN.COM (formerly BUY.COM)
–> Purchase from BARNES & NOBLE
–> BUY FROM RIGHTSTUF! ^_^
SPOILER Summary/Synopsis: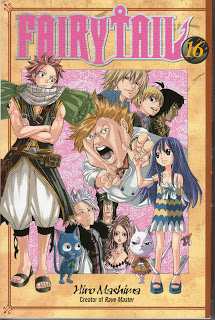 The defeated Laxus reports to Makarov in Fairy Tail's infirmary where after a brief chat on what it truly means to be a guild, Makarov is forced to expel his grandson.  The Raijin Tribe laments his departure from the guild but Laxus just wants to say goodbye.
Fairy Tail has their Fantasia event, complete with parade, and Laxus hangs around to see it. Before he leaves, Makarov and the members of Fairy Tail give a signal that Laxus gave Makarov as a kid to say that even if Laxus couldn't see his grandfather, he'll always be looking out for Makarov.  This causes the stoic Laxus to become emotional as he leaves for the last time. Meanwhile, Gajeel reports to Master Ivan, Laxus's father, who's keen on retrieving the Dragon Slayer lacrima within Laxus, even if it costs him his life.  However, Gajeel then reports his findings to Makarov, revealing he is in fact a double agent.
After all is said and done, the Raijin Tribe begins fitting back in with their Fairy Tail companions as Lucy is desperate for work since she didn't win the Miss Fairy Tail contest. Lucy becomes aware of someone following her home and panics, but it turns out to be her father, who's lost everything. As such, he is going to join the Enterprise Guild in and start over.  He wants money from Lucy, but gets angry when she won't give it to him. Lucy is angry because her father revealed he cared more about money than her, as usual.
However, Lucy overhears that a gang has taken over Enterprise Guild, so out of concern for her father, Lucy abandons her teammates Erza, Gray, Natsu, and Happy to make sure he's OK. Arriving at the Love & Lucky HQ building for Enterprise Guild, Lucy uses a combination of Celestial Spirits Virgo, Taurus, Cancer, and Sagittarius, Lucy is able to overcome before her teammates arrive. However, her father arrives after Lucy won her battle.  In the end, Lucy's father apologizes and tells Lucy that he met her mother at this very guild. Indeed, Lucy's name came from the "K" having been missing from the "Love & Lucky" sign when Lucy's mom was expecting her.
Lucy and company help Yajima at his restaurant before returning to Fairy Tail where it is learned that a dark guild belonging to the Balam Alliance, named Oración Seis, is on the move. As such, Fairy Tail, Blue Pegasus, Lamia Scale, and Cait Shelter will each send teams to form an alliance to take on this small but very powerful dark guild. Blue Pegasus send four members; Lamia Scale send three, including former Fairy Tail opponents Sherry and Lyon; Fairy Tail sends Erza, Lucy, Gray, and Natsu (along with Happy); and Cait Shelter sends a young girl named Wendy, who's joined by her talking cat Carla. The plan is that they will locate the Oración Seis HQ, where Blue Pegasus will use their heavy bomber Christina to level the place and hopefully take out some of the dark guild members.
As this alliance of light starts to set out, Blue Pegasus member and team leader Ichiya takes Lamia Scale team leader Jura aside and then attacks him, revealing that Ichiya had been duplicated by Oración Seis member Angel, thus two members of the light alliance are out. They also have the plans of the group and thus destroy Christina.  With that, Oración Seis six members then turn on the remaining members of the group and quickly defeat them all save Wendy, who cowered behind a rock with Carla and Happy. However, she's seen by Oración Seis member Brain sees and recognizes Wendy and stops himself from putting the finishing blow on the light alliance members.
Thoughts/Review:
OK, lets get started here with Laxus.  He's still a "step-punk bastard," but having been defeated and going by his own code, his response is admirable to me.  He respects strength and in the end, his own strength was not enough.  So, he acknowledges Natsu in his own way and takes his punishment willingly.  Because he took his punishment like he did, I think that helped the Raijin Tribe reassimilate back into the guild.
So, Gajeel is actually a double agent and was working for Makarov all along. I'm not sure that I'm totally believing he's allied with Fairy Tail, but it would make sense from Mashima-sensei's perspective. What I mean is that it is possible that many fans were like me and didn't buy Gajeel joining Fairy Tail after his actions in the Phantom Lord fight against Fairy Tail would seemingly make his joining Fairy Tail suspicious. Thus, Mashima-sensei gives us what we expect — betrayal by Gajeel.  By having Gajeel act as a double agent, Mashima-sensei provides a believable bridge to bring Gajeel in as a trusted member of the guild.  Of course, that depends on things being what they seem.
The continuation with the story thread of Lucy's family was unexpected. However, Mashima-sensei needed a way to have Lucy do a simple, solo mission and hold her own. She's still weak and I laugh at how Mashima-sensei had to change the rules on Lucy's celestial spirits and the summoning. After all, if Lucy could only summon a spirit on Wednesdays, she'd be pretty screwed if she needed said spirit any other day of the week.  I'm not sure what Mashima-sensei was thinking when he initially created the system, but clearly he's realized it was a mistake to have such a restrictive system.  You need to be able to summon celestial spirits in a moment's notice in times of crisis.
The Oración Seis arc had a few interesting things as it started.  First, there's the return of Sherry and Lyon whom were defeated by "Team Natsu" (I saw the other two members of Lyon's team in a cameo during the Fantasia chapter).  Now, they are allied up.
The other item of interest is the introduction of the young girl Wendy.  I remember the name from volume 13,  so I don't think it is a stretch to say that this is the Wendy in question, especially since she and Natsu keep giving each other looks and both have talking "Kittymanders" (or whatever they are).  Despite her timid appearance (is this "moe"?), I would guess that she's also a dragon slayer and someone who despite her appearance, could really go off when pressed.
The start of this arc really hasn't impressed me at all.  I understand the logic behind the alliance, but I don't care about these other guilds other than Wendy because she'd been name-dropped, as well as Sherry and Lyon because of their prior involvement in the manga. The Blue Pegasus guys are all annoying and the Jura guy means nothing to me.
As to Oración Seis, they are not really grabbing me at the moment.  That may change, but it just seems that everything has just been thrown into a pan and is now being stirred. When it appears on the plate, it may look awesome, but right now, not so much.
Oh, I almost forgot Ultear's cameo.  Her appearance as an official member of another dark guild and the continued quest for Zeref is much more interesting to me considering the history there.  I'm guessing that this will come up down the road a bit.
On the Kodansha side of things, pretty standard fare here with Japanese honorifics retained, translator notes included, Mysteries of Fairy Tail included, and a preview of volume 17.  I liked that "Raijin Tribe" was used over the "Thunder God Tribe" even if I don't know why the switch was made. I know Kodansha Comics is taking some heat over poor QC, but I didn't see anything overtly obvious with this volume.
I did notice that Kodansha apparently never sent out cover artwork for this volume (or did so very late) as most online retailers I checked didn't have it.  Hey Kodansha! Get with the program here!  You want to sell manga, you MUST send online retailers the cover art in a timely fashion.  Seriously, who's running this company?  This isn't Japan you know.
So, a wrap up of the previous arc, a bit of downtime stories, then the start of a new arc which isn't that impressive to me thus far.  That said, I do look forward to seeing where things go.