フェイト/ゼロ
Fate/Zero – 07
SPOILER Summary/Synopsis: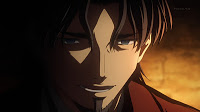 At the scene of the hotel bombing, a giant sphere of what looks to be mercury is found and the order is given to take it away. Meanwhile, Risei issues the official rule change to have everyone target Caster and his Master with a reward of an extra command spell. However, Risei plans to have Tohsaka win the reward by having Archer put the finishing blow on Caster.  At the Mackenzie residence, where Rider and Waver are holed up, Rider gets a package with the t-shirt he ordered but forgot to order pants. Since he wants to go around town like Saber, Waver reluctantly agrees to buy him pants if Rider defeats a Servant, then wonders what they will do about Caster.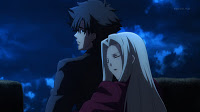 Emiya, Iri, Maiya, and Saber have a chat about the Church's order to eliminate Caster. Iri figures Lancer to still be alive since Saber's cursed arm hasn't healed. Saber gets angry when Emiya won't let her fight Caster and finds his plans despicable. However, Emiya doesn't trust Risei since he's sheltering Assassin's Master (and Risei's son) and figures Risei is working with Tohsaka, thus the reasons for his course of actions. That night, Emiya confesses his fears to Iri (since Kirei used Kayneth as bait to nab him) and his desire to run away with her and grab Iliya. Iri knows that Emiya won't run away and reminds him that she, Saber, and Maiya are there so that he can obtain his dream.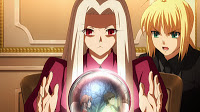 Their talk is interrupted when Iri senses an enemy nearby, which turns out to be Caster with some children. As Emiya expected, Caster came to them since Caster thinks Saber is Jeanne d'Arc. Caster knows Iri is watching him through her crystal ball and has the children run away or he'll kill them. Iri sends Saber after Caster, who is horrified by the slaughter Caster has wrought. He has a lone, terrified child with him, whom he lets fleet to Saber before a plant bursts out his his back and the corpses all around, trapping Saber. She powers up, which is enough to destroy the nearby plants, then charges, destroying the ravenous plants as she goes, but they keep coming back and she realizes that the book Caster has must be his Noble Phantasm.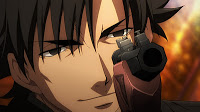 Emiya wants Maiya to take Iri to safety, but Iri senses the arrival of another Servant.  Saber's inability to use her left hand has her at a disadvantage and the insane Caster has her snared. However, she's freed by Lancer, whom Iri had sensed. Caster is infuriated by this and Lancer tells Saber that since his orders were to eliminate Caster, working with her seems the best way to accomplish this. She agrees as Kayneth assaults the castle that Emiya and Iri are using. Kayneth wants to duel, but since Emiya has trapped the place, Kayneth now wants to exterminate the Einzbern Master. He finds Emiya, who uses a time-altering ability to escape. Kayneth uses his "mercury" thing to track Emiya, but Emiya manages to make himself undetectable long enough to catch Kayneth by surprise and brandish his secret weapon.
Thoughts/Review:
In the last episode, I noted that I though Emiya was stupid to assume that Kayneth had been killed. Unless you see the body, your opponent may have survived and more intel was needed before Emiya should have written Kayneth off as a death.  Indeed, the fact that Saber was still cursed should have been a major clue.
Regardless, Emiya is mostly pretty clued in, having pretty much figured out what's really going on with the Holy Grail War, thus making his stratagem in defeating the other Masters even more important.
As I thought, Saber's reaction to Emiya's way of handling the Caster situation is part of the reason she's not at his side.  Obviously, having Iri being assumed to be Saber's Master is part of the stratagem, but Saber showed that she would not be down for doing things Emiya's way.  Indeed, it was Iri who gave the order for Saber to fight and Emiya just didn't counter his wife.
Emiya's special ability was unexpected but neat. While I berate Emiya for just initially assuming Kayneth to be dead, it does seem clear that eventually he reversed himself and expected Kayneth to attack, thus the traps in the foyer. He did predict Caster coming to them because of Saber and thus it would make sense that Kayneth would come, especially to get another Command Spell.
Its clear that this TV episode is being very careful on how much it shows in terms of gore (and that's understandable since this is TV we are talking about). That said, while I don't want to see the gore, I think a bit more should have been done via quick flashes to help the audience get the scope of the horror that awaited Saber when she went to engage Caster.
Now that Lancer and Saber are fighting as a team, I don't suppose he can lift the curse on her arm on his own, can he? Lancer is very honorable, so it seems like something he might do, but I'm not sure if he can do it, or if he is just prevented from doing it.
On a lighter note, the relationship between Waver and Rider is amusing.  Waver may be the Master, but he's often afraid and cowardly. Rider is full of bravado, but he is honorable and he respects Waver at some level.  The two make an unlikely partnership, but I like it.
So, another interesting and good episode.  Looking forward to more.