ゲート セブン Volume 01
Gate 7 Volume 1

–> PURCHASE FROM RAKUTEN.COM (formerly BUY.COM)
–> PURCHASE FROM BARNES & NOBLE
–> PURCHASE FROM RIGHTSTUF! ^_^
–> PURCHASE FROM YES ASIA! (Japanese Tankoubon)

*SPOILERS!*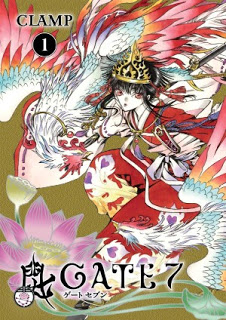 Gate 7 is the latest manga incarnation from (the notorious) CLAMP, in which this group of manga-ka thought, "What if all of the historical figures from the end of the Sengoku period (Warring States period) who brought in the Edo period were all reincarnated in the modern time. Further to that, what if many of these historical figures had blood contracts with supernatural beings known as 'oni'? Wouldn't that be awesome?" Thus, a manga is born.
The story, in brief, features high school male Chikahito, who loves Kyoto, take his first trip to the city. While there, he gets caught up in a supernatural event where two males, Sakura and Tachibana, are up in a couple of trees while a young, female-looking person named Hana takes out a supernatural being. Afterward, when Tachibana attempts to erase Chikahito's memory, after determining he's not an enemy or a threat, the two males are stunned when the process doesn't work and further surprised when Hana places a spell on Chikahito, sealed with a kiss, to have him return to Hana's side. Thus, circumstances work out so that Chikahito gets transferred to a Kyoto high school and ends up living with Hana, Sakura, and Tachibana.
As the new resident, Chikahito gets examined by the "boss" of Hana and company, Hidetsugu, who owns the place Chikahito is now living in.  Chikahito is accompanied by Hana during this examination, where Hidetsugu has his "oni" supernatural being, Mikoto, determines that Chikahito is similar to Hana, but in an opposite way (she has power, he doesn't; she takes things in, such as special attacks and makes them her own, while he takes away).  Chikahito learns that Hidetsugu is apparently a reincarnation of the historical TOYOTOMI Hidetsugu and that there is currently a quest to find the most powerful oni to ever have existed, who contracted with ODA Nobunaga, a powerful daimyo who started the Japanese unification process that lead to the rise of TOKUGAWA Ieyasu as shogun. The reincarnation of General AKECHI Mitsuhide interrupts Chikahito's education to attack and attempt to obtain Mikoto as his part of the quest to obtain Oda's oni.
I think that while the premise of Gate 7 is quite ambitious and interesting, for Western audiences, I wonder if there's the stomach for it.  For starters, CLAMP's treatment of Tsubasa and xxxHOLiC have left a bad taste in many fan's mouths.  Thus, there is a certain level of apprehension on how CLAMP will handle this latest manga in their stable.  Will CLAMP follow through or just drop the manga?  If they follow through, will they bother to make a well-conceived ending or will it be junk?  As such, some fans will wonder if they should invest time, money, and emotion in a manga that might start of interestingly enough, but end up poorly.
The second area of concern is the manga itself.  Gate 7 is full of exposition, compounded by the notion of historical Japanese figures whom are reincarnated in the present day and engaged in fights for Oda's oni.  While volume 1 hasn't delved very deep into the historical figure aspect of the manga, volume 2 will  and there are a ton of people to be introduced.  For Japanese audiences with an education of some sort, these historical people will be well known to them but for us in the West, most folks won't know Hidetsugu, Nobunaga, Mitsuhide, or anyone else mentioned.  The way the story is crafted, battles or incidents these people where involved in during the end of the Sengoku period have consequences still being felt to this very day.
On this second issue, manga translator William Flanagan has done an outstanding job with translator notes, taking what CLAMP has written, combined with his own extras, to help educate the masses in the West. This certainly helps and hopefully, this level of translator notes will continue in future volumes (I suspect it will).
Not only that, and not to make to fine a point of it nor to try to suck up to him, Mr. Flanagan's translations accurately portray the fact that CLAMP has not assigned a sex to Hana, even though Hana looks to be a young, female teenager. As such, Hana is not referred to as "she" or "her" anywhere in this volume, which is an amazing feat considering how often we in the West use male/female pronouns. Considering how often CLAMP pulls this kind of stunt, combined with Mr. Flanagan's vast, translation experience with CLAMP titles, he was the best suited translator out there to handle this task, and handle it he did.
The adaptation makes the standard usage of Japanese honorifics (though why they are italicized, I'm not sure other than they are Japanese in origin). Mr. Flanagan ends up using more Japanese terms than some might like, but the very nature of this manga actually demands these terms be used.  So, in addition to learning something of Japanese history, one is going to learn a few more Japanese terms. I can live with that.
As to my own personal feelings about the manga, at this point, it is too early to say whether this will be good or bad (even when discounting CLAMP's current predilection for doing things in a more haphazard way).  I like the premise and the notion of these historical Japanese figures being reborn in modern times. So at this point, I can say that I have no problem having purchased this manga. CLAMP fans will no doubt want to purchase it for their collections.  Manga fans wanting something that's a bit unusual and educational (to a degree) will probably like this as well.