フェイト/ゼロ
Fate/Zero – 08
SPOILER Summary/Synopsis: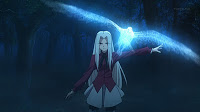 In the mansion, Emiya springs his surprise weapon on Kayneth, penetrating his mercury barrier and injuring the man before fleeing, leaving the enraged Kayneth to follow.  Outside, Maiya is escorting Iri to safety when Iri senses Kirei approaching.  She convinces Maiya to stay and prevent Kirei from reaching Emiya since both care for him a great deal. When Kirei arrives at their location, Maiya attacks with illusions and gunfire before Kirei has his own illusion go down as if killed. Iri senses the trap, but it is too late and Kirei severely beats Maiya. Iri uses her magic to create a bird that then binds Kirei's hands and then binds him to a tree. However, Kirei shows his power by breaking the tree in half and then beating Maiya again.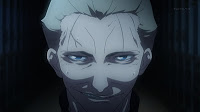 Elsewhere, Saber and Lancer are making no progress with Caster, who has been toying with them. Saber has a plan and Lancer agrees to it. Saber uses a Strike Air attack, causing a powerful stream of air that Lancer runs with and is able to strike Caster's Noble Phantasm spell book and cause the plant minions to disappear. Back in the castle, Kayneth has found Emiya and promises a long, torturous death to Emiya and falls into Emiya's trap to use maximum magic to defend against bullets. Outside, Lancer senses the danger and in doing so, Caster takes the opportunity to escape. Saber tells Lancer to go to his Master as she and Lancer will settle things like knights. However, she is irritated that things have gone the way Emiya said they would.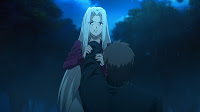 Emiya's Mystic Code gun fires one of his Origin Bullets, which easily goes through Kayneth's magical defenses and uses his own magic against him, nearly killing him. Lancer arrives and defends Kayneth. He tells Emiya that he, as Saber's true Master, is only alive because of the knight's agreement with Saber. As such, Lancer will defend Kayneth and take him to safety, which Emiya has no choice but silently agree to.  Outside, Kirei has Iri by the throat, demanding to know who ordered her to stop him. Understanding that she's the Grail container and Emiya is the likely true Master, Kirei comes to discover that the girls were protecting Emiya of their own accord. A female Assassin reports that Saber is coming, so Kirei puts three blades into Iri's belly to see the color of her blood before leaving.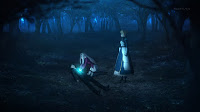 Iri wakes to see a worried Saber over her and holding her.  Iri asks about Kirei, whom Saber says has departed.  Iri asks about Maiya, whom Saber says is terribly injured but not as bad as Iri due to Iri's loss of blood.  Saber is unhappy with herself since had she been there quicker, Kirei wouldn't have been able to do this.  She wants to go get Emiya, but Iri sits up and stops her, her wounds healing themselves.  That's because the scabbard Avalon is sealed within Iri and gains power from Saber, thus when Saber touched Iri, Avalon began healing Iri. Saber is surprised by Iri's mysterious healing (as Iri does not reveal the truth) and Iri heals Maiya. She knows they were lucky, but feels relieved that she has a companion to protect Emiya from Kirei.
Thoughts/Review:
While we've seen Emiya acting as assassin to be a "mage killer," his Mystic Code gun is certainly a game changer.  Further to that, having the Origin Bullets use a mages own power against them is just wicked and a half. Kayneth is very lucky indeed, but then so is Emiya.
Also lucky are Iri and Maiya. Kirei could have killed both ladies and had Iri not had Avalon sealed inside her, she would have died. If she's the Grail container, then what would Kirei have done?
Iri and Maiya have certainly come to an interesting relationship. Both love Emiya to some degree or other and so both will do whatever to protect him.
So, Kirei now knows that Iri isn't Saber's Master and Lancer knows Emiya is the true Master of Saber. How long until everyone knows this?  How does this effect Emiya's strategy?
Speaking of Lancer and Saber, it is a shame that one will have to die since both are so honorable.
Its not really a problem, but through eight episodes, things are going almost too conveniently to make sure no one dies. I know that eventually this will change, but Caster gets away, Kayneth escapes twice now, other fights get aborted, doing whatever it takes to make sure the status quo remains the same.
In the end, there were some minor plot advancements and Kayneth has possibly learned a valuable lesson, but nothing is resolved anywhere. The hunt for Caster should likely continue and we'll see what happens next.