Negima! 351 SPOILER Images
魔法先生 ネギま!Chapter 351 (Image)
Here's what I know many of you have been waiting for — the original-sized, sneak-peek SPOILER images for Mahou Sensei Negima! Chapter 351 as brought to you by World Turtle (click pic to make bigger, y'all).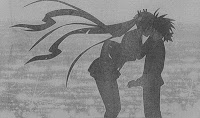 If people find more, I'll share (all my normal sources are dry).