うる星やつら episode 182 (TV anime)
Urusei Yatsura Ep. 182 review

SPOILER Summary/Synopsis: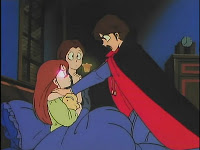 Sakura is waiting for Tsubame, who's over two-hours late for their date and she's not happy about it. Tsubame, knowing he's late, races to a mansion to perform an exorcism.  He yells at the evil spirit, sending it from the rich woman's daughter, then as he leaves, he gives the woman a detailed explanation of waves and how her daughter became possessed. After getting his pay, he races to where Sakura is to be waiting, but he's now five-hours late and she's not there. Using a payphone, Tsubame explains to Sakura and arranges another date, though she's still unhappy with him. However, the fact that the two of them keep missing each other causes them to spend a depressed, sleepless night apart, wondering what to do about the situation.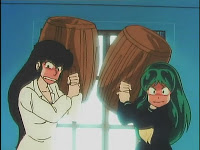 At school, Sakura tells Ataru and Lum her troubles and learns that Ataru and the boys have been cursing her to keep her apart from Tsubame. Lum punishes them for this while Cherry pops in for a visit, explaining that their problems might be the result of their waves conflicting. He suggests a vigorous exercise routine at the tennis court and even has picked up the perfect tennis dress for her to wear.  Her initial attempts to attack him fail, but not her second one.  However, after giving Cherry's advice some thought, Sakura decides a workout might be what the doctor ordered.  Meanwhile, Lum decides to make her own soap by following the instructions on a video, but unfortunately, she doesn't take the process seriously, even though she does produce a bar of soap.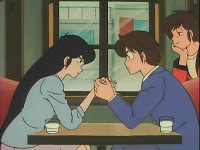 On the tennis courts, Lum and Ataru partner up while Cherry and Sakura partner up. It doesn't take long for Ataru's lechery to make him become the ball.  Afterward, Sakura and Lum are in the shower room when Lum's new soap slips out of her hands into Sakura's stall. Sakura hands a soap back, but it wasn't Lum's. As a result, Sakura becomes very slippery, so much so that when Ataru later tries to hug her, she ends up flying off, landing right near a waiting Tsubame. However, she's so slippery that Tsubame thinks she's being cold to him, his thoughts aided by Ataru.  He's depressed, but Lum has a solution, whereby she glues the two together. Tsubame is happy, but Sakura isn't thrilled at this kind of bonding with her boyfriend.
Thoughts/Review:
Meh.  This episode was rather stupid, and seemed to be the mashing of two separate stories into a single entity. It also made me wonder how Sakura is attracted to Tsubame.
There was too much Cherry for starters, to say nothing of the slow pacing in the episode. A little Cherry goes a LOT further than one might expect. *_*
Still, there was the Stay Puffed Marshmallow Man making a cameo here. That was cool.  ^_^
Thirteen more episodes and I'll be finished with the TV series. ^_^