ラストエグザイル-銀翼のファム-/Last Exile: Ginyoku no Fam
Last Exile: Fam, the Silver Wing – 15

SPOILER Summary/Synopsis: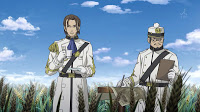 Luscinia, Alauda, and Liliana arrive at their destination, where Luscinia hears of Vasant's rebellion. He decides to leave things to Sadri.  In Anatoray-Disith, Vincent and Rumolt are in a field of grain and discuss how they have to wait for Sophia as the Urbanas is repaired in the background. Meanwhile, Millia, Fam, and Gisey travel with a group to meet Vasant, where the surviving people of Turan celebrate Millia's arrival. However, Millia starts seeing things in the hopes of the people that cause her concern, making her wonder if this is what Liliana saw.  However, the group then travels to the Ades capital with ships from other nations, all joining Vasant and Sārā's cause.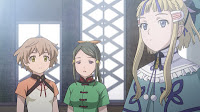 Fam is not as impressed with the capital city Morvarid, which is not fancy like the Turan capital had been. This causes Millia to have to apologize, as does Fam, since she offended Empress Sārā by being vocally shocked that the ruler of Ades is a young girl. Fam and Gisey aren't that thrilled with the main dish at the lunch with Sārā, Vasant, and others, but do enjoy the fruit. Vasant explains that because they are in such an arid area, they can't grow as much grain as other places can. After the lunch, Fam and company see Dian and some of her fellow pilots, but Dian wants nothing to do with them since Millia is the sister of the hated Liliana.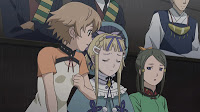 During a large council meeting, whereby representatives of the various countries allying themselves with Sārā and Vasant are present, Vasant lays out her plan to take over the fortress city Boreas, as it is very strategic. The others are very much in favor of this, and vocalize their anger with the "witch" from Turan who has caused so much destruction. Millia is hurt by this, and Sārā is also depressed that Vasant and Luscinia are at war with each other. Fam interrupts the meeting, saying this call for revenge is not the way of peace, and she cites deceased Empress Farahnāz's desire for the Grand Race. Fam gets shut up, but Sārā takes notice.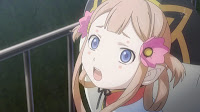 After the meeting, Sārā comes out and intercepts Fam, Millia, and Gisey at the flower garden in the palace. Gisey joins Fam, who excitedly speaks of the last Grand Race. Sārā is very happy and pleased by what she hears, and a friendship is formed. However, as preparations are made for war, Sārā takes Fam to the giant portrait of her mother, and explains how Luscinia came to power. Sārā breaks down and cries, leading Fam to comfort her, since Sārā hates it that Vasant and Luscinia, both of whom she loves, are fighting. While this is going on, Luscinia, Alauda, and Liliana arrive at a point, where Luscinia activates the White Legacy under the ice, as orders go out for the other Ades commanders to defend Boreas.
Thoughts/Review:
Well, it would appear that my thoughts on Luscinia creating his fascist dream with the Guild in charge of the world and enforcing equality (aka: misery) on everyone continues.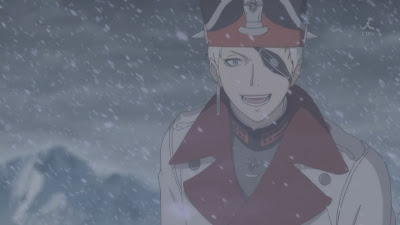 It still seems weird that Vasant, who has the support of Sārā, would be considered a rebel. Actually, if things were done properly, Sārā should have issued a decree stopping all Ades military actions, but I sense that Vasant wants her revenge against Luscinia and so I guess that changes things a bit.  Plus, Sārā is so young.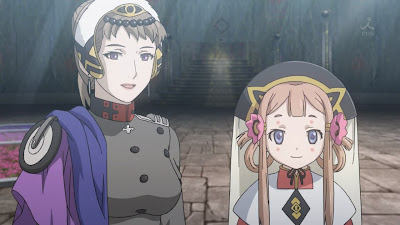 As to Sārā, I do feel badly for the very young empress. She knows full well the heavy burden on her shoulders and the limitations she has as a child, but at the same time, she wants to do the right thing. Now, her foster mother (Vasant) and one of her foster fathers (Luscinia) are fighting and using her in the process, while she's in the middle, helpless.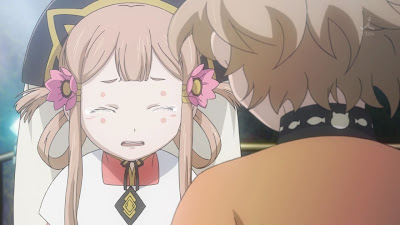 Now that Sārā has met and befriended Fam and Gisey, I don't think it is much of a stretch if we see Sārā presenting those two the next Grand Race trophy, since I figure that will be started again once all of the current plots are resolved.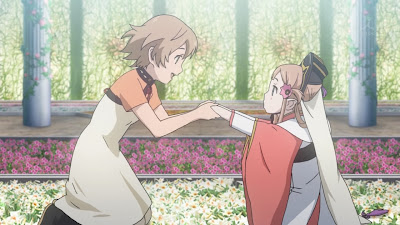 I can't help but think that more Ades commanders will be joining Sārā and Vasant though, which will also be part of Luscinia's plan.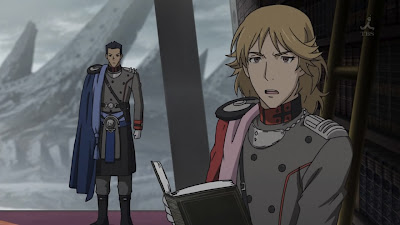 As to Millia, she's having a hard time too, especially since Liliana needs a baseball bat to the butt a few times. When Turan is restored (which I don't think is a stretch to say), Millia should be the one to lead them, not Liliana.  Whatever her reasons for willingly going along with Luscinia, she's forfeited her right to rule.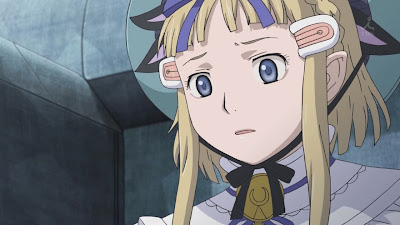 So, though events are transpiring in an expected manner, the series is still enjoyable and interesting.  I'm looking forward to seeing the next episode.