My Fantasy for Kodansha Comic's Release of Genshiken Nidaime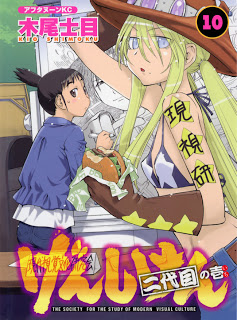 I had been told well in advance of the news officially breaking that Kodansha Comics had licensed Genshiken Nidaime (which they are calling "Genshiken: Second Season" and then resetting the volume numbering system to "1" rather than calling it as it is; "Genshiken Volume 10."  I just didn't get around to saying anything, mainly because about the time I was going to write something, the news about Negima! coming to an end hit the street and that flushed everything else. ^_^;
Regardless, I recently reviewed the tankoubon version of volume 10 of Genshiken, where I applauded the inclusion of color pages in the tankoubon release. This is where my fantasy comes in — I want the color pages included IN COLOR in the U.S. release!
Yeah, yeah, I know.  The odds of this are nearly nill.  However, they shouldn't be.
While I bust Dark Horse's chops over putting out release dates for a manga, then continually delaying the release of said manga for as much as two years or more, they do have something I have fully approved of — color page inclusion.  For those who've been collecting the CLAMP omnibus collections from Dark Horse (Magic Knight Rayearth, Cardcaptor Sakura, Chobits, etc.), Dark Horse has included a lot of color pages and art. Even in their early re-release of Oh My Goddess (Ah! My Goddess), they included the original color manga pages where applicable.
So, it isn't as if Kodansha Comics couldn't include this.  I know it adds to the costs, but I'd shell out a little extra to get them, even if it were as a "limited edition" version.  Its a value-add to me, and I suspect that it would be for most fans.  I could be wrong though (I'd love to hear opinions on the subject).
Either way, I do plan to buy the American version, though I do worry about quality control issues. Here's hoping that the U.S. release is a good one.