Negima! 353 SPOILER Images
魔法先生 ネギま!Chapter 353 (Image)
Here's what I know many of you have been waiting for — the original-sized, sneak-peek SPOILER images for Mahou Sensei Negima! Chapter 353 as brought to you by anonymous Japanese (and other) fans (click pic to make bigger, y'all).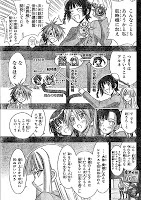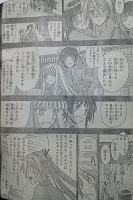 Then on 4chan, this page showed up.  It looks a lot like Akamatsu-sensei's art, but I'm not sure where its from (could be from this chapter, could be from a doujinshi — if you know, let me know).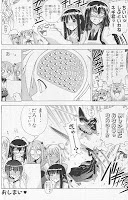 This image cracks me up since it deals with the harem issue.  Negi's brain is filled with the following (in order of importance):
His father (Nagi)
Rakan-san
Fate
Kotaro-kun
So naturally, Setsuna and Asuna have to make him pay. *lol*
I'm trying to keep an eye open for more.
Updated!