Piracy Wars: Viz vs. MangaStream
So, I was meandering through Twitter when I saw some buzz over a scanlation group named MangaStream being forced to stop scanlating Viz-licensed titles.  Naturally, there were thoughts all over on the subject, so I thought I'd go and see what MangaStream said.  Here it is.
Dear MangaStream supporter,

It's with a heavy heart that I make the following announcement. MangaStream will no longer be releasing the following series:

– Naruto
– Bleach
– One Piece
– Hunter x Hunter
– Katekyo Hitman Reborn
– Claymore
– D.Gray-man

VIZ Media has demanded that we end our scanlation work for all of the above. This comes despite our best efforts to pursuade fans into supporting official distributors by being the only group to actively prevent an archive from forming on their website through the removal of chapters that are older than a couple weeks. They've succeeded in little more than invoking inconvenience to the community as their digital magazine missed the mark; it runs several issues behind and only features 3 of the above series. So long as their product continues to be slow, awkward and inferior to something a ragtag group of nobodies can churn out in a few hours – fans will continue to look to scanlation groups and aggregators for their weekly fix.

The aggressive and escalating nature of their threats have forced our hand into removing the content. MangaStream will no longer be posting full scanlations for any of the aforementioned series, we will instead focus our efforts onto the series we do that are not licensed by VIZ Media (you can assume everything currently on our directory will be continued).
Well, these are hot titles in the U.S., so it is understandable that Viz would want them to stop. Further to that, the system worked because although MangaStream may have resisted Viz initially, they did comply with the request.
Unfortunately for Viz, while the short-term impact means that people won't be able to get HQ scanlations of these titles, in the long term, the void left by MangaStream will simply be filled by other scanlators.
That being said, I have two thoughts I'd like to expound on: MangaStream's releases and piracy in general.
I. MangaStream's Puts the Bull's-eye on Their Own Back
I was not aware of MangaStream prior to this incident, but I see that they are scanlating a title that I enjoy — Fairy Tail. (As an aside, "We're THAT many chapters behind Japan?! Egad, Kodansha! Get on the stick!")  I glanced at a couple of pages, and I was immediately struck by the fact that MangaStream feels the need to stamp every page they do with an ego watermark, as if they owned this title.  Take a look.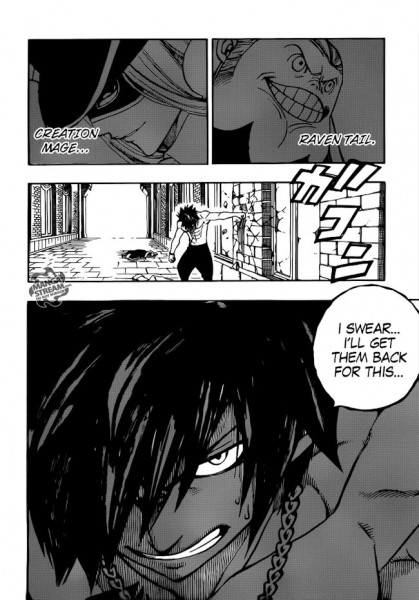 Seriously, MangaStream? You are doing to Viz (and the original Japanese copyright owners) what you are asking others not to do to you?  Further to that, by ego-stamping every page, you were just BEGGING Viz to come down on you like gangbusters.  As I see it, those ego-stamps are the metaphorical equivalent of flopping your wedding tackle into a lion's mouth and flicking his love spuds with a wet towel. (1)  There are lots of scanlations being done of Viz titles, but in my mind, having someone stamp the crap out of every page, which is then spread to other sites despite your requests not to, is a line too far.
Now, MangaStream is out of the game for those Viz titles, and as I said earlier, others will simply fill the void, only those guys likely won't have ego-stamps, and their titles will go out via torrent, DDL, or other, online manga reader sites. So, one has to ask, "Is having an ego-stamp worth it, if it is only going to make you a massive target?" I know that the folks at MangaStream wanted folks to buy the manga from Viz as soon as Viz released it, and that's partly why they claim they stamped their stuff. However, as we see, ego-stamping caused MangaStream to get stomped.
II. The Voids in Legal, Online Manga Keeps Piracy Alive
I noticed that some folks, while celebrating a scanlation site being forced to back down, made note of the fact that Viz has a lot of these titles online.  That's true, though they aren't publishing an English version of a manga title on the same day it is published in Japan.  That's problem one.  The customer base is saying, "Hey! We want simultaneous releases of the manga as our Japanese cousins!"  As I see it, this *could* be done, but if nothing else, an English version could come out a few days after the Japanese version (for cleanup, translation, etc.).  Until this is done, there will still be a demand for scanlations.
The next problem would be Viz's manga reader.  In order to "try" to keep people from saving the manga pages to their computers, Viz is using a dopey, flash system (because that will stop people…oh wait, it won't).  As such, I'm forced to view the manga in a size that's too small for my tastes because I have a large, 27″ monitor.  I noticed that MangaStream's manga reader fills the screen for me, and thus is large and nicely readable. Viz needs to get off their butts and change their manga reader so that if someone wants to view a manga in a LARGER resolution, they can.  Worrying about trying to stop something that YOU CAN'T STOP shouldn't be the top priority, IMO.  Just ego-stamp you pages like MangaStream did, because you are ENTITLED to do so as the licensor.
Finally, and this is the big void, Viz manga is for American's only — you losers in the rest of the world need not apply.  To be fair, this region restriction is imposed on Viz by the Japanese copyright owners.  This evil system has its roots in Hollywood, where Big Entertainment freaked out by DVD creation, then decided to impose region encoding on all DVD's and players, as part of a scheme to try to make more money (as far as I can tell, it hasn't made them any more money).  The notion of region-licensing then spread to other media, all with the foolish notion of trying to scam more money out of the market.
Regardless, while we Americans can have access to a legal, online version of One Piece (as an example), other English speaking countries are out of luck.  As such, scanlators will step in to fill that void, and since English is a second language in many parts of the world (especially Europe), people from those areas will flock to an English scanlation if there's no such scanlation in their native tongue.  By keeping these idiotic, region-locking rules in place, the Japanese (and subsequently Viz) are just creating a market for scanlations.
I'll go into this more in a future article, but if companies would just listen to their customers, while at the same time using their noggins to figure out how to get paid, the problems would mostly resolve themselves.  There are a lot of people out there getting seriously paid for delivering free, or nearly free, content on the web.
(1) Credit to the writers of the British, sci-fi comedy series Red Dwarf for that line. ^_^