Ah! My Goddess Manga/Oh My Goddess! Manga
ああっ女神さまっ Chapter 279
SPOILER Summary/Synopsis: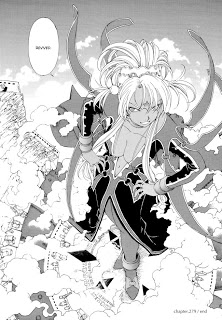 As the flowers blossom at an explosive rate, Hagall begins a desperate search for Belldandy and Keiichi.  In a thicket of flowers, Keiichi asks the recovering Belldandy about this, since her power was gone. She explains that the flowers weren't a result of her power, but the result of his kiss, causing a manifestation of what is in the heart.
Belldandy hushes Keiichi as Hagall draws near. Keiichi suddenly finds Belldandy even more attractive, as Hagall decides that if she burns all the flowers, her problem is solved. The miniature Hild within Keiichi gives him some instructions, so Keiichi complies.  He kisses Belldandy, causing a tsunami of flowers to erupt. Hagall is about to burn the lot down, when Keiichi emerges from behind her, grabbing her arms and out of her line of sight. With that, Keiichi blows into Hagall's ear, causing her to react and threaten to burn him.
It is then that Hagall discovers she has no control over her arm and that Hild is at work somewhere. Inside of Hagall, Hild gets Hagall to issue the commands to release Hild's complete body.  Hagall realizes that a piece of Hild has invaded her and tries to get Hild to stop, implying she doesn't know what she's doing. Hild says she does understand, as she's carrying out her responsibilities as Daimakaicho.
With that, Hild forces Hagall to issue the final words to release her body, causing the capsule holding Hild to be opened and Hild to be revived.
Thoughts/Review:
Heh!heh! So, the Daimakaicho, "Hild-sama," is back, with only small percentage of herself missing (the piece in Hagall, the piece in the pendent, and the 1/10th version on Earth with Peorth and Lind.
I'm probably overthinking things, but Hagall seemed concerned about what might happen if Hild were released, and I don't mean concerned as in Hild punishing Hagall.  I just wonder if Hagall has done things that if Hild were restored, there would be disastrous consequences for all involved.
Finally, after the SHOCKING (and long awaited) kiss of the last chapter, Fujishima-sensei gives us another one, this time initiated by Keiichi?  *lol*  Yeah, this series is coming to an end in the not to distant future.  *lol*
As for Keiichi finding Belldandy more attractive, I don't think that was Hild's doing. I'm betting that was the new contract, thus a deeper sense of connection with her.  Even though Hild may have prompted Keiichi to kiss Belldandy, he didn't hesitate to do so, whereas before, he probably would have hesitated. It would be nice if Keiichi and Belldandy were more like a romantic couple, but the whole flower thing might allow Fujishima-sensei to preclude it, assuming the manga goes on for a while.
Not much else to say about the chapter, but it was fun.  We'll see where things go from here.