フェイト/ゼロ Episode 20
Fate/Zero – 20
SPOILER Summary/Synopsis: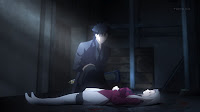 Kiritsugu comes to his hideout, where in the storeroom, Maiya has Iri laying in a mandala. As Maiya waits outside, Iri extracts Avalon from her body to give to Kiritsugu, whom she says will need it more than she. After Kiritsugu apologizes for not being able to show Iri more of the world, she tells him that the nine years with him, and having his daughter are happiness to her, something she wasn't supposed to have. To that end, she wants Kiritsugu to bring Ilya to Japan to show her the places he would have shown Iri. After Kiritsugu leaves to find Tokiomi, Iri and Maiya have a conversation, where Iri reveals her wish is to end the Holy Grail Wars.  Elsewhere, Kariya is given a new worm to make him more powerful.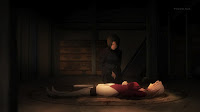 As Saber hunts for Rider, Waver stocks up on some food supplies and returns to the woods where he summoned Rider, in order that Rider can recover faster. The two have a heart-to-heart, where Waver not only reveals that he knows Rider used his own mana rather than Waver's, but Waver also wants to share the risk with Rider. Meanwhile, Kiritsugu finds that Tokiomi has been killed by an unknown party.  As he investigates, Maiya and Iri come under attack by Rider, who kidnaps Iri and injures Maiya, though she reports the attack to Kiritsugu, who uses a Command Spell to send Saber to the storeroom. Maiya has Saber go after Rider, and sometime later, Kiritsugu arrives before Maiya dies, where she asks him to save his tears for his wife.
Thoughts/Review:
Whoa! A lot happened here, including some nice character work.
It wasn't much, but I liked getting a bit of history of Maiya's life. While I had accepted Maiya's devotion to Kiritsugu, and thus Iri, knowing the history behind it made her death more meaningful in my opinion.  Plus, I liked the fact that Kiritsugu showed that he cared for her, even if he was using her for his own purposes.
I can't believe that Rider is the one who kidnapped Iri, but maybe he did.  For starters, it wasn't evening yet, so I think he was still regenerating. Further to that, it just doesn't seem to be his style as an honorable warrior.  I don't now what's going on, but I guess I'll find out soon enough.
That being said, I liked how Waver had figured out that Rider was using his own power rather than Waver's and had decided to help Rider heal by eating up, then sleeping in a sleeping bag at the spot where Rider was summoned so that Rider could recover more rapidly. Their conversation was a good one and showed the respect that the two had for each other.
Kariya getting a worm that had feasted on Sakura marks another failure on his part, since he'd not been able to protect the young girl and now gains some sort of power thanks to the abuse she's taken.  I knew that Sakura was an abused girl, but moments like these just bring it home and fill me with rage.  I don't remember the old man (Zouken) being in Fate/stay night, so hopefully, I'll get to see his demise. However, I have this nagging feeling that I won't get my wish and that he was in Fate/stay night, just that I don't remember him. *_*
Had events not unfolded so that Kiritsugu became distracted in a desperate attempt to save his wife, I think he might have put two and two together and determined who killed Tokiomi and Archer's transference to Kirei.
As to Iri, I'm saddened in knowing that she will not only die, but her daughter will be caught up in the next Grail fight.  When one knows the future, seeing Iri's wish for her daughter and her husband will not be granted is tragic indeed.
In the end, we have an episode that moves the plot forward, but also provides some nice character moments, which for me are making this series more enjoyable.