フェイト/ゼロ Episode 25 (final)
Fate/Zero – 25
SPOILER Summary/Synopsis: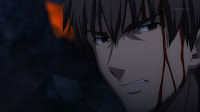 Kiritsugu orders Saber to destroy the Grail, and she's unable to resist the final Command Spell, thus she attacks it. However, the Grail is not destroyed and a dark sphere pours out a black muddy liquid that burns everything, causing a massive fire in Fuyuki City. The Grail mud causes Archer to become flesh and resurrects Kirei. Archer saves Kirei and when shown that this destruction is what he wanted, Kirei laughs hysterically and decides to go on a quest for truth. This amuses Archer, who decides to accompany Kirei on his quest. Kirei observes with disgust Kiritsugu desperately looking for survivors in the embers of the city.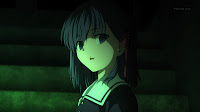 Elsewhere, Ilya awakens from a scary dream and is comforted by the voice of Iri.  Back at the Matou estate, Kariya manages to make it back and see Sakura, where he has a vision of reuniting Sakura with her mother Aoi and sister Rin. In reality, he dies and falls into the worm basement, where a cold Sakura states that this is what happens to those who disobey "Grandpa" (Zouken).  Sometime later, Kirei officiates Tokiomi's funeral and praises Rin for being stoic as the new head of the Tohsaka family. Outside the graveyard, the brain damaged Aoi awaits, unaware of the loss of Sakura or her husband. Kirei gives her the dagger Azoth, which causes her to break down.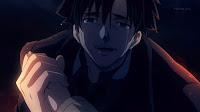 Waver decides a course for his life and gets permission from the elderly couple to stay with them for a while. Meanwhile Kiritsugu, having found a young boy (Shirou) alive in the ruins of Fuyuki City, adopts him.  Kiritsugu attempts to return to the Einzbern estate for Ilya, but the head of the family, Jubstacheit, keeps him away.  So though he never saw Ilya again, he never lost Shirou or anyone else.  As Shirou grew up, he decided to take the mantle of justice of his adoptive father.  Elsewhere, Saber is on the battlefield with her dead knights all around. As Shirou makes his declaration, a beam of light shines from the heaves down on Saber.
Thoughts/Review:
And so it ends, and now it is clear why the comment from an earlier episode about Aoi-san being alive was requested to be hidden as a spoiler.  I don't remember Aoi in Fate/stay night though. I though Rin lived alone, but it has been quite some time since I saw that anime.  She could have died in the following years like Kiritsugu did.  Still, it is sad seeing her crippled and brain damaged.
Speaking of Kiritsugu, I seem to recall a scene of the young teen Shirou and Kiritsugu having their chat in Fate/stay night. I was kinda hoping for a scene of Shirou as an older teen, standing with Rin, Sakura, and Ilya at Kiritsugu's grave.  Oh well.
It was interesting to see Kirei's motivation for continuing after the Grail War as well as Gilgamesh's decision to remain at Kirei's side.  I already knew that they survived the war, but it was interesting seeing the aftermath of it.
In a weird sort of way, I could actually see why Kirei would allow Rin to live and even give her the dagger that killed her father. I still love the symmetry of knowing that Kirei's fate is tied up in that dagger.
I don't have a whole lot else to say about this episode, so I'll save any additional thoughts for my final review of the series.  Stay tunes. ^_^