這いよれ!ニャル子さん/Haiyore! Nyaruko-san Episode 11
Haiyore! Nyarlko-san – 11

SPOILER Summary/Synopsis: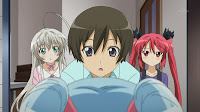 It is Sunday morning, but Mahiro is denied the quiet day he longs for since Nyarlko, Cthuko, and Hastur are playing Mario Kart in his room. His annoyance with them is interrupted by the doorbell.  At the door are a young ojousama named "Ghutatan" along with her Lloigor butler, Roy Fogger. A message from his mom tells Mahiro that she found the young girl and asks him to take care of her while Nyarlko attempts to discover where she belongs. Nyarlko sends a message to learn more, but doesn't realize it doesn't go through. Nyarlko decides to teach Ghutatan by having her play a rare, ero-game. Ghutatan finds the moe girl on the cover to be cute, but an irritated Mahiro takes the game, telling Ghutatan that she's too young.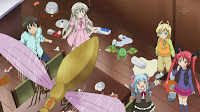 Cthuko is wanting breakfast, so when the fridge starts shaking from the inside, she figures her BBQ ingredients have thawed.  Several large Shaggai insects emerge and fly around the room, sending much of the food in the fridge everywhere. Ghutatan is excited by this, and Mahiro's anger forces Nyarlko to use her mirror to send the bugs elsewhere.  Mahiro throws Nyalrko, Cthuko, and Hastur out so he can clean up. He then helps wash Ghutatan's hair and clothes before making the girl breakfast and feeding her. Afterward, the little girl naps on his lap, so when Nyarlko and the others return, they are displeased by what they see since Nyarlko wants to bathe with Mahiro, Cthuko wants breakfast, and Hastur wants to use Mahiro's lap as a pillow.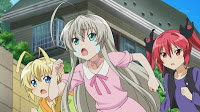 Mahiro flees with Ghutatan and Roy in tow.  He tries to hide at Yoichi's place, but the others are soon on him.  Fleeing again, he runs into a confused Tamao, but is forced to flee again when Nyarlko and company show up.  At Luhy's mobile takoyaki stand, he again is planning to hide, but Nyarlko and company catch up.  He runs away as Cthuko pauses to get something to eat and Hastur something to drink. Gutatan finds this all fun, but then two Shoggoth blob monsters are in their path. Nyarlko decides to show up and level up, but her actions along with Cthuko's and Hastur's cause Ghutatan to be minorly injured.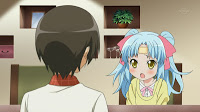 Mahiro goes off on Nyarlko for always going overboard, and he coldly suggests that she do her job and discover where Ghutatan belongs. He takes Ghutatan back home and gives her a bandage.  That evening, he's made dinner, but Nyarlko, Cthuko, and Hastur don't show up.  Since Ghutatan wants to eat, he feeds her.  She asks if he is lonely, but he states that he wants a quiet life.  That night, he puts her to bed and goes to bed himself, but Nyarlko and company still haven't come home.  The next morning, he wakes up intending to go to school when he notices the clock says it is Sunday. Further to that, the house is quiet. He quickly discovers that he is alone, as even Ghutatan and Roy are missing as well.
Thoughts/Review:
This episode wasn't as funny or good to me, but it still had good stuff in it.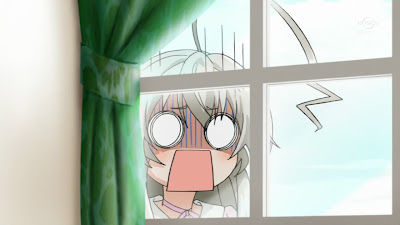 The whole moe aspect of Japanese culture is clearly at the heart of this episode. While the official naming of her was "Ghutatan," I suspect it was more like "Ghuta-tan."  I say this because she addressed Mahiro as "onii-tan," Nyarlko as "onee-tan," and Luhy as "oba-tan" (pissing Luhy off because it implied she was old, something the word "Auntie" does not convey, but I digress…). Of course, there's the popular otaku learning franchise known as Moe-tan, which all plays into this.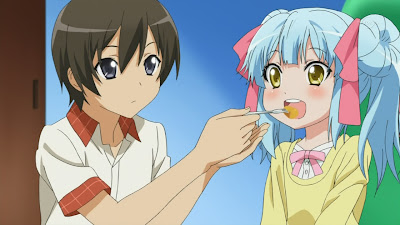 The episode really played up the spoiled ojousama aspects of Ghutatan by her needing to have her hair washed and to be fed.  When Mahiro washed her hair, I thought about Hayate washing Nagi's hair once in Hayate the Combat Butler, since Nagi is the most pampered of all the ojousama in that series.  However, she's not moe, so I guess that's why Nagi doesn't get spoon fed. *lol*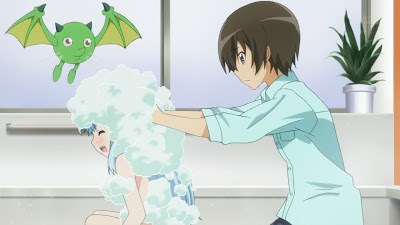 The butler Roy Fogger must be a name play on the character Roy Focker from Super Dimensional Fortress Macross.  Well, that's what the name made me think of.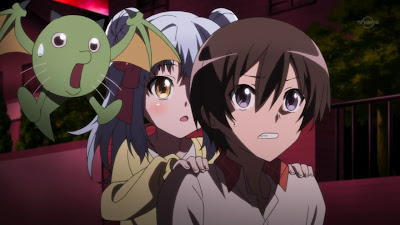 I did want to puke when I saw the ISO 9001 reference. I consider it to be a lot of BS, much like LEAN and other so called improved business concepts and practices.  Ugh.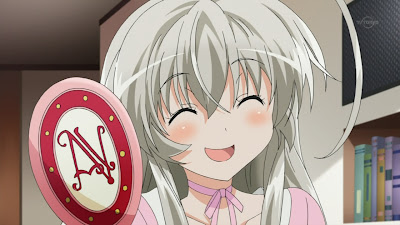 Since there is sadly only one episode left in the series, it isn't surprising that Mahiro ends up alone and lonely.  His protestations aside, he would be lonely without Nyarlko and company, even if he wishes they'd tone it down.  It does remind me of the canon Tenchi Muyo! stuff, where in OVA 2 episode 6, Tenchi's great grand mother Funaho asks if Tenchi would be lonely if they took the girls back to Jurai. Tenchi, like Mahiro, had been beset upon by alien chicks who's antics sometimes caused problems. Well, considering that TM!R is the father of the modern day harem genre, it isn't surprising that there'd be parallels.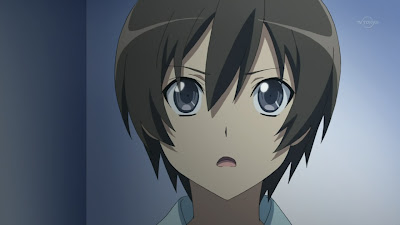 In the end, not as good an episode, but still fun with some melancholy thrown in for Mahiro to appreciate Nyarlko when she returns.