ハヤテのごとく!/Hayate no Gotoku Manga Volume 23
Hayate the Combat Butler Tankoubon Volume 23
–> Purchase Japanese tankoubon from YesAsia!
*SPOILERS!*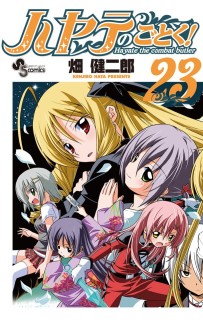 Some highlights of the events of this volume.  Hina learns the background between Athena and Hayate and sends him to see her. Machina battles Hayate to prevent him from hurting Athena. Hayate finally gets to meet Athena, but the entity possessing her takes over to kill Hayate. Isumi arrives with Sakuya to battle this entity, where she discovers that this is her toughest battle ever in her young life. Isumi is eventually defeated and barely manages to get Hayate and Sakuya out with their lives. Isumi and Sakuya learn the story of Hayate's pendent, so Sakuya calls Nagi's grandfather, who in turn tells Hayate that he has a choice to make — Nagi or Athena. Isumi confirms this as well since choosing Nagi will possibly kill Athena, but choosing Athena will leave Nagi in a bad way.  Meanwhile, the group has one last day of shopping and fun in Greece.
Leave it to Hata-sensei to produce a manga volume that is full of awesomeness, intrigue, a terrible choice, and still manage to work a fair amount of humor to boot.  No wonder this manga is such a favorite of mine. It makes me sad that it hasn't found a decent footing in the US, which boggles my mind.
In harem titles, there's always pressure for the hero to make a choice between a bevy of babes.  Here, Hata-sensei does something a little different in that Hayate has to choose between Nagi and Athena, not over which girl to love and be with, but over much more weightier matters.  If he chooses Athena, then as Nagi's grandfather Mikado stated, Hayate breaks his promise to Nagi.  Considering how he went back in time to save Nagi and promised her both as a young child, then as a young teen, that would be pretty jacked up to let her down again, to say nothing of adding to her grief by apparently making her all but destitute.  (Well, it is implied that Nagi has some resources of her own and has been trained to make the best of them, but she wouldn't have the mansion.  I guess that's why she's not currently there, but I digress…)
On the other hand, choosing Nagi over Athena means that he again lets Athena down by choosing someone else over her, possibly killing her.  That's not a good choice either and it would seem that he'd need to save Athena, but at the same time, do what he can to protect Nagi.  I can't wait to see how things get resolved so that the current situation of Nagi running an apartment house and Athena being a young girl again come about.
I keep thinking about the other stones that Mikado has handed out.  Aika has one, as does Wataru.  Whom else has Mikado handed stones to, and what would they be used for?  Also, how did Athena and Mikado meet?  I'm looking forward to having these questions answered.
On the awesome front, I loved seeing Isumi unleashed, even if her great powers ended up being for naught.  I'm at a total loss to understand how she ended up where Hayate was, but then this is Isumi we are talking about.  *lol*  Its funny how Sakuya has managed to be caught up in so many of Isumi's jobs that she is well versed in Isumi's powers, enough to be really worried when Isumi went off.  It will be interesting to see what Isumi does after doing some research.
Moving to the humor front, Machina's love for burgers made me laugh.  Is he Japan's answer to Wimpy?  *lol*  Seriously, loving a burger so much that you'd be willing to eat one that has been on the floor is saying something.  Heck, I love cheeseburgers, but once it touches the floor, no matter how clean that floor is, its game over time for that burger as it gets tossed into the trash.
Isumi is always good for some laughs, especially when she teleports everyone to safety, but manages to get a dolphin there to ride so that she doesn't have to get wet.  *lol*
Then, there was Miki hiding out in Hina's bathtub. *lol*  That was so wrong and funny at the same time.
I could write some more, but to be honest, I'd rather get back to reading.  The story is quite interesting at this point, so back to the manga. ^_^