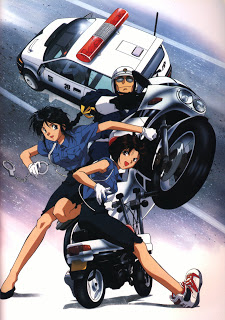 Recently, ANN posted a small article about how illustrator, animator, and composer KANZAKI Hiro (aka: ODA Hiroyuki), who uploaded a couple of song videos to the Japanese site Niconico, which he (1) had permission to do and (2) actually drew the artwork used in said videos. However, because of the massive protectionist nature of copyright owners, Niconico made Kanzaki-san prove he had the rights to do what he had the rights to do. As such, Kanzaki-san has decide to no longer post things to Niconico.  Be that as it may, this incident opened my eyes to something very scary and dangerous which most of us have just accepted without question — when it comes to alleged copyright infractions, we are all guilty until proven innocent.
In the U.S. and Japanese rule of law, those accused of a crime in a criminal proceeding, or of some wrongdoing in a civil proceeding, are considered innocent until proven guilty.  That means that it is the burden of those bringing the charges, whether the State or other entity, to prove their case.  In a criminal proceeding, the guilty threshold is high while in a civil proceeding, the guilty threshold is a lot lower (at least in the U.S. courts).  That's to protect citizens from being harmed by their Government (and why in the U.S., the founders made provisions for public defenders to further protect citizens from their Government), and to protect people from just being wrongly accused of misdeeds.  It is a good system and one worth protecting, period.
Unfortunately, both here and in Japan, the giants of the entertainment industries have heavily lobbied their respective governments, passing stupider and stupider copyright laws in an attempt to protect dying industries or industries that are rapidly changing due to consumer demands.  In other words, rather than see the demands of their customers and strive to meet those demands while getting paid in the process, these companies run to the Government to get laws changed so that these companies don't have to accommodate their customers, and thus the consumer becomes the enemy.  It is an old story, and one that goes back to the founding of the United States and beyond (a future Piracy Wars post will cover this aspect).
The result of all this is that large, copyright owners now demand that others enforce the copyright owners' materials rather than the copyright owners doing it themselves.  Further to this, to enforce their will on others, such as You Tube or Niconico, copyright owners threaten them with massive lawsuits.  Since there are a lot of ignorant judges out there (and in Japan, it is apparently worse because convictions are supposedly king, no matter what), combined with ignorant politicians of any party who are more than happy to take some campaign contributions and let the entertainment industry write laws to protect themselves.  SOPA anyone?  So, places like You Tube and Niconico install systems to try to protect themselves against copyright infringement, thus creating a system by which all are guilty until proven innocent.
Sadly, especially for us in the anime and manga fandom community, we've bent right over, grabbed our ankles, and accepted this guilty until proven innocent aspect that has come into our legal system. Our attitude has been one of, "well, it is not a problem if you aren't doing anything wrong."  I've been guilty of that thinking as well, more so in my younger years, but even now, I haven't questioned this policy by which the war on piracy has been fought.  That is, until now.
Seriously, would you allow Big Entertainment to install spy devices on your TV, DVD/BD player, computer, etc. in order to check to see if you had pirated materials?  Would you let them install cameras and listening devices to see and hear if you were even conspiring to obtain or distributed copyrighted materials without permission?  Just how much of your freedom and privacy will you give up in order to catch those evil copyright violators, who's crimes against humanity are apparently worse than child rape?
Let us assume for a moment that you are a completely law abiding citizen who'd never do anything to violate copyright laws.  Is it OK for them to look at everything else you are doing in the name of looking for a crime you aren't committing?  With them looking at your personal habits and the like, what then happens to the data that is mined?  What happens if this data is captured by hackers?  There are all kinds of evil and unscrupulous people in the world, and as it is right now, too much information is gathered about us each an every day by governments and private organizations.
Innocent until proven guilty means that even if someone is caught with a bloody knife in their hand, stabbing a victim to death, and screaming, "DIE BASTARD! DIE!", they are still presumed to be innocent of the crime they are accused of and have to be proven guilty in a court of law.  Obviously, in the scenario I just described, such a conviction would be easy.  However, it also means that in order to protect the innocent, a guilty person sometimes goes free.  It may suck, but in the U.S., the Founding Father's believed that it was better that a guilty person walk than an innocent person be punished for a crime they didn't commit.  If you want to know how the guilty until proven innocent mindset can ruin an innocent person's life, read about the Richard Jewell case sometime, where he was basically tried and convicted in the media when in fact, he was innocent.
Copyright owners, rather than do their own work on defending their copyrights, and being resistant to rapid changes in the world of entertainment that are wanted by their customers, have instead sought protectionist laws from the Government, and demand that others do their work for them.  This has resulted in a guilty until proven innocent policy, and one which is a dangerous and slippery slope to be on.  After all, for something as trivial as copyright violations to be in this state and accepted by the people, what other "crimes" could be nudged through and accepted as guilty until proven innocent? As Kanzaki-san discovered, although he was innocent, the system found him guilty and demanded he prove otherwise. That should never be allowed to happen, nor should it be accepted!  People are supposed to be INNOCENT, and force the copyright owners PROVE the guilt of alleged violators.