げんしけん: 二代目
Genshiken Nidaime Manga Chapter 77
SPOILER Summary/Synopsis:
Ogiue explains to Kaminaga, Konno, and Fuji about Kenji's cross-dressing.  Kaminaga is amused to hear that one of Kenji's "characters" looks like her. Konno is a bit upset because she sees Kenji's choosing Kaminaga as someone to cross-dress as means he had a crush on her. Kenji states that this isn't quite the case, but that he did wish he could be like her. Konno remarks on how Kenji's brother stole her, leading Kaminaga to come up with a scenario by which Yuuichirou has sex with Kenji while Kenji is dressed as Kaminaga. To Konno's surprise, in addition to Ogiue liking the scenario posed by Kaminaga, Kenji likes it as well as a concept, though he says that it isn't like that between him and his brother.
Ogiue, Kenji, and Kaminaga continue the exploring this theme, but changing it to feudal times. Kenji explains to Konno that this is the way he's always been, and that back in high school, he'd simply wanted to talk about fujoshi things with Konno and the others. Kaminaga realizes that Konno has feelings for Kenji and quietly tells her she still has a chance, flustering Konno. She then tells Kenji that she's marrying his older brother, which was her sole purpose in coming to this event. However, she figures that Yuuichirou probably knew Kenji had feelings for Kaminaga since he asked her to tell Kenji.
Before leaving, Kaminaga tells Kenji that she thinks he's bisexual now. He denies it, which she says is foreshadowing in BL manga for a guy claiming to not love men, but a single man. She wonders if there is such a person in Kenji's life.
Meanwhile, Rika has enlisted Madarame to find out what's going on, and he's joined by Sue as they attempt to eavesdrop from a distance. Madarame doesn't want to get too close, and resists Sue's attempt to push him closer. In frustration, Sue "attacks" and plants a kiss on Madarame's cheek. Madarame recoils instinctively, revealing himself to Kenji, who's glad to see Madarame came. Madarame is not happy with Sue and is telling her off when Saki shows up. Seeing Madarame with Sue, Saki asks if the phrase she's supposed to say calls Madarame a lolicon.
Thoughts/Review:
OK, so now the table has been set for a whacked love-triangle between Konno, Kenji, and Madarame. I don't see Madarame going down the "dark side," but I can see Kenji confessing to him at some point.  I can also see Konno confessing to Kenji at some point, though who knows what Kenji would do at that point.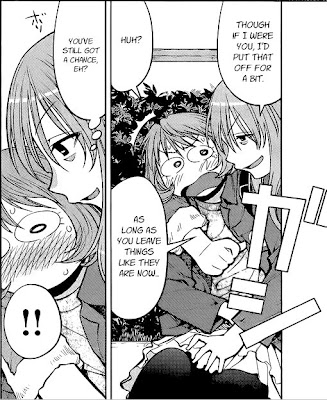 Frankly though, I'm tired of the whole "Hato" thing and ready to move onto other pastures.  The fact that Genshiken has basically become a fujoshi club isn't an issue with me, since the original club was basically a general otaku club, with Ohno giving the club a heavier cosplay influence (which is still in effect) and Ogiue bringing in the fujoshi aspect, aided of course by Ohno. So the club shifts in focus and will likely do so again. However, I'm just ready to move onto other characters or other situations where the Kenji's being a trap isn't the main focus of the manga.  I'd like to see Sue explored further.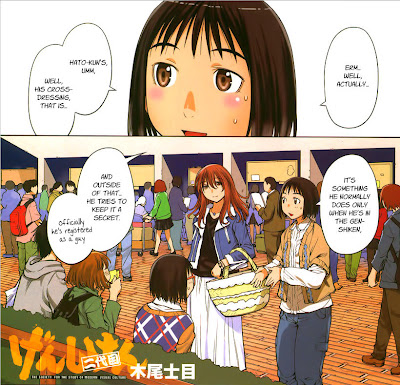 I'm still a Sue-X-Madarame shipper. I recently re-read the original Genshiken, and I was struck by how Madarame was captivated by Sue's hair when he first met her.  The only guy Sue has gravitated to is Madarame, going so far as to have him carry her on his shoulders, something that wasn't lost on him.  Even in this chapter, she kisses him on the cheek to get him to move, which I don't think she would have done unless she liked him to some degree.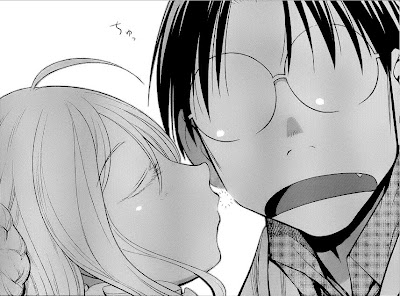 With Saki showing up, I wonder if this is where Kio-sensei brings that plot thread to a conclusion, that being of Madarame's unrequited love for Saki. I know a lot of fans would love to see a Saki-X-Madarame connection, and to be honest, I would not be opposed to that, providing the means for Saki getting to a place where she is attracted to and has fallen in love with Madarame is a natural one. That's not been Kio-sensei's strong suite in writing though. If it weren't for an extra in one of the manga volumes (number 4 I think) with a chart showing everyone's relationship with Saki, I wouldn't have even really believed he was in love with her despite having her cosplay photos (which at the time, I presumed Madarame was using them to make the fictional President character Saki cosplayed "come to life" as it were).  Ogiue's attraction to Sasahara, and his for her, was kind of arbitrary to me, and Tanaka's romance with Ohno just came out of the blue, not that these hookups are bad. Only Saki's romance with Kousaka came off "in the clear" for me.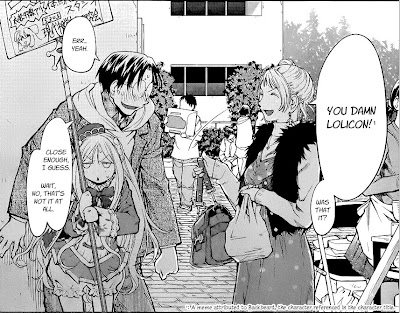 So, there are interesting developments to be sure, especially now that Saki is back. We'll see where it all leads.