フェアリーテイル
Fairy Tail Volume 20 Review
–> Purchase from BUY.COM
–> Purchase from BARNES & NOBLE
–> BUY FROM RIGHTSTUF!
***SPOILERS***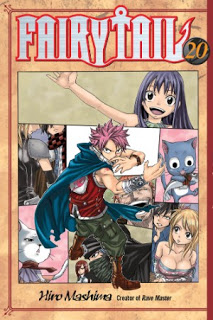 Highlights for this volume start with Gemini taking Lucy's place so that Gemini, Wendy, Gray, Erza, and Ichiya can target five of Nirvana's legs as Natsu uses his incredible dragon slaying abilities to defeat Zero and take out the sixth leg. Once Nirvana has been stopped, the new Magic Council troop, led by Lahar, arrives to arrest Hoteye, who learns from Erza that his brother Wally is OK. They also move to arrest Jellal, which doesn't sit well with Natsu, but Erza puts a stop to him since Jellal is ready to accept his fate, remembering how Erza got her last name, "Scarlett."
The Cait Shelter guild welcomes the allied guild folks, however, Master Robaul reveals that the guild is actually an illusion and that he is actually a ghost, the last member of the Nirvirt, who created Nirvana. When a boy named Jellal came by with the young Wendy, Robaul created an illusionary guild so Wendy wouldn't be lonely. Robaul vanishes as well, so Erza, Gray, Natsu, and Lucy take Wendy and Carla to Fairy Tail. Lucy now has the keys for Gemini, Ares, and Scorpio, who wanted to be with her. Wendy is welcomed to Fairy Tail with a raucous party.
Gildarts returns from a failed Century quest, despite his great power. Wendy encounters Mystogan, the Jellal she remembers, who has a dire warning about Fairy Tail. Carla is disdainful of Happy for not knowing what he really is as Gajeel goes looking for his own "cat." Elfman and Mira head to church to remember their dead little sister. An anima storm wipes out Magnolia and Fairy Tail, leaving only Natsu, Wendy, Happy, and Carla, who explains that the world of Edolas is trying to suck magic from this world, and that she and Happy were sent to this world to help that. Happy and Carla fly Natsu and Wendy through the opening to Edolas, where they encounter a Fairy Tail who's members are the same but opposite of the companions Natsu and Wendy had known.
That Natsu would defeat Zero was a given. Mashima-sensei keeps bringing up the dragon slayer aspects, but never seems to go anywhere with it. That might change with this Edolas storyline, but we'll see.
As I thought, Lucy scored new Celestial Spirits, but she only scored three of the four that Angel had, at least that's all it appeared to me.  Well, the more Spirits Lucy has, combined with the fact that they are often willing to help her of their own accord, Lucy's stock actually rises as a guild member. If she could somehow increase her magical powers so that she could have two Spirits (or more) at a time, that would really make her a force to contend with.
I had remarked a while back that Fairy Tail used to be a guild with tons of kids in it, but no longer.  After all, Erza, Gray, Natsu, Cana, and Laxus were all kids who were guild members. Now, with Wendy joining the guild, Fairy Tail finally has a kid member again.  I kinda like that, even though Wendy is a special case since she's a dragon slayer.  I didn't expect Wendy to become a member though, as Mashima-sensei came up with one of his unexpected plot twists, making Wendy's former guild suddenly non-existent. *lol*
It was nice seeing the long-spoken of Gildarts make an appearance. The fact that the town would magically realign itself for him to have a straight path to the guild made me chuckle. I did find it interesting that even though all the dragons are supposed to be gone, Gildarts found a bad one, implying that Natsu may have been trained to take it out.
The Edolas storyline has me interested, much more so than the Oración Seis ever did. It wasn't so much that Fairy Tail's guild building (and people within) as well as the town of Magnolia disappeared, but the fact that when Wendy, Natsu, Happy, and Carla cross over to that world, they find another Fairy Tail guild were the members are the opposites from what we've come to know and love.  As such, it is humorous to see Gray wearing too many clothes and madly in love with the ambivalent Juvia. It is funny seeing Cana as a chaste, sober young woman. Lucy, as a tough, immodest girl is also humorous.  I hope we get to see her Celestial Spirits.  I can't wait to see where this goes.
As an aside, the splash page with Erza wedding dress was quite nice. I know those images don't mean anything, but it was still a sweet image.
On the Kodansha side of things, we get the notes from Mashima-sensei, some Japanese fan art, some translator notes, and a Japanese preview for the next volume.  The normal honorific glossary is missing, and the table of contents decided not to be bothered with identifying the chapters, nor the pages said chapters started on.  What it us with that?  Once again, Kodansha Comics shows poor quality control.  I really hate saying this 'cause I like Dallas Middaugh and his work at Del Rey.  I can't believe he'd run things so crappily, so I have to believe that the Japanese side of things is the real problem here.
UPDATE! OK, my bad. I normally don't look for TOC pages, but I happened to see this one and noticed that there were no chapter pages listed.  What I didn't know is that there is a SECOND TOC page, wherein the actual chapters are listed. *_*  Not sure why we need two such pages, but there you go.  So I was wrong, the chapters are listed, just in a second table of contents page.
So, a good volume that wraps up a mediocre story and starts one that seems rather interesting at the start.  Let's hope Kodansha pulls their head out for the next release.