Ah! My Goddess Manga/Oh My Goddess! Manga
ああっ女神さまっ Chapter 285
SPOILER Summary/Synopsis: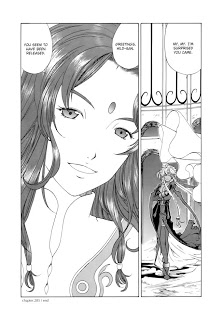 Hild tells Belldandy that the "true kiss" she gave Keiichi was a reckless way to break the spell, causing Skuld to get angry at what Keiichi had done with her "oneesama." Hild isn't done though, accusing Belldandy of deceiving Keiichi, causing Keiichi to defend her by reminding Hild that Belldandy can't lie. Hild acknowledges this fact, but tells Keiichi that one can deceive by purposefully omitting things.
Hild then asks Keiichi if he desires Belldandy sexually. He says he does, but then realizes that since Keiichi and Belldandy kissed, he's been looking at her differently — sexually. Hild explains that Belldandy's kiss removed a seal that kept Keiichi's lust in check. Since there is a restriction placed on sexual contact between humans and deities, Keiichi's contract with Belldandy required this seal to be put in place.
Thus Hild gleefully shatters Keiichi's notion by revealing how the gods manipulate humans for their own purposes.  Keiichi's mind reels from this information as Belldandy ponders how she didn't really deceive Keiichi, but she did know the seal was in place.
She starts to speak to Keiichi, but the sound of music interrupts her. Hild smirks, saying that the Inter-species Intimacy Inquisitor is coming. Urd is shocked that one of the gods could make a transfer point into the mazoku realm and Skuld wonders who has the power to do this. The person gets stuck coming through the transfer point, leading Hild to wonder if it was impossible for this god to enter Hild's realm. However, this goddess forces her way through, causing Hild to state her surprise at who came, and the goddess to give greeting to the now-freed Hild.
Thoughts/Review:
Egad!  Somehow this got released and thanks to the long hours I work these days, I totally missed it until I saw the next chapter was out (well, technically, it has been long out in Japan, but you know what I'm saying).
Anyway, this chapter made me laugh, but not for reasons of comedy within the chapter.  You see, I'm thinking WAY back to the 80's when this manga started.  Back then, the relationship between Belldandy and Keiichi was portrayed in a more normal boyfriend-girlfriend scenario, only with the girlfriend being a deity.  There was the element of the two not "getting busy" (as we used to say), which is why Urd came down in the first place to try to spice things up. However, Keiichi and Belldandy did kiss a few times, and once, Belldandy won Urd's rigged board game in order to help Keiichi and to plant a big kiss on his lips.
Then for whatever reason, Fujishima-sensei backed down on the boyfriend-girlfriend aspect and turned Keiichi and Belldandy into something akin to an old married couple who no longer have a sex drive, but who do love each other.  Sure, from time to time, Fujishima-sensei would show that Keiichi looked at Belldandy sexually, but for the most part, he made Keiichi the ultimate nice guy.
Then, Peorth came down with the express intent of forcing Belldandy and Keiichi to get it on.  While Urd had previously attempted to seduce Keiichi and even force him to copulate with her, that was nothing compared to the efforts Peorth put on to get Keiichi to try to sleep with her.  The fact that Keiichi was able to resist her is what made him even more desirable to Peorth, who apparently wasn't used to men resiting her. Back then, Belldandy's thoughts on the matter were that she was willing, but she knew Keiichi wasn't truly ready, so Belldandy was simply just going to wait for his lead.
Now, we have this new goddess showing up and the revelation that in fact all this time, Keiichi's lust has been sealed up, Belldandy knew about it, Hild knew about it, but apparently Urd, Skuld, and Peorth knew nothing, otherwise why would Urd and Peorth have come down to try to force the sexual issue with Belldandy and Keiichi (meaning the lack of sex or even kissing).
Obviously, this is the latest retconning move by Fujishima-sensei, hence the laughter I mentioned four paragraphs earlier.  As is typical of Fujishima-sensei, plot holes are not something he really worries about. He just writes whatever he wants and moves on.  After this many years, we fans just roll with him.
So, interesting revelations aside, I wonder about this new goddess and how she'll play into things. I won't speculate now since I have the next chapter waiting.