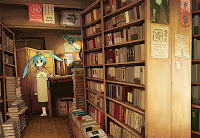 When it comes to copyrighted items, major copyright holders (publishing companies for the sake of this article but it goes to any copyright holder) have long wanted 100% control over the product, including what the consumer does with said product. Anything that deviates in the slightest from what the copyright holder wants is automatically deemed a copyright violation.  We've seen this in more modern times with the creation of the VCR, where copyright owners of television programs claimed that simply recording a show for later viewing violated their copyrights since you didn't have a license to record that. More recently, gaming companies use similar techniques (with greater success) by saying that when you buy a game, you aren't "buying" it, just a license, thus they can do whatever they want with the product. Unfortunately, copyright holders are at it again, this time trying to restrict the long established first-sale doctrine.
Back in the early 1900s, book publisher Bobbs-Merrill owned the copyright of a novel entitled The Castaway. Because they were the copyright owner, Bobbs-Merrill put a notice inside the book cover stating that the book was to be sold for $1, and ANYONE selling it for less than a dollar was GUILTY of copyright infringement. This is a quote of the actual notice.
The price of this book at retail is $1 net. No dealer is licensed to sell it at a less price, and a sale at a less price will be treated as an infringement of the copyright.
Enter the retailer Nathan Straus of R.H. Macy & Co.  Mr. Straus purchased copies of the book from a wholesale dealer, whom presumably had a deal with Bobbs-Merrill to sell the books to retailers at a discount, thus allowing the retailers to make a profit.  However, in the spirit of capitalism, Mr. Straus decided to sell the books at 89¢ each, which allowed him to make a profit on the books, but also to sell more of them since he was selling them cheaper than the competition.  Bobbs-Merrill didn't take to kindly to what they considered to be a blatant copyright infringement, and so sued Mr. Straus.
In 1908, the case came up before the Supreme Court.  Bobbs-Merrill said their copyright gave them exclusivity to dictate the terms by which their products were distributed.  Since Mr. Straus was clearly violating the terms of the copyright, Bobbs-Merrill claimed the right to be able to stop him from selling their products. Mr. Straus argued that this didn't apply to him, since he didn't buy the books from Bobbs-Merrill, but from a 3rd-party, wholesale vendor.
The Supreme Court found for Mr. Straus (17 U.S.C. §109(a)) and established what is known as the first-sale doctrine.  The Court stated that copyright owners could restrict people from making copies of copyrighted works (thus why ripping an anime DVD or scanlating manga is illegal), but that copyright owners did NOT have the right to restrict people from reselling something once the initial purchase had been made.  That's why libraries and used bookstores/used video stores can legally do what they do and not run afoul of publishers.
Fast forward to 1997. Thailand native Supap Kirtsaeng came to the United States to attend college at Cornell University.  He was surprised to learn that his textbooks, published by John Wiley & Sons, were MUCH more expensive to purchase in the U.S. than they were in Thailand. So, seeing an opportunity, Mr. Kirtsaeng had his relatives buy the books in Thailand, ship them to him in America, then he turned around and sold them to American students, who were happy to get new textbooks at a significantly cheaper price.  Thus, Mr. Kirtsaeng was able to finance his college education and then some. As happened in 1908, John Wiley & Sons were not amused by what they considered to be a blatant copyright violation.
The case, Kirtsaeng v. John Wiley & Sons, is now before the Supreme Court for the Fall 2012 term. Mr. Kirtsaeng states that due to the first-sale doctrine, he is allowed to resell any book legally purchased for any price. John Wiley & Sons claim that the first-sale doctrine doesn't apply because the books were purchased overseas.  Unfortunately, the lower courts, including the 2nd Circuit Court of Appeals, have ruled in the favor of John Wiley & Sons, stating that the first-sale doctrine only applies to stuff made in the U.S.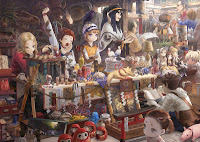 Where does that leave us anime and manga fans?  Well, if the Supreme Court rules in favor of the publisher, those of us who've purchased anime, manga, or anything else from Japan would no longer be able to resell it without the express permission of the copyright holders in Japan. If the anime or manga you purchased had anything contributing to its creation from overseas, you wouldn't be able to resell them either.
Taking it beyond anime and manga, it would pretty much kill your ability to trade-in your car for a new one.  Why? Because many of the parts are made overseas, thus you would not legally have the right to resell those parts, even though the car may have been manufactured in the U.S.  Not only that, but the Court ruling for the publisher would pretty much kill eBay, Craigslist, yard sales, etc.
Don't think for a moment that there's no way the Supreme Court won't rule in favor of the copyright owners. This case as a striking remembrances of Henry v. A.B. Dick Co., where the manufacturer of a mimeograph machine demanded people only use their ink and paper.  A certain Mr. Henry bought paper and ink from a cheaper source, causing A.B. Dick Co. to sue him for patent violations, and the Supreme Court rules in the company's favor.  Eventually, laws were passed to restrict this, but in today's environment where politicians of both parties take money from publishers (whether print, audio, or video) and pass increasingly stupid copyright laws, don't expect Congress to do the same if the Supreme Court rules against consumers.
Sadly, this case hasn't garnered enough of the attention it deserves, thus why I chose to immediately publish an article in my Piracy Wars series about it.  The first-sale doctrine is one that needs to be upheld.  Just because John Wiley & Sons (and basically all other textbook publishers) are ripping off U.S. customers, it should not give them the right to prevent the resale of any product, regardless of its origins.

Sources:
http://docs.law.gwu.edu/facweb/claw/ch12a.htm
http://www.invispress.com/law/copyright/bobbs.html
http://en.wikipedia.org/wiki/Bobbs-Merrill_Co._v._Straus
http://en.wikipedia.org/wiki/First-sale_doctrine

http://www.marketwatch.com/story/your-right-to-resell-your-own-stuff-is-in-peril-2012-10-04