ハヤテのごとく!/Hayate no Gotoku Chapter 380
Hayate the Combat Butler Manga Chapter 380
SPOILER Summary/Synopsis:
With Hayate having learned from Ruka's manager, Atsumari, about Ruka's poor health, including her coughing up blood, Hayate decides to ask Ruka how she's feeling. Ruka admits to coughing up blood, but is not worried about it. Hayate isn't taking this lightly and drags her to the hospital, where the doctor recommends that Ruka be taken to a place calm, where she is not under any physical or mental strain. The doctor recommends a nice forest with a gurgling stream.
Back at the apartment-house, Nagi is gleeful that as Hina is at kendo camp and Kayura is visiting her home in Hokkaido, Nagi is only going to work on her manga, though Chiharu thinks of the homework Nagi still has to finish. Maria gets a call from Klaus, informing her that Mikado has collapsed.  Hayate returns with Ruka in time to get this news.  Nagi tells Hayate to look out for Ruka while she and Maria go to visit Nagi's grandfather. Hayate tells them about Ruka's coughing up blood, and the doctor's recommendation of a forest with a stream. Maria and Nagi decide the best place is near Mikado's place, one owned by the Saginomiya family.
Isumi, Chiharu, Ayumu, Ruka, and Hayate head to the Rainbow Village, which Isumi believes is probably the birthplace of her family.  This "village" is naught but a small log cabin in the mountains. Despite the group's expectations of finding a ninja village not being met, they start to settle in with Ruka deciding to draw manga. Hayate forbids this, citing how she's been working hard and never taking a break ever since she was a small child. Ruka admits that doing nothing makes her nervous, as if the world will pass her by. Hayate promises it won't. Ruka tells Hayate that she will take it easy only if Hayate does since he too has worked all his life.
Thoughts/Review:
This currently story arc isn't going quite like it seemed it might after Ruka is shown coughing up blood. So, instead of having some new traumatic event happen, now, everyone knows about Ruka's health, and it isn't any real big deal.  That's not a problem, but with Nagi out of the immediate picture, one wonders if Hata-sensei will now press forward on Ruka's interest in Hayate, especially since Ayumu is around to try to keep this from happening.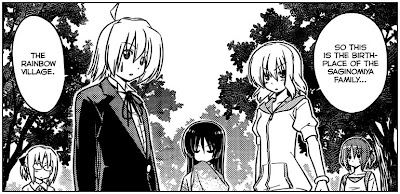 Speaking of Nagi, I wonder if the old coot's health issues are tied with the main story arc.  It could be that after Hayate and companies mini-break, Hayate is forced to deal with Nagi being held captive or the like.  Probably not, but one never knows.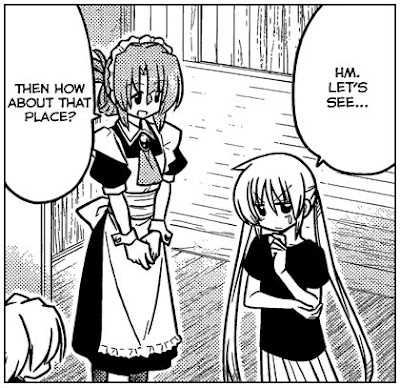 As for the actual relaxation plan, staying in a mountain cabin with friends would be nice. However, if I were forbidden from writing, getting on the Internet, or the like, I don't think I'd like it much, and I wouldn't be relaxed.  Sure, I could relax and go fishing, but the way Hayate wants things done, no wonder Ruka felt so bored at the beginning of the chapter, which showed her doing nothing but dipping her foot into the mountain stream.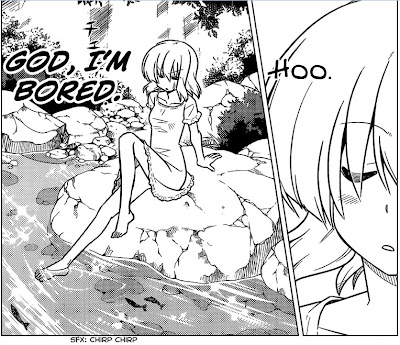 We'll see where things go, including if a somewhat cliched "I appreciate nature" moment for Ruka happens. ^_~