うる星やつら OVA episode 09 (OAV anime)
Urusei Yatsura OVA Ep. 09 review

SPOILER Summary/Synopsis: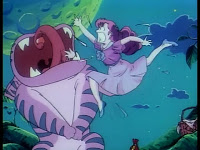 Ran is going through the forest to see Rei when a weird (alien?) candy merchant has some special candies for sale, which when consumed, cause a heart to appear above the head of the consumer. A person taking said heart then causes the consumer to fall in love with them. Ran hears this and immediately buys a bag, where she then proceeds to feed the candy to Rei on their date in a tree. However, Rei keeps eating the heart above his head, frustrating Ran to no end.  Meanwhile, Lum is hunting down Ataru when she spots the angry Ran walking down the street.  Ran tells Lum off and tosses the candy bag at her before storming off.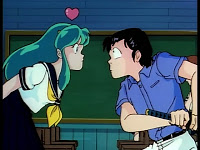 The next day, Lum and Ataru head to school where Ataru questions why a heart is over her head. When Ataru takes it, Lum becomes even more in love with Ataru and expresses that love via a massive jolt of electricity, causing Ataru to let go of the heart. Lum returns to normal, so Ataru takes the heart again and gets it even worse this time.  As such, Ataru decides to have some fun in class and tries to con Shuutaro into taking the heart. Shuutaro isn't buying it as the class watches their hijinx with amusement. Megane, standing next to Lum, sees the heart over her head, but when he takes it, Ataru is surprised to see Lum quickly write Megane a love letter, going so far as to put a stamp on it. Megane is so happy, he races with a megaphone to the bell tower to shout it to the world.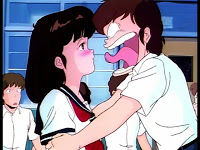 When Megane returns to class and tries to kiss the willing Lum, he passes out.  The heart returns to Lum, who returns to normal. Ataru takes the heart and tosses it to Shuutaro. Lum immediately falls for him, going to far as to rapidly knit a sweater with too many arms. Shuutaro is very happy by this, but Ataru takes the heart and traps Shuutaro in a giant bell.  However, this causes Lum to lovingly electrocute Ataru. The rest of the guys in the class realize how awesome Lum's heart is and immediately go for it, but it disappears.  Lum plans to have Ataru eat the candy and take his heart, but Ataru has other plans, namely in using the candy to build the harem he's been dreaming of. He starts by popping a candy in Shinobu's mouth and taking the heart so that Shinobu falls for hi. Lum fries him again, causing Shinobu to then take out her wrath on Ataru.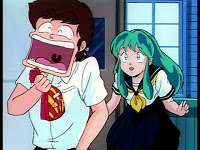 Ataru flees with the candy, hotly pursued by Lum.  Shuutaro summons his military, including animal forces, to get Lum's heart. Ataru finds Sakura-sensei, but Cherry intercepts the candy intended for her, then offers his heart to the revolted Lum.  Ataru flees again and is intercepted by Lum's Troopers, whom with the revived Megane, strike a deal with Ataru so that they can get Lum's heart. As such, Ataru allows Lum to find him, then tricks her by consuming one of the candies and offering his heart in exchange for hers. After Lum finally gives in, Megane and company try to get her heart, but get fried instead by an angry Lum. Lum chases Ataru again, finding Ryuunosuke fending off her father's desperate advances, not realizing that her holding his heart is the cause. Lum finds many other such forbidden love things going on, thanks to Ataru.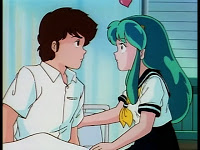 Shuutaro has his guard spring into action, but since Lum falls for each guard that holds her heart, they end up making a mistake, allowing Lum to get her heart back, where she then fries them all. Lum chases Ataru again, where he runs into Shuutaro and his remaining forces. Hiding behind Shuutaro, Ataru tries to shield himself from Lum's next blast, but to no avail. The ruckus causes Onsen-sensei to emerge from the toilet, where he finds Shuutaro, who's just accidentally consumed some candy. Onsen-sensei takes the heart that appears above Shuutaro, causing Shuutaro to fall for Onsen-sensei. Meanwhile, Lum has Ataru's heart, but before she can get a kiss, Onsen-sensei arrives, chased by Shuutaro and his forces. Ataru's heart returns to him, so he grabs the candies and flees, causing Lum to give chase again.
Thoughts/Review:
This was one of the awesome episodes, providing me with some of the best laughs of the entire franchise.
Initially, I was worried that this would be a Ran episode, but fortunately, after her initial (and hilarious) date with Rei, she's gone until the end of the episode.  So that was a good thing.
While Lum's and Ataru's trip to school was amusing, it wasn't until Megane got Lum's heart that the belly laughs started.  Lum's writing the love letter was funny enough, but then she takes the time to put a postage stamp on it. I did not expect Megane to grab a bullhorn and race to the bell tower to loudly proclaim how the last seventeen years of his life weren't in vain now that he has a love letter from Lum. *lol*  I was hoping that he'd get a kiss before passing out, but oh well.
Shuutaro's heart time was pretty funny too, mainly because I didn't expect Lum to knit him a sweater. *lol*  His calling his military was to be expected, but here too, I laughed out loud seeing hoards of animals also responding to Shuutaro's call, and that was funny.
The brief Fujinami cameo with Ryuunosuke was very wrong but still somewhat funny despite my irritation with the Fujinami character.
The funniest moment was Onsen-sensei found himself the object of affection for Shuutaro, then doing everything to try to elude Shuutaro (without success).
As I've mentioned during my reviews of the TV series, the "chase" episodes were the ones that tended to be the funniest to me. Since this episode falls into that category, the tradition continues.  For me, the reason an episode like this is so funny is that one never knows exactly what's going to happen, and even when you see the joke coming, thus these unexpected things that happen become very funny, no matter how outlandish.
So for me, this was an awesome episode for the good laughs it provided.