Ah! My Goddess Manga/Oh My Goddess! Manga
ああっ女神さまっ Chapter 288
SPOILER Summary/Synopsis: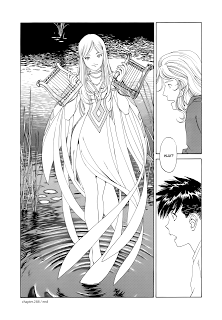 Gate greets Belldandy and Keiichi, leading "her" to explain that there are multiple Gates, all appearing as a young, female child, whom are networked together, thus why this Gate knew Belldandy and Keiichi. Gate wonders if Belldandy and Keiichi can make it through safely. While Keiichi isn't confident that they'll succeed, it is something they must do. As such, Keiichi has faith in their decision. Gate finds Keiichi's answer illogical, not understanding the concept of faith, so Belldandy attempts to explain. Despite her explanation, Belldandy ponders to herself on her faith in herself, as she has faith in Keiichi.
Gate transforms and opens two portals, one for Keiichi and one for Belldandy. As they are pulled down to the Lakeside of Judgement, Belldandy asks Keiichi to forgive her, saying that she did not deceive him. With that, the two are pulled down and Gate returns to humanoid form. Gate ponders the term "faith" when she is apparently hacked by someone, talking about having faith in oneself, but also remarking that even this person can't interfere. Gate returns to normal, wondering if she was hacked, but then concluding that gate security couldn't be bypassed. Gate decides that even though no one has ever returned from the path she put Belldandy and Keiichi on, she'll wait and see, hoping to then understand faith.
Keiichi finds himself in darkness, unable to determine if he is falling or rising or even if he's dead or not. Keiichi emerges from the darkness by a lake, hearing music. He finds himself in a male body that is playing a harp and singing. The man slips and falls back, losing his harp in the water. When the man reaches into the water, Keiichi doesn't recognize the man in the reflection. Keiichi is puzzled by the fact that he's inside another man's body, but he recognizes the feelings being experienced as similar to his own.
It is then that a beautiful woman emerges from the water, holding two harps.
Thoughts/Review:
The Gate's return has an interesting twist, in that there are multiple Gates, but all are networked together. I do like the explanation, although I don't remember the specifics on how Gate was initially presented.
I think it may be safe to say that Kami-sama is the one who briefly took over Gate.  I don't think that Hild nor Ansuz would have, or even could have done so.
In my review of the last chapter, the whole notion of a Judgement Gate was one covered in the Ah! My Goddess Movie.  As I said then, I don't remember much about what happened (other than Keiichi and Belldandy survive), but I feel fairly confident that Keiichi didn't "wake up" in the body of another man.  I get the feeling that the man Keiichi's experiencing things through is a normal human, and that the woman that emerged from the lake will be a goddess. Indeed, I strongly suspect that what Keiichi is experiencing is something that happened sometime in the past (maybe 300 or more years back), but knowing Fujishima-sensei, I could be WAY off track here.
So, does that mean that Belldandy is experiencing things inside the goddess? I think that's highly likely as well, but again we'll see.
In the end, how does Keiichi (and possibly Belldandy) experiencing an event from the past test them on their present relationship?  That will be the fun thing to learn.
In the end, this is a good chapter with an unexpected twist in how Keiichi is experiencing things via another person.