Hayate no Gotoku! Can't Take My Eyes Off You episode 05
ハヤテのごとく! CAN'T TAKE MY EYES OFF YOU
Hayate the Combat Butler: Can't Take My Eyes Off You – 05
SPOILER Summary/Synopsis: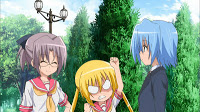 Maria forces Nagi to go to school even though it is the last day before break. On the campus grounds, Nagi is complaining about this when Chiharu arrives, remarking that when Maria and Nagi lived at Yukari-chan House, Maria often scolded Nagi like a mother, citing an incident where Nagi brought out her laundry late, forcing Maria to do more work. Chiharu liked that aspect of Maria, but Nagi is determined to get the goods on Maria so that she can scold her.  As such. Nagi orders Hayate to tail Maria in order to uncover the dirt. Hayate reluctantly agrees, but his trip around town following Maria proves she's a good soul, frustrating Nagi even more.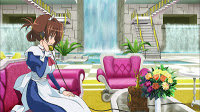 When Maria returns to the mansion, she gives Mikado a call regarding Nagi's father and the lack of photographs of the man. Mikado gets angry, stating that he destroyed all photos of the man and that he doesn't want to hear any more questions about this disgrace to the Sanzenin family who died in America. However, Maria won't be put off and sweetly request information on Nagi's father, though in brief since she has dinner to make. Mikado caves and says that Nagi's father was named Shin Hayek, Yukariko's former butler. However, Mikado says the man was a con artist who's purpose was to get close the the Sanzenin family in order to gain access to the Sanzenin treasure.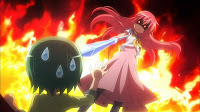 Elsewhere, Yukiji is out of money after blowing it all on food and booze, so she goes to Hina for another loan. Hina gets angry, but when Yukiji threatens to go to unauthorized loan dealers, Hina becomes enraged, summoning the sword Shirosakura, and reminding Yukiji why their real parents left them, and the hardships they faced when they lived on the streets for a time. After being punished by Hina, the hungry Yukiji heads into the streets, where she finds Hayate walking past a family restaurant. Getting him to go inside with her, she scarfs down a ton of food, then insists that he pay the bill. This leads to an arguments between the two, forcing a waitress to come over, whereupon Yukiji simply orders more curry.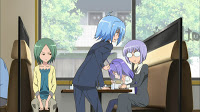 Yukiji attempts to skip out on the bill by saying she needs to go to the bathroom, but Hayate isn't going for it. When they return to the booth, Sister Sonia and Ruri are there scarfing food. Sister Sonia says she's doing the dine-and-dash and Ruri has no money after their Akihabara trip. Hayate prevents them from dashing, and while they scarf more food, he does a hangup call to Hina. She calls back, giving Hayate an opening, but a robber enters, preventing his escape. The others force the robber to the booth, and eventually, Sister Sonia and Ruri make their escape. The robber tells a sob story about his sister, but Yukiji has heard enough and points the robbers gun on him. Meanwhile, Hina comes to the scene and on a police monitor, sees her oneechan as a criminal. She comes in and attacks Yukiji, only to find out whom the real robber is, who is taken into custody by the police. That leaves Hayate alone, calling Maria, to bail him out of the restaurant bill, which she declines to do.

Thoughts/Review:
There was only one item of interest to me in this episode, followed by two manga stories that were pulled from different points in the manga.
Chiharu recounting seeing Maria scold Nagi over laundry was taken from chapter 361 of the manga.  It was nice getting the anime confirmation that Maria and Nagi used to live in Yukari-chan House, but then the anime took the rest of the story, and moved it forward. In the manga, Nagi gets angry after Maria scolds her, and that's when she has Hayate trail Maria to get the goods on her.  The things Maria did had more impact in the manga, because Nagi had lost her fortune.  I don't know who was paying Maria's salary, but the poor element was there.  Thus, Maria using a coupon for a free shake meant something, where here, it is like, "Why's a well paid maid for an insanely rich ojousama using coupons?"  Plus, the manga revealed that Maria made her own uniforms.
The story of Hayate trying to avoid being stuck with the food bill from Yukiji and the others came from volume 10 of the manga.  Ruri is a VERY poor replacement for Himuro, who was another butler at Hakuou Gakuen.  As such, Himuro's dine-and-dash worked because he was called by Taiga, so he left (vanished) to pick him up. Sister Sonia's disappearance worked because she realized that Wataru is out of school early, meaning she can go visit this boy who's stolen her heart. In this episode, it just makes the smart Hayate look stupid.
This rehashing of manga stories is very disappointing to me, as I wanted the anime to press forward rather than do this mishmash of new material where we could learn something canon about Nagi's father, and old stuff from the manga.  While I'm all for a proper anime adaptation of the manga, I would have preferred they have done it right, which would mean we'd get to see the Golden Week arc in full, complete with Hayate and Athena.
As to this new stuff, we learn Nagi's father's name, and why there are no photos of him. I had never thought about this as I read the manga, but we've only seen one image of Nagi's father (who looked similar to Hayate), and the issue of Nagi's father not being in photos was not one that I thought of.
The mid-point joke with Nagi and Chiharu and the Cup Ramen is not one I remember from the Hayate the Combat Butler manga, but I have seen it in Yotsuba&!  I keep saying I'm going to try this method sometime, but I never remember to do it.
I'm kinda weary of these dopey interludes by Ruka. I know she's a popular character, so the production team is desperate to work her into the story, but for me, it isn't working.
I'll obviously keep watching the anime, but I just can't help but be disappointed with how this series is being done.