ヨルムンガンド Perfect Order episode 06 (18)
Jormungand: Perfect Order – 06

SPOILER Summary/Synopsis: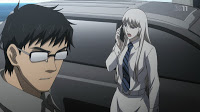 Ugo drives Koko, Tojo, Jonah, Lutz, and Mao to Umihotaru for their meeting with the SR people, giving Jonah time to ask Tojo why he quit the SR unit and then quit Kasper's team. When Jonah wants a serious answer, Tojo says it is because there are two hotties on Koko's team, causing Koko to tell him he's getting a raise. Once they reach the artificial Japanese island, Jonah is sent to scout the restaurant meeting site, but he quickly discovers it to be empty and reports it to Koko, who knows they've walked into a trap. Tojo has Koko get back into the car with Ugo and the others while he goes to get Jonah.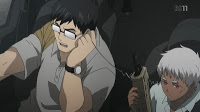 Jonah quickly runs into one of the SR folks and manages to avoid being hit by gunfire. Tojo and the SR person exchange fire, with the SR person dying and Tojo taking a shoulder injury. As Ugo drives the armored car back through the tunnel to the mainland, they are attacked by two cars from the SR unit. Tojo steals a car, allowing Jonah and himself a means of escape as they catch up to the pursuit. Jonah opens fire on the SR cars, but finds them to be heavily armored.  Once the cars make it out of the tunnel, a helicopter appears overhead. Inside are Lehm, Valmet, and Wiley, all of whom open fire on the SR cars, destroying them both.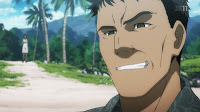 Koko's group heads to the Bahamas where Yousuke is believed to have escaped to. A flashback shows Tojo in Cuba with the SR team when he discovers they've betrayed their Cuban agents, leaving them to the Communists and death. As such, Tojo quits once the SR team comes to Jakarta, only to be hired immediately by Kasper. In the present, a young girl trips on the beach in front of Jonah, Tojo, and Koko. The girl and Jonah play in the sand as Yousuke arrives. After small talk with Koko, she leaves to play, allowing Yousuke and Tojo to talk about things, including the demise of the SR unit. After their chat, Tojo and Koko are stunned to learn that the girl, Mana, is Yousuke's daughter and that his supposed fake wife is here with him. Yousuke promises that Tojo will return to learn to become a spy master. Tojo denies this and that night, a drunk Koko beats on Tojo, making him promise to keep working for her.
Thoughts/Review:
Well, I was totally wrong about how this story arc would go. I had thought that maybe Kasper's team would take some casualties because he wasn't taking the SR unit seriously, but in fact Kasper was right and his people apparently eliminated the entire Jakarta SR forces. We only saw Kasper in a flashback, the focus of this episode being Tojo, Koko, and Jonah.
Koko showed a bit too much trust in the Umihotaru meeting (which is a real place in Japan, and now on my list of places to visit) as far as I'm concerned, but as usual, she showed her common sense by having some shooters in the helicopter to take care of business and cover their escape.  I realize that being an arms dealer is a dangerous business, and she did take proper precautions, leading to an "all's well that end's well" scenario, but it still seemed a bit to trusting on her part.
I liked that we got to see a bit more of Tojo's past. It is pretty jacked up that the SR unit sold out their Cuban helpers. That certainly isn't an honorable thing to do, nor is it going to lead to one's people getting more assistance in the future, should one need it.  I'd like to know why Kasper was keen on recruiting Tojo and why he really went to Koko's team (beyond the babe factor).
Seeing Yousuke really did have a wife and kid surprised me as much as it did the characters in the anime. Just goes to show that even people with lots of blood on their hands can be a loving husband and father.
Again, Koko gets drunk in this episode. Her beating on Tojo and demanding he stays with her are indications to me that she's still mourning the loss of R as well as dealing with the fact that she'd allowed a mole into her midst.
Beyond that, there's not much to say about the story. There was plenty of action, which was fun, and a bit of fleshing out for Tojo's character, which was nice, but ultimately, this story-arc didn't really pan out to anything that I'd hoped, and it didn't advance the main plot.  It did show what happens when one crosses HCLI, but I'd hoped for a little more.
Well, it is still a good series and I'm looking forward to the next episode.