Usagi Drop/うさぎドロップ Manga Volume 06
Purchase Bunny Drop Volume 6 from one of the following:
–> RightStuf
–> BUY.COM
–> Barnes & Noble
***SPOILERS***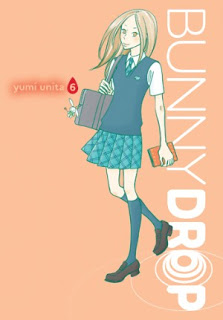 Highlights from this volume start with Rin having Kouki and other friends over for a study session. At school, Rin smells Akari's perfume on Kouki's bag and gets angry with him over it, especially since he's supposed to be interested in Rin. A flashback to their junior high days shows a very rebellious Kouki initially getting involved with the Akari, who's a senpai. When he doesn't come home one evening, Daikichi gets him and Akari to drag them home. Kouki attempts to make amends with Rin, but Akari hijacks his e-mail and starts spamming Rin's phone with hate messages. Rin changes her mail address, but Akari gets the new address and continues the hate. To keep Daikichi from worrying, Rin sets her phone to only allow mail from a very few people, taking Kouki off the list.
In the present, Rin helps preparing for the school festival. Kouki is trying to win Rin over and Daikichi even expresses his approval of Rin dating Kouki. Rin is not sure, but does embrace Kouki when he walks her home and gives her a hug. However, Akari tells Kouki that she's pregnant with his kid and wants Kouki to pay for an abortion. Kouki consults with Daikichi, who agrees to loan him the money, but when Rin finds out, she figures out Akari is conning Kouki. After kissing Kouki and telling him that she had loved him until their first year of middle school, Rin confronts Akari, who concedes that it was a scam. Though Rin is not dating Kouki, she warns Akari about doing anything to him since he's still important to her.  Sometime later, Rin's friends come by for an impromptu birthday party for her, followed by Daikichi going out with Nitani-san, where he's surprised to learn that she's seriously involved with another guy.
*sigh*
You know, I really miss the sweet, wholesome goodness of Usagi Drop when it was about the elementary school Rin and Kouki. Now, we have the teenage angst stuff, which I think would have worked better IF Unita-sensei had carried the manga forward chronologically rather than skipping to Rin and Kouki in high school.  As such, just to make sense of things, we have to get a lengthy flashback to see where all the problems currently being discussed started. The manga would have been much more interesting had we gone through that naturally, and now things were culminating into a conclusion.
Making matters worse is that this volume depressed the heck out of me.  On one hand, we have Rin give Kouki a kiss and a negative response to his constant desire to become a couple with her.  I can understand on a personal level how Rin really couldn't trust Kouki with her heart since he was always going back to Akari no matter what. So, they are just going to be friends and nothing more. I had really hoped that Rin and Kouki would get together.
Then if that weren't bad enough, Daikichi discovers that Kouki's mom is not available. So, both of the romances that Unita-sensei had set up as possibilities are now flushed down the toilet. Thanks for nothing.  Sure, both events are very much in the "this is what probably would happen" category, but manga is supposed to be escapism to a degree. Back when Rin was young and Daikichi took on responsibility for her, that was escapism by showing how an unwanted orphan girl could be loved by someone.  As I said, I really miss the early days of this manga.
On the Yen Press side of things, I'm always glad to see Japanese honorifics retained. There's a color page at the beginning, and some translator notes at the end, which I'm always in favor of.
Well, I do plan to continue the series. Volume 7 is sitting on my shelf with my other, new, "to be read" manga volumes.  Frankly, I don't see the purpose in the manga's story any more since all that's left is for Rin to graduate from high school and set out on her own.  I just don't see much interest in that tale at the moment.