Ah! My Goddess Manga/Oh My Goddess! Manga
ああっ女神さまっ Chapter 293
SPOILER Summary/Synopsis: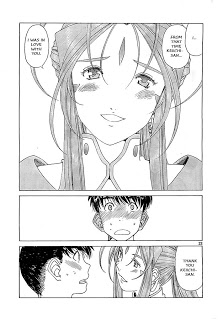 The lake goddess finds to her horror that she is about to be destroyed. She begs for forgiveness since she only took one step beyond the boundary. The voice tells her that her grief for the loss of the bard is the problem and as such, it is too late. The voice further tells her that she needs love for others. As she contemplates this, a sealing container forms around her. Her body begins disintegrating as she reaches up. Above the closing container, Belldandy floats down, communing to the goddess that her and the bard's dream did come true as the goddess has seen the sea. As such, Belldandy tells the lake goddess that she's not sinking in sorrow, providing some small comfort to the lake goddess as the container envelops her.
With the sealing container closed, Belldandy and Keiichi are returned to Gate, both in tears over what they'd witnessed and experienced. As they contemplate this, Gate welcomes them back, asking them what they thought since the tragedy that befell the lake goddess and the bard is what awaits Belldandy and Keiichi.
Gate appears to get hacked again, but continues to speak, stating that Keiichi has some feelings of distrust toward Belldandy for her for her putting a seal on him to prevent them from becoming intimate. Keiichi says that while the news of what had happened to him surprised him, he held no resentment of Belldandy, mainly because he understands the whole problem resulted from his foolish wish to have a goddess like Belldandy be with him forever. As such, he apologizes to Belldandy, but states that with a goddess like her, he has come to love her more.
Belldandy also apologizes, revealing that even before Keiichi had made contact with her, she had observed him as a troubled person who might need their services. She cheered for him back then and reveals that this is when she fell in love with him. Before they can kiss again, Gate has a question that needs answering.
Thoughts/Review:
Man, that's so jacked up what happened to the lake goddess. It would be nice if somehow, they are able to unseal her before the manga ends and allow her to return to the lake. I kinda doubt that happens though, but one never knows since Belldandy was able to communicate with the lake goddess, something that as I see it shouldn't have been able to happen.
It appeared that Gate was taken over again. This is what I said about that happening back in chapter 288.
I think it may be safe to say that Kami-sama is the one who briefly took over Gate.  I don't think that Hild nor Ansuz would have, or even could have done so.
So, assuming I'm correct, then they are talking to Kami-sama, not Gate. If that's true, then this should be Belldandy's father whom they are talking to, since all along, Kami-sama has been stated (or at least, heavily implied) to be the father of Urd, Skuld, and Belldandy. Now I'm excited to see the next chapter and find out if I'm right there or if this hack is from someone else (though whom else could do that, I couldn't even guess).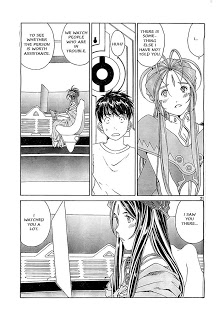 I have got to give Fujishima-sensei a tip of the hat for drawing Belldandy in a similar style to her original (and ugly) character design during her recounting of having observed Keiichi prior to him making the fateful call that landed him a goddess for a girlfriend.
This chapter also shows something Fujishima-sensei is quite skilled at getting away with, at least with Ah! My Goddess — retconning. Seriously, when one reads the first chapter of the manga, there's ZERO sense of Belldandy having observed Keiichi for a long time or having fallen in love with him. Indeed, her reaction to his wish being granted is one of, "Are you kidding me?!"  *lol*
Still, Fujishima-sensei has been stringing us longtime fans on for so many years, I guess we just forgive such retconning moments, more so because there's that element of sweetness in believing that maybe Belldandy DID fall for Keiichi prior to him asking her to stay with him forever. Thus, we get yet a further explanation of why she would so easily become his live-in goddess/pseudo girlfriend.
I still think we are on the fast track to ending the manga on chapter 300, or whatever completes a final volume. That being said, I'm loving the ride so far.