みなみけ ただいま
Minami-ke Tadaima Episode 11 Review
SPOILER Summary/Synopsis: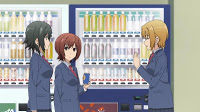 Hayami observes a girl in the class knitting, so she decides to put Hosaka onto the idea of knitting something for Haruka. Initially, Hosaka refuses, but Hayami succeeds in getting him interested to knit something for Christmas. Meanwhile, with winter upon them, Maki gets a knew coat and shows it off to Atsuko on their way to school. After getting there, Hayami decides to ask Atsuko her preference – cocoa or coffee, relating it to Maki's new coat. Hosaka summons Atsuko to ask her a vague question, which turns out to be about Maki's coat and Haruka's coat. Atsuko heads to the Minami residence after school, where Uchida and Kana start grilling her on the magic of love, which she somehow compares to a coat that is the color of milk tea.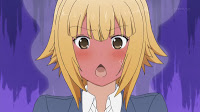 At school, Natsuki and Hosaka admire the snow that has fallen and discuss it for a bit before Hosaka wanders off. In the infirmary, Hitomi takes her temperature under her arm and discovers she has a slight fever. Haruka stops in, also not feeling the best, before Hitomi walks out. Hitomi encounters Natsuki in the hall, still looking out at the snow. Natsuki notices Hitomi's shirt unbuttoned and points it out to her. He then starts talking about the snow, which Hitomi misunderstands as him talking about her breasts, thus she's offended when he says he would have liked more (snow). Haruka encounters Natsuki, her shirt also unbuttoned, causing Natsuki to get flustered and flee. Haruka then encounters an angry Hitomi by the vending machine, where she recounts Natsuki talking about her breasts. Haruka, discovering the state of her own shirt, misunderstands Hitomi's story to be Natsuki talking about Haruka's breasts, and laments the "more" comment.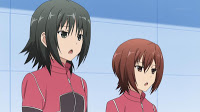 Christmas is approaching and Hayami realizes that her muffler won't be completed in time by Hosaka. So, she enlists Maki to try to find something to snap him out of his Haruka fantasy. Maki gets Atsuko to help, and they head to Haruka's apartment to try to find weaknesses of Haruka's to turn Hosaka off. Chiaki says Haruka has no such weaknesses, but Kana is keen to reveal some secrets. When Haruka shows up, she turns the tables on Kana with an embarrassing story. Maki and Atsuko realize that Haruka has no weaknesses, as Chiaki had stated. So, when Hayami asks them, she's distressed to learn the truth. Meanwhile, Hosaka cannot express himself to Haruka, but sings a song just the same.
Thoughts/Review:
This was kind of an odd episode, though not un-amusing.
As usual, Hosaka and Hayami crack me up. Hayami is always looking to exploit Hosaka for something, this time a muffler (scarf).
The odd part came from the constant coat comparisons with hot beverages. I didn't get the joke there, but Atsuko is cute so I guess it is all good.
Hitomi continues to shine in this series. I laughed out loud at her misunderstanding of Natsuki's remarks on snow to be remarks on her breasts. Further, Hitomi telling Haruka and causing Haruka to misunderstand was also funny. I think this is the first time Hitomi has been upset with Natsuki.
I love how Haruka turned the tables on Kana, putting her in her place. Haruka is the perfect wife and mother type character for sure.
So, some oddness, some fanservice, some hilarity, and some Hosaka. All in all, a winning episode. ^_^