Toaru Kagaku no Railgun S Episode 15 REVIEW
とある科学の超電磁砲(レールガン)S
To Aru Kagaku no Railgun S
SPOILER Summary/Synopsis: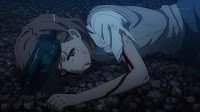 Touma finds himself suffering due to the damage he took from Mikoto as he attempts to get to the site of the 10032th experiment, for which he's already running late. At the same time, Accelerator has nearly finished off Misaka-10032, who's on the ground bleeding. Touma arrives, annoying Accelerator somewhat since Misaka-10032 isn't supposed to be involving civilians. Touma orders Accelerator away from Misaka-10032, amusing Accelerator somewhat. As such, since Touma wants her, Accelerator kicks Misaka-10032 through the air, forcing Touma to race to try to catch her, injuring himself more. Misaka-10032 is puzzled by Touma's behavior and that he doesn't care if she's a clone or not.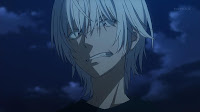 Touma expresses his disgust for Accelerator, revealing that he knows what happened with Misaka-10031. Accelerator is pretty proud of what he did there, angering Touma. Touma charges, but Accelerator kicks up a cloud of pebbles, forcing Touma back. Accelerator uses railroad tracks to hurl at Touma before causing a large number of freight cars to crash down, releasing a cloud of flour dust. Accelerator is amazed that someone as weak as Touma is challenging him, but he's annoyed that Touma has shown signs of fear and terror that normal challengers of Accelerator experience when they realize what they are up against. So, Accelerator causes a dust explosion to occur, putting himself at risk due to the sudden lack of oxygen.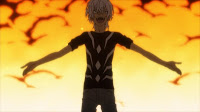 Touma escapes as Mikoto decides to race to the scene of the explosion.  Accelerator congratulates Touma and taunts him before launching himself at Touma. He suddenly finds himself on the ground some distance from Touma, unable to fathom how he got there. Accelerator gets excited and charges Touma again. Touma's ability cancels Accelerator's, allowing Touma to land another punch to Accelerator's face. An amazed Mikoto arrives just in time to witness this as Touma avoids Accelerator's punches. Touma lands two more punches, so Accelerator blasts him with a pebble cloud. Touma lands an uppercut with his right hand, then starts spouting cliched stuff at Accelerator..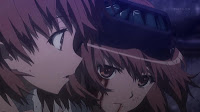 As Accelerator lies on the ground, he realizes he needs more power. He then manipulates the wind, causing a tornado effect. Touma is blown away and heavily injured as a result. Mikoto decides to protect Touma by challenging Accelerator as he creates a plasma cloud. Mikoto realizes that even if she dies, nothing will stop Accelerator. So, she goes to where Misaka-10032 is lying on the ground and asks her to do something to save Touma since she cannot. Misaka-10032 agrees and gets up, getting the Sisters to reverse the wind turbine spin. This causes Accelerator's plasma cloud to dissipate. Realizing he's being opposed by the Sisters, directed by Misaka-10032, Accelerator decides to kill her. Mikoto moves to protect her clone as Touma struggles to consciousness.
Thoughts/Review:
In case you were wondering, this episode was adapted from the last few pages of the manga, chapter 35, all of chapter 36, and chapter 37, save for the pages that covered Accelerator's flashback when he entered the program and fought Misaka-00001. There were no changes in the adaptation that I'm aware of.
This episode was primarily a Touma episode, which I know irritates and angers a lot of folks.  Touma has never been a favorite character of mine, but in this episode, he works just fine.
Until she met Accelerator, Mikoto's position as the number 3 Level 5 psychic at Academy City had her in a cocky place. Her electromaster ability, complete with her railgun specialty, made her confident and sure in herself. Sure, there were two above her, but how much more powerful could they be?
Then she met Accelerator and discovered the Level 6 Shift project. Suddenly, she realized the gap between her #3 slot and Accelerator's #1 spot was insurmountable.  Against Accelerator, she can do nothing but die or be seriously injured.  All of her powers, including her vaunted railgun attack, cannot touch Accelerator. On the contrary, he can turn them around on her and use them against her.
Mikoto tries to do the next best thing — destroy the facilities charged with carrying out the Level 6 Shift project. No facilities, no more death of any of the Sisters, and no need to fight Accelerator.
Ah, but the powers that be showed why they are the adults and Mikoto is just the teenage girl with a lot of growing up to do still. The project is so distributed, all Mikoto has done has been a minor inconvenience, not even worth having her disposed of. Mikoto has one most plan — hack the Tree Diagram computer and input false data. However, Tree Diagram's having been destroyed for some time shows her that despite her best laid plans, the Level 6 Shift project steamrolls forward.
Enter Touma. Mikoto has a previous relationship with him because he's always been immune to her powers. Mikoto's own immaturity caused her to keep attacking him just to try to best him somehow. Further to that, Touma doesn't worship her like Kuroko or the other girls at school.  He's not interested in her like other boys have been. All of this frustrates the heck out of Mikoto, so much so that she's even caused blackouts in Academy City trying to best Touma.
So here we have Touma, who's memory has been wiped (though this anime series doesn't expound on that element since the manga doesn't) and so he doesn't remember his encounters with Mikoto. Being a nice guy with a weird cancel ability that rates him as Level 0, he accidentally gets involved, thanks to Mikoto happening upon him at a certain vending machine. As a result, he discovers the Sisters project and the horrors that are with it, right down to the death of Misaka-10031.
Mikoto is at her wits end. She's ready to basically commit suicide because in her immature teen brain, the absurd logic forms that says, "If I die, then in death, I can have some impact on things which will stop the Level 6 Shift project."  Of course, she's completely wrong in her thinking here. She'd die, but the experiments would continue pretty much unabated.
Touma figures out Mikoto's plan and refuses to let her commit suicide. She hates him for it. He won't defend himself, thus giving Mikoto the victory she's always wanted. However, that victory tastes like ashes to Mikoto because she knows she's harmed an innocent person when she viciously blasted Touma twice. She agrees to his plan whereby he fights and defeats Accelerator.
To me, it makes sense that Touma's one trick wonder horse thing works here. Accelerator doesn't know Touma. Having someone as weak as Touma makes Accelerator less careful. Touma's refusal to show fear or terror puts Accelerator off his game. Touma landing several blows  on Accelerator, something no one else has done, takes Accelerator further down the roads of insanity.
It isn't as though Touma doesn't take an arse kicking. Indeed, Touma gets very bloodied up and is even knocked out for a time. Touma pays for his bravery and for standing up for Misaka Imouto (all of the Sisters) and Mikoto as well.
Although Touma is set up to be the hero in the next chapter, lets face it, if it hadn't been for Mikoto reaching out to the seriously injured Misaka-10032 and begging for help from the Sisters, Accelerator would have killed Touma and tons of other people as well. So while Mikoto's powers are useless against Accelerator, she helps turns the tide against him.  To me, that's no less heroic than Touma going toe-to-toe with Accelerator.
Yeah, Touma's mouth is annoying, but at least for this storyline, it is probably the least annoying and most understandable. After all, we feel for the Sisters and since Touma is trying to save them, then it is easy for me to just overlook the cliched spouting and moving on.
One more thing regarding the episode; while I understood in the manga that Touma was blown away by the winds Accelerator created, the anime makes that moment much more impactful (no pun intended) by showing Touma being whipped around by the winds before being slammed into a pole and then the ground.
For me, this was a really good episode. I really a loving how this series is being adapted.