OK, new SPOILER image arrived yesterday evening, but I didn't catch it until today. ^_^;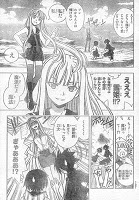 So, those worried that the original Eva wouldn't be around, that looks not to be the case. Color me excited.  ^_^
The Japanese are doing some character assessment speculation, which I found interesting in this non-spoiler image.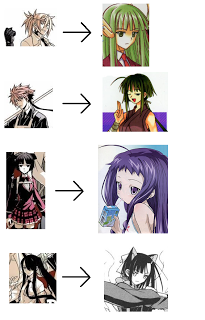 We'll see how that pans out.  MORE: Additionally, it appears that the guy in the top image is an android like Chachazero. The third girl is apparently from Mahora (I think we probably guessed that), and the speculation is that everyone in this new manga may be immortal. That could be interesting.
Update #1: Some text stuff from 2CH, courtesy of Reddy Red Wolf.
My Japanese isn't that good to translate all but what I can take from it: They met a girl on the way, name is Yuuki Shinobu, she help fixing their flying bike (or they help hers). She wants to participate on the Solar System Olympics that happens once every 8 years and will be happening soon. Apparently her uncle looks a lot like Takamichi. The rest of text spoilers seems to be what we saw on that spoiler pic.
Update #2: A more complete translation from 2CH, courtesy of Red Savant.
In a village along the way, they meet a girl(?) named Yuuki Shinobu and fix her flying motorcycle.
Shinobu is also heading for the tower. At the base, there is a competition held once every eight years, the Taiyoukei Olympics, and competing in them is Shinobu's dream.
Shinobu's dad looks just like Takamichi?
While they're with Shinobu, Yukihime returns to her usual young (Eva) form. Yukihime was using specially-made Age-Changing Pills to change her form.
If anyone finds any more spoiler images or info, do share as always. ^_^